2023 – CHW
Populus purdomii growing away quickly. The reddish new growth fades quickly.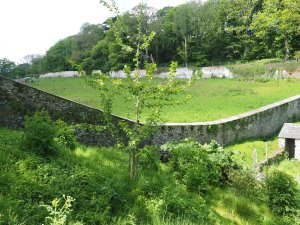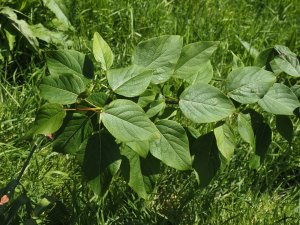 Salix purpurea 'Nancy Saunders' slow to leaf up.
This magnificent deciduous azalea at Donkey Shoe has never had a name. It is close to A. 'Daviesii' and A. 'Northern Highlights' but not quite the same blotching and a bit paler.
Michelia figo nicely out now by George's Hut but some rain damage evident as it is on many rhododendrons battered in the recent downpours.
Cladrastis kentuckea still not in leaf.
First flowering here of Magnolia 'Illini Gold' (M. brooklynensis x Unknown). Quite nice but not really a pure yellow.
First flowering of Crataegus jozana.
And of Crataegus horridus.
Salix magnifica looking very fine.
Rhododendron ovatum full out.
Cornus 'Venus' with its numerous gigantic white bracts. [ALONGSIDE] Cornus kousa 'Milky Way' with its starshaped bracts.
Toona sinensis 'Flamingo' – the pink early spring foliage has faded to cream (but not yet green). [ALONGSIDE] Acer palmatum 'Ukigomo' with its startling white foliage that glows in the light of a marquee.
Our very own Plant of the Decade (2010 to 2020) – Viburnum plicatum 'Kilimanjaro Sunrise' – should be spot on for the show.
Aesculus x mutabilis 'Induta' [ALONGSIDE] Physocarpus 'Dart's Gold'
Zenobia pulverulenta 'Raspberry Ice' [ALONGSIDE] Zenobia pulverulenta 'Blue Sky'
Cornus alternifolia 'Argentea' – another plant which shows up well in a tent.
Acer shirasawanum 'Moonrise' [ALONGSIDE] Wisteria brachybotrys 'Shiro-kapitan'
B. Smaller shrubs and herbaceous plants – several of these are entirely new to our 2022 mail order catalogue
Cornus canadensis – excellent groundcover for the front of the stand to mirror the larger Cornus trees behind. [ALONGSIDE] Senecio 'Angel Wings' a showstopping plant in the shade of a tent.
Will the lupins be in flower in time? Lupinus 'Masterpiece' probably if we have a warm week.
Abutilon vitifolium [ALONGSIDE] Calothamnus quadrifidus – is endemic to the south-west of Western Australia
Kalmia polifolia 'Newfoundland'
Trillium luteum which may be over. [ALONGSIDE] The stunning red flowers of Astrantia major 'Ruby Wedding'.
The novel and unusual Aquilegia vulgaris 'Greenapples'. [ALONGSIDE] The new to us Centaurea 'Jordy'.
Achillea 'Moonshine' will offset beautifully with the new Farfugium japonicum 'Wavy Gravy'. [ALONGSIDE]
Podophyllum versipelle 'Spotty Dotty' is not new but especially well grown plants this year. Even if the flowers do not make it on time the foliage speaks for itself.
Another novelty Salvia gregii 'Blue Note' and the leaves have quite a scent too.
An old favourite but some years the flowers are already over – Primula japonica 'Apple Blossom'.
2021 – CHW
Syringa vulgaris 'Carpe Diem' just out on the drive. Newly planted this year to add to the lilac collection on the drive.
Bob has purchased two young Aberdeen Angus bulls to work with our suckler herd as replacements for the Charolais bull. The bulls were squaring up a bit!
Magnolia laevifolia 'Summer Snowflake' contrasting gorgeously with Rhododendron niveum.
First flowers on Rhododendron degronianum hept. 'Oki Koki'.
Allen Coombes has questioned the naming of an ancient shelterbelt in the Auklandii Garden of Quercus myrsinifolia as perhaps being Quercus glauca?
Here are Alan's comments to me:
Are you sure of the identification of your Q. myrsinifolia? It looks a little like Q. glauca as myrsinifolia normally has narrower leaves. If you look closely at the underside of the leaf Q. glauca has hairs pressed against the leaf surface, looking like 2 hairs coming from one point, Q. myrsinifolia is nearly glabrous. If you can send a close up photo of the leaf underside I may be able to tell, these species have been confused for a long time. There is a specimen at the Hillier Herbarium of Q. glauca from Caerhays, grown as Q. myrsinifolia, collected by David Hunt in 1997. It was described as having leaves downy beneath.Here is a picture of the underside of the leaves. I do not easily see the double hairs he refers to even with a magnifying glass.
To which Allen replies:
Yes, these hairs are not always easy to see. On the last photo PS120033 I can see them just inside the top margin of the lower leaf, they all point in the same direction, from the base of the leaf towards the apex, so I would call this Q. glauca. I suspect it is one of these that David Hunt collected.
Rhododendron 'Nancor' (our own hybrid) might just make it for Chelsea.
Rhododendron 'May Day', bred by my grandfather,  A M Williams, is sadly far too far out for Chelsea. Yet another!
Magnolia 'Woodsman' x 'Patriot' (unnamed) is this extraordinary blue colour when it first opens turning a more yellow inside. Who would believe that there really is a blue magnolia?
Nothing on the planting records about this lovely group of rhododendrons which are pink in bud opening white. Not really loderi forms. They look like layers or certainly our own produced plants.
I had entirely forgotten that we even had a decent plant of Rhododendron thompsonii left in the garden after many failures. This species never does well in Cornwall as it hates our high rainfall and milder conditions. Mind you it did not look too healthy in the Valley Gardens at Windsor either last weekend. A difficult species.
A young plant of Rhododendron loderi 'King George' is just out. Missing out on Chelsea yet again. This is getting really alarming for our cut stuff next week.
Rhododendron 'Lems Cameo' – I always seem to miss this but do not really like the colour especially when first out.
Rhododendron lindleyi – superb but the most short lived of the lot.
Rhododendron 'Nancy Evans' – no idea who she was but hardy and a good garden plant.
Rhododendron 'Nancor' – plastered in flower.  Almost a rockery plant (aureum x hanceanum).  Caerhays bred.
Rhododendron 'Beauty of Littleworth' an old hybrid probably unavailable in the trade today but a superb show.  Planted the two lots in about 1980 and 1991.  The former now relieved of the laurel hedge is flourishing.
Rhododendron concinnum – great purple but the flowers have a more open form than the Burncoose plant by the pond and are not as dark.
Royalii hybrids – just when we thought these had been lost too here are two colours.  An absolute must to propagate.  Perhaps they too have crassum in them rather than cinnabarinum?  Need to check planting records.  Superb nonetheless.   Seems to be a gap in the pre 1997 and post 1988 planting records.  Jaimie says that his predecessor, Philip Tregunna, gave up on these when I started doing the planting on days when it suited me and without him!
Rhododendron orbiculare – we have bought in several plants and raised several from seed since our original plant by the main quarry was soon to be dying.  All have smaller leaves, usually damaged leaves, and much smaller flowers than our original.  This one is a case in point.  Piss poor!  This species will not go from cuttings and the seed does not seem to be true or the seedlings robust.
Rhododendron davidsonianum – an original clump from Forrest 1932 expedition.  Note the colour variation between the plants.
I thought this tall growing upright red was called 'Lord Aberconway' but cannot easily find it in the reference books under this or a similar Bodnant name.  I am pretty sure Lord and Lady Aberconway gave this to my father one day when they visited Caerhays in the snow (and much to my mother's disgust on Grand National day) at least 35 years ago.  It is 15 to 20 feet tall today and very upright.   I think, on reflection, that this is Rhododendron venator, a species?