2023 – CHW
Zantedeschia aethiopica full out already. We saw this clump well frosted in December and the leaves turned to mush.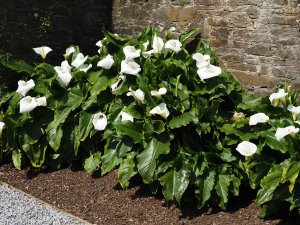 Escallonia bifida now pruned back.
Likewise Escallonia resinosa (a gift from Windsor Great Park but Burncoose used to sell). Plenty of cuttings here shortly.
Maddenia wilsonii has made enormous growth this spring.
When will we learn that evergreens need higher deer fencing. Here Euonymus spraguei killed back but shooting from the base.
And a leafless Euonymus verrucosus.
This young Meliosma beaniana (alba) struggled last summer but seems to have a chance now.
A good clump of Rhododendron 'Penvose' at the entrance of Old Park.
Salix hookeriana now in leaf and wonderful white felting on the underside of its leaves.