2018 – CHW
Some late autumn colour of note:
Carpinus japonica in the sun. This is never going to be that startling but Carpinus species do seem to hold their leaves well into November.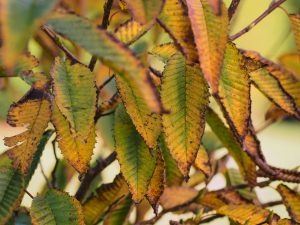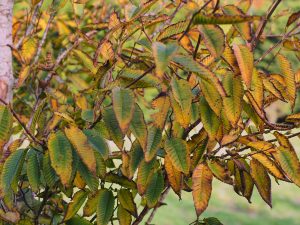 Tilia kuisiana has turned a lovely yellow and is worth its place for autumn colour as well as its late summer flowers.
Liriodendron chinense turning nicely and a standout autumn colour tree today. Probably the best thing in the garden. Liriodendron tulipifera shed three to four weeks ago albeit in a slightly windier spot.
Odd out of season flowers on Azalea 'Greenway' as usual.
Vaccinum donaldianum with ripening and ripe fruit clusters.
Vaccinum duclouxii also with fairly similar fruit clusters. In fact the two species look much the same in seed although the flowers are a bit different. Are they two forms of the same thing?
2016 – CHW
A good westerly gale has struck down lots of yellowing and green leaves from the Liriodendron tulipifera by the Four in Hand. Quite a display on the tarmac and sides of the drive.
There is something of a yellow hue to what is left on the main tree in the damp sunlight but nothing like the show last year or the year before which Karol photographed so well for the website. Note the comparison.
2015 – CHWA fine day and Rhododendron mucronulatum is now full out already. The few flowers seen a week or three ago were, I thought, just a second autumn flush but this would seem to disprove this. Time will tell if it flowers again in January as would be normal but I do not think so. I need to look back again at the younger plants elsewhere in the garden.
2004 – FJW
Drive camellias well out.
1940 – CW
Still several fuchsias. Camellia oleifera with several flowers in the wood. Picked several nice flowers of Rho R Arboreum x Thomsonii near Tin Garden. Also a bit of Hamamelis. Stewartia sinensis one plant still nice colour and all through as good as anything.
1933 – JCW
C sasanqua has been and is very good indeed. 6 or 8 rhodo's show flower and Decorum which has been open since Sept! Fuchsia remain very good indeed.