2021 – CHW
A large chestnut has fallen in Old Park.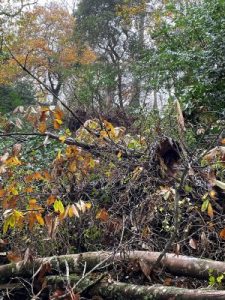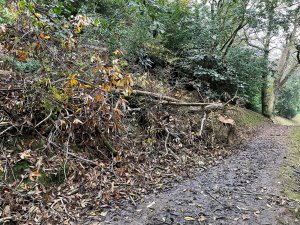 The only surviving clump of original Camellia sasanqua on the bottom path in Old Park. Two colours.
Seed heads on the record Trochodendron aralioides in Old Park.
A good show on a young Photinia villosa var. coreana by the Dog Kennels.
Another batch of fungi in Old Park – these might be iodine bonnets – Mycena filopes.
Camellia sasanqua 'Sugar Dream' is a really good new one to us which Asia and Burncoose need to propagate for the future.
Sunlight on the fallen leaves of Magnolia dawsoniana below the arch.
Rosehips hang over the River Luney from a wild dog rose.
A cock pheasant on the roof enjoying the sun before lockdown ends.
The Berberidopsis beckleri flowers are still not fully formed yet as some of the leaves are turning colour. Will they yet mature? Doubtful.
Camellia sasanqua 'Frosted Star' is a good new one to us too. A compact habit and just a hint of pink on the reverse of some of the petals.
Camellia 'Betty Robinson' reminds me of Camellia 'Dainty' or 'Little Bit' but without the flecking. Another new variety which I do not think I have seen before.
Along the top wall on from the greenhouses the original Camellia sasanqua 'Narumigata' is now just full out. The flowers are larger than the ones on the younger plants from Burncoose with slightly less pink spotting on the reverse of some of the petals. John Bond always said this was the correct and true form during a visit here.
Pruning the lower branches of the adjacent English oaks planted in 1996 to create a new shade canopy for this area once all the old beech trees fall or die.
A new Camellia 'Sugar Dream' which looks like a Camellia sasanqua cross and merits further investigation of its parentage.
Polyspora longicarpa with its first flowers out. This plant suffered from cold winds when first planted out but has now prospered and also has its first seed pods.
2017 – CHW
Another forsythia out in flower in November. This is the second to show.
This Mexican dahlia species was only planted in the spring. It is already a huge 6ft tall multibranched plant with a woody stem lower down and attractive black spotting on the stems of younger growth. We knew it was supposed to flower in November/December and it is not trying hard. Tiny dahlia flowers on such a huge plant. I need to look up the name again – it is Dahlia tenuicaulis?
2016 – CHW
A surprise Camellia japonica with a few flowers on above the big veitchii. Not named but planted originally as a windbreak set of seedlings.
Amazingly the Paulownia elongata, planted in 2007, which had such large buds a few weeks ago is now well out. It is clearly not a secondary flush of flower but just 'early'! This tree grows so amazingly fast that it has got its seasons rather muddled.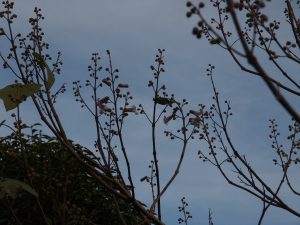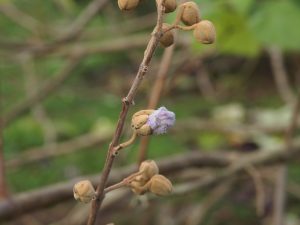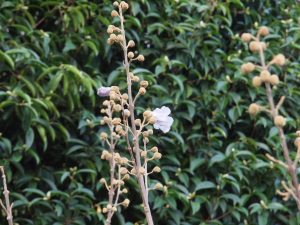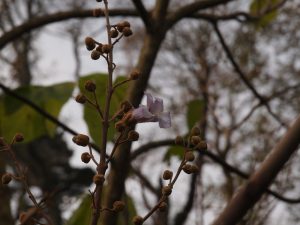 Clearance completed above the paulownia ready for some laurel stumps to be dug out. An old beech stump of a tree which fell 10 years ago is burning nicely.
Another original Camellia sasanqua 'Narumigata' (pure) in Rogers Quarry. I have never seen this flowering before or even knew it was here. The joys of gardening!
1924 – JCW
On Nov 23rd we had the longest spell of good colour on all kinds of shrubs here that I can remember.
1901 – JCW
Came home for three days, frost cut dahlias and hydrangeas, not roses of which there are several. Iris stylosa nice, Iris alata very good. Camellia sasanqua quite fine. Many daff seedlings of all ages show up in the pans etc, most of them have cyclamineus, maximus, polyanthus or clusii blood in the cross.