2023 – CHW (images to follow)
Nearly a frost last night and a full moon.
A number of plants ordered from Crug Farm have unexpectedly arrived. The plants grown from seed from their plant hunting expeditions a decade or more ago get larger and larger as time passes. Not really ideal for planting out and poorly shaped in some instances but unique to them so we cannot grumble, but doubt that there will be any discount!
Surprised to find Camellia x williamsii 'George Blandford' nicely out in the Rookery.
Out of season and the very first 3 flowers on Ternstroemia aff. luteoflora (FMWJ 13360). Seems to have red flowers to me rather than the white or yellow ones referred to in Hilliers. Hence the aff.!
Some decent colour on Styrax japonicus 'Pendulus'. Not as good as last year.
Sorbus eleonorae with unripe green fruits and quite decent autumn colour which I had not appreciated before.
We may not have many rabbits but they have soon found and nibbled a windblown small branch from Liriodendron chinense.
2022 – CHW
A few things out in the new Camellia sasanqua planting at the entrance to Old Park.
The tiny Camellia 'Hamy Lyi'. Blink and you miss it!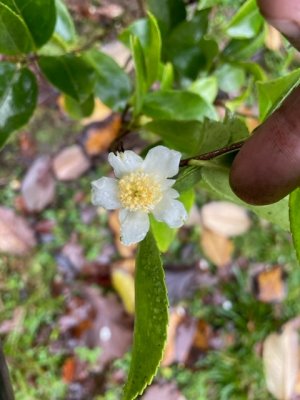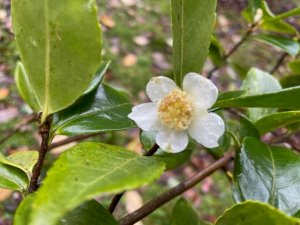 Quercus dentata 'Carl Ferris Miller' which is always attractive at this time of the year.
The Gunnera manicata bed in Old Park collapses for the winter.
Camellia sasanqua 'Plantation Pink'.
Camellia sasanqua 'Versicolor'.
Camellia sasanqua 'Setsugekka'.
Jaimie's new toy for leaf sweeping on the drive which will start this week.
Nothing wastes more time than locating water leaks and digging them up for repairs. Here a problem at Treberrick which took 3 people and a digger 3 days to resolve in a field of winter corn. Major pipe replacement of old metal pipe now needed.
2021 – CHW
First flower out on Camellia x williamsii 'George Blandford'. I looked three days ago and nothing but two days of sun seem to have done the trick.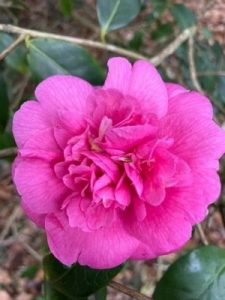 First flower out on Polyspora longicarpus (WWJ 12604).
Every year I ponder if Camellia 'Noblissima' (as here) is really any different to Camellia 'Gauntlettii' (Camellia 'Sode-gashuki')?
Betula utilis subsp. albosinensis 'China Ruby' with its wonderful peeling bark in the sunshine. What a plant!
Schefflera pauciflora (WWJ 11999) with nearly ripe seeds.
Not quite ripe seeds on Illicium anisatum.
Flowers on Aextoxicon punctatum a bit earlier than last year I think?
Jasminum polyanthum starting to flower. Although a conservatory plant it survives reasonably well on the castle wall with dieback and frosting from time to time.
Camellia 'Winter's Snowman' alongside Camellia 'Winter's Charm'.
Camellia 'Bokuhan' with its anemone shaped flowers. They seem rather small to me this year and smaller than those on our old, now dead, plant.
Camellia 'Takanini' now full out. Incredible dark red colours as the flowers fade.
Rare to find a swelling seed head on a Magnolia grandiflora variety.
Still half decent flowers on Rhododendron 'Yellow Hammer'.
Another Aesculus wangii with some surprisingly nice autumn tints.
Another Camellia 'Mary Costa' just showing.
Tom Hudson's gift of Adinandra (TH 4557) with a few black berries. This is a totally unknown genus to me but looks a bit like an evergreen Vaccinum species.
Our best Quercus insignis in shelter which (thankfully) does not have sappy young new growth now unlike the other two younger ones.
A newly planted Melicytisus crassifolius. A New Zealander – semi-evergreen. Hilliers list five species and I think we now have two or three of these peculiar but not very exciting plants.
I know I photograph one of the two elderly gingkos here every year at this time but they are well worth their places.
The huge Rhododendron 'Cornish Red' with one branch flowering a month or so ago has now a fair covering of secondary flowers which are mainly misformed and misshapen.
Jaimie has cut back a lilac which had half fallen over and will now reshoot. Just the time of year for this sort of minor pruning and tidying.
The old quince has dropped its leaves so that the yellowing fruit are exposed. The smell of the fruit makes me vomit so I keep well clear.
Abies fraseri has two white bands on the underside of its leaves and is developing nicely although it has two leading shoots. One will need to be cut out soon but I had forgotten my secateurs.
2017 – CHW
Three different named forms of Magnolia grandiflora all with buds still to open. Amazing for the time of year but normal in this run of mild winters.
This seed pod looks as if it might just be viable? If so a new first for us as M. grandiflora has never before produced a seed pod with seeds in it at Caerhays.
2016 – CHW
Quercus dentata 'Karl Ferris Miller' holds its old leaves all winter and makes a rather fine display. If you cut a branch and sprayed the leaves white who needs a Christmas tree? Our old original Quercus dentata in the Rookery also holds its rather smaller leaves into winter but is in the teeth of the wind there. This is an excellent slow growing tree. We now have three in the garden dotted about.
2015 – CHW
Camellia 'Sodegasuki' has one flower out beside the front door. This is what we have always called it although the Garden Diaries have other names which I cannot quite pin down.Another name for this is Camellia 'Gauntlettii' but the new Hillier's calls it 'SODEKAKUSUSHI' just to confuse things even further.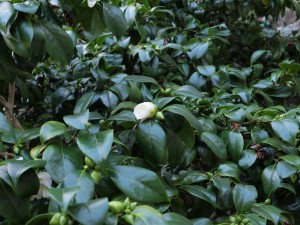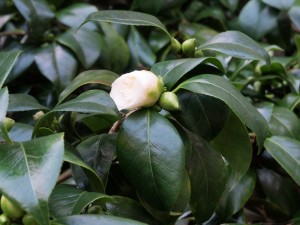 Anyway it is usually/nearly always the first Camellia japonica variety to come out and well worth its place in any garden because of that even if it is easily frosted. A very old variety but one of only a very few to rival the Camellia x williamsii varieties for early 'season' flowering.Yet another shooting party today (badly hung over on arrival) so no time to dwell on plants.
2002 – FJW
Dry spring, summer, autumn – not a drought as in 1976. November Pink magnificent. 2 flowers in Rockery J.C.W. Autumn colour has been good. Wall magnolias cut back hard in June – fully recovered.
1992 – FJW
Moors really badly flooded for first time since they were drained – much rain.
1961 – FJW
Few flowers on George Blandford.
1952 – CW
There has been a big storm and at breakfast only top three bars of gate to 40 Acres from road above water. No one can remember moors so flooded. Camellia November Pink out, several flowers. Tin Garden Saluenensis about to open. C sasanqua almost all over. Oleifera good. Hardly any rhododendrons show colour just Burmanicum and a very few bits. Erica medit a lot out, some darleyense. A few lapageria left.
1926 – JCW
C sasanqua fair. Erica darleyense is one best thing now. Various bits say 30 species of rhodo show flowers. Lapagerias are good.