2018 – CHW
I stopped to admire the autumn leaf colour on this unlabelled Enkianthus (unlabelled on the planting plan too but I suspect Enkianthus campanulatus 'Venus' or 'Victoria' from its growth habit). It has clearly got its seasons badly wrong and is starting to flower. The trusses seem a little deformed but the colour on the bells is clear enough. Very odd!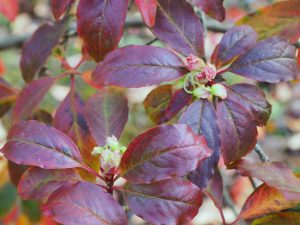 The old quince has dropped its leaves so that the yellowing fruit are exposed. The smell of the fruit makes me vomit so I keep well clear.
Abies fraseri has two white bands on the underside of its leaves and is developing nicely although it has two leading shoots. One will need to be cut out soon but I had forgotten my secateurs.
2017 – CHW
Three different named forms of Magnolia grandiflora all with buds still to open. Amazing for the time of year but normal in this run of mild winters.
This seed pod looks as if it might just be viable? If so a new first for us as M. grandiflora has never before produced a seed pod with seeds in it at Caerhays.
2016 – CHW
Quercus dentata 'Karl Ferris Miller' holds its old leaves all winter and makes a rather fine display. If you cut a branch and sprayed the leaves white who needs a Christmas tree? Our old original Quercus dentata in the Rookery also holds its rather smaller leaves into winter but is in the teeth of the wind there. This is an excellent slow growing tree. We now have three in the garden dotted about.
2015 – CHW
Camellia 'Sodegasuki' has one flower out beside the front door. This is what we have always called it although the Garden Diaries have other names which I cannot quite pin down.Another name for this is Camellia 'Gauntlettii' but the new Hillier's calls it 'SODEKAKUSUSHI' just to confuse things even further.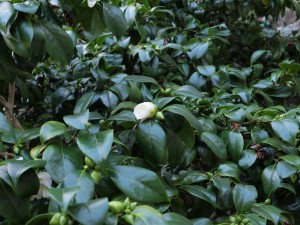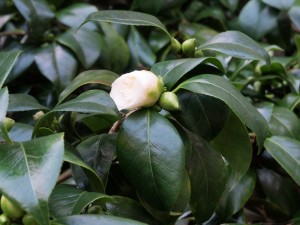 Anyway it is usually/nearly always the first Camellia japonica variety to come out and well worth its place in any garden because of that even if it is easily frosted. A very old variety but one of only a very few to rival the Camellia x williamsii varieties for early 'season' flowering.Yet another shooting party today (badly hung over on arrival) so no time to dwell on plants.
2002 – FJW
Dry spring, summer, autumn – not a drought as in 1976. November Pink magnificent. 2 flowers in Rockery J.C.W. Autumn colour has been good. Wall magnolias cut back hard in June – fully recovered.
1992 – FJW
Moors really badly flooded for first time since they were drained – much rain.
1961 – FJW
Few flowers on George Blandford.
1952 – CW
There has been a big storm and at breakfast only top three bars of gate to 40 Acres from road above water. No one can remember moors so flooded. Camellia November Pink out, several flowers. Tin Garden Saluenensis about to open. C sasanqua almost all over. Oleifera good. Hardly any rhododendrons show colour just Burmanicum and a very few bits. Erica medit a lot out, some darleyense. A few lapageria left.
1926 – JCW
C sasanqua fair. Erica darleyense is one best thing now. Various bits say 30 species of rhodo show flowers. Lapagerias are good.