2023 – CHW
The Magnolia virginiana 'Havener' has opened more fully and so has the seed pod.
Hard pruning of Rhododendron 'Bo Peep' (yellow) on the Main Ride.
The Magnolia delavayi which split in half has been tidied up. Is the darker wood in the centre of the stem rot or not? I think not as I have seen this before.
Vitex agnus castus in the sun on a remarkably hot afternoon.
Cladrastis kentukea turning yellow early as usual.
Cryptomeria japonica 'Araucarioides' was only planted in the spring but is doing well below Sinogrande Walk.
Flowers on Ilex cornuta.
Cupressus cashmeriana in the sun.
Taxodium distichum 'Falling Waters' just starting to turn brown. Extraordinary habit.
The last fruits remaining on the leafless Crataegus schraderiana.
Sorbus hedlundii (KR 1801 A – best clone) with its first fruits.
Betula luminifera 'White House Farm' showing a variety of bark colours before and after shedding its older bark further up the tree.
Keteleeria davidiana (ex. Roundabarrow) with secondary new growth. This nearly died after planting but is now getting going.
Tilia cordata 'Winter Orange' with its fine autumn display.
The true Photinia villosa (we also saw P. villosa var. coreana two weeks ago). A group of 3 large shrubs below Slip Rail which Susyn Andrews identified for us last year. Seeing the fruits proves it. The comparative flowers were more of a puzzle!
Fallen fruit under Sorbus cyclophylla next door to Photinia villosa. I don't remember seeing this species fruiting before but have seen the flowers. Fruits have already fallen.
Vitex agnus castus from a distance – now full out. Hydrangea aspera 'Robusta' the best thing in flower in the garden today but this is a close second.
First flashes of autumn colour on Tilia kiusiana.
Flowers on Hoheria populnea 'Variegata'. This form and Hoheria 'Alba Variegata' are both tender and struggle in a cold winter. Tucked away here in shelter they produce a fine October show.
Hoheria populnea full out at around 20-25ft in height.
A splendid second autumn flowering as usual on Rhododendron 'Yellow Hammer'.
Podocarps swelling on Podocarpus henkellii.
The horrid smell of quinces again fills the air by Slip Rail.
And a clear up of a fallen oak branch by the Engine House. Some camellias to hat stand here too.
Corokia x virgata 'Sunsplash' with red berries and a few flowers left. Slightly odd.
Tilia cordata 'Winter Orange' is putting on a decent autumn show although the best of its orange twigs are yet to emerge as the leaf drops.
Carpinus caroliniana is the first species of this genus to be showing autumn colour in Kennel Close. The rest are all still green.
Photinia niitakayamensis with its first cluster of fruits that I have seen. Hilliers describe these as 'pinkish-red' but they look more orange to me. The leaf shape and habit however suggests the true species.
Rhododendron concatenans (tissue culture grown by Ross Smith at Rosewarne) flowering away well for the second time (as usual) below Donkey Shoe. Planted 2015 in a place where the cinnarbarinum x concatenans hybrid 'Caerhays Philip' grew 40 years ago before the curse of mildew.
The pheasants are going mad for the fruits on what I think is definitely Malus hupehensis by the sales point. This plant was a seedling from the original in the Chinese garden at Werrington. There are two at Burncoose.
First flowers high up on the second ancient and slightly darker pink Camellia sasanqua.
The first slightly lighter pink one is now making a reasonable show.
Still a few flowers left (with scent) on Illicium tashiroi.
One of the young Camellia pitardii with ripe fruits. I don't remember many flowers last spring.
Now the slugs are devouring the orange casings on individual magnolia seeds. No wonder so few germinate outdoors here.
Tree ferns in the quarry and one has a 2 year old yew seedling in its trunk which did not enjoy the last dry summer. There is a yew tree nearby and presumably a mouse or a squirrel hid the seed here.
A Parrotia subaequalis above Quarry Path has finally got going. We lost the other young plant by George's Hut. What spectacular black autumn colour this new species has! We have yet to see any flowers on this plant.
Gathering seeds from Magnolia Nitida which is seeding excessively. It only does this about 1 year in 10.
And here are the collected seeds.
First white flowers on the sasanqua clump below the greenhouse.
Secondary flowers on Rhododendron zaleucum.
Superb colour on another Rhododendron kiyosumense.
2017 – CHW
Tree surgery work on an elderly oak tree at the entrance to the Auklandii Garden. It was threatening to fall on a record tree; Lithocarpus pachyphyllus. Some evidence of bleeding cankers and rot at the base.
2016 – CHW
Cotoneaster hualiense has very ripe berries which are starting to fall. I saw these first last year but they were not then as ripe as this. Another Crug Farm discovery.
A week ago I looked at a very few camellia seeds on this Camellia japonica variety and they were still green and unripe. Today, after a warm, dry week, the seed casings have split and shed most of their seeds. I should have picked them unripe (in theory) and left them to open and shed in the potting shed.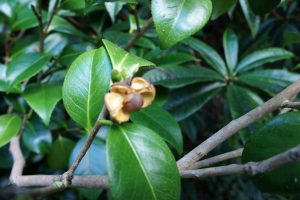 Eucryphia lucida 'Pink Cloud' is going over but I saw and photographed a flower on this plant last January. Good value!
Cladastris kentuckea is at its best in the late afternoon sun. Amazing but early autumn colour.
2015 – CHW
Azalea 'Babeuff' outside the backyard showing good reddish purple autumn colour.
Above it on the wall the old brown flower heads on Hydrangea seemanii hang down from the plant in an attractive way which I had not seen before. Another big plus for this curious evergreen self clinging hydrangea.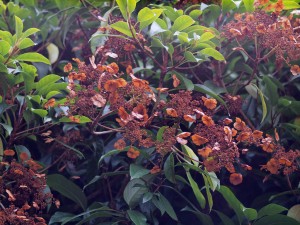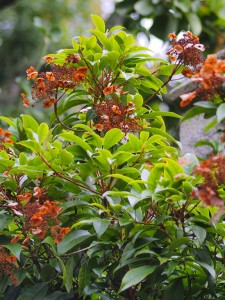 Camellia sasanqua 'Rosea' now full out with its pale pink flowers which seem larger this year than usual. None of the other sasanquas are yet showing colour. I think there are two forms of single pink sasanqua here on these very ancient plants along the west facing castle wall. Damp and shady which they like.
1995 – FJW
Use of Rododendron Nobleanum in church.
1991 – FJW
Sasanqua bottom of Auklandii Garden well open and Rho mucronulatum outish at front gate.
1990 – FJW
Sasanqua bottom of Auklandii Garden well open – also largest white larger R.
1973 – FJW
White cyclamen back after 10 year lapse.
1930 – JCW
Came from Scotland 3 days ago. Camellia sasanqua has some flowers. Mag grandiflora has flowers. M nitida has one flower, the cyclamens are very good. C panniculata is good on the big wall. Fuchsias are good. I am starting to clear the wall opposite this window for them in the newer forms. Hydrangeas very good. Many Haematodes and neriiflorums show flowers.
1928 – JCW
Much as in 1927 Camellia sasanqua shows flower also late Maddeni on a wall. Several flowers on the Mag delavayi, some blooms on Auriculatum x Decorum.
1927 – JCW
Came from the north last night. The hydrangeas V.G. Hoheria very nice. Plants as a whole have done very well. Cyclamen quite fine yet.
1924 – JCW
Hydrangeas good. Rhodo's up to 25 species have some bloom. Haematodes is the best. Roses fair, Cassia nice. Flower bud for next year is very bad but better than 1921. Cyclamen quite nice.
1921 – JCW
The Yuccas are our best flower after the great heat, hydrangeas bad. Camellia sasanqua good, one with strong scent. Some Erica [?] are very good. Clematis paniculata is nice and so are the lapagerias.
1918 – JCW
Rho decorum still the best rhododendron, other things as before.
1910 – JCW
The rain came three days since, and the summer has gone. Solanum and hydrangeas are the best things. Some roses are nice.
1901 – JCW
Several Iris alata open. Roses good yet also cyclamen. The weather has not broken yet.
1899 – JCW
Cyclamen very fine. Lapagerias moderate. Some Rho nobleanum in flower in the Drive.