2023 – CHW
Jaimie's pictures of Camellia x williamsii 'November Pink' in the Main Quarry.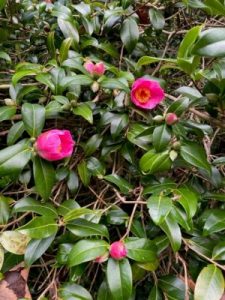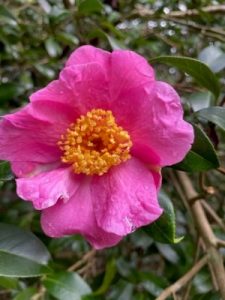 We saw a male plant if Ilex cornuta in flower a week or two ago. Here is a male with ripe berries.
Strangely shaped new growth and hairy stems on Callicarpa pilosissima (NMWJ 1450). No flowers or berries yet but plenty of new growth.
Cornus pumila with its autumn colour – not much!
Acer heldreichii hasn't much to offer in the way of autumn colour either.
Magnolia 'Silk Road' with only a leaf left.
Cornus florida 'Cherokee Chief' with good reddish-purple colours.
Enkianthus campanulatus 'Venus' just colouring up but not yet at its best.
A tour today with Brian Schrire & Susyn Andrews to have another go at proper identification of our Schima species.
First flower out high up on Camellia sasanqua 'Narumigata'.
Secondary flowers on Styrax wilsonii as we have seen before.
And on my fathers Rhododendron 'Red Centurion'.
Enormous quinces on Chaenomeles speciosa 'Umbilicata' which Susyn identified for us on a previous visit.
Acer japonica at its finest in Kennel Close.
Sorbus wilsoniana with a huge crop of fruits. Never seen it better. An outstanding species.
Rhus punjabensis which Susyn Andrews warns is highly toxic and should be handled with care and gloves.
A few berries on Ilex cornuta by Tin Garden.
Hoheria populnea 'Variegata' in full flower. It is usually a shy flower and borderline too tender to grow outside.
Seed cones on Platycarya strobilacea remain green still at this stage.
2021 – CHW
Secondary flowers on Rhododendron 'Norfolk Candy' out as usual.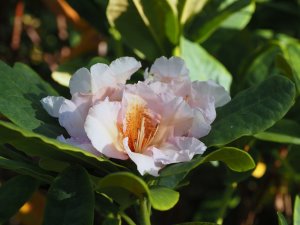 Berries ripening on Cotoneaster 'Exburyensis'.
Fallen leaves under a Cercis siliquastrum.
Autumn colours on Aesculus chinensis which have yet to blow away.
A real surprise! A flower out already on Camellia 'Takanini'. Always early into flower but never this early before. Normally December.
Hoheria populnea now full out and the best thing in the garden today.
Maackia chinensis with some autumn colour developing slowly.
The second ancient Camellia sasanqua has its first flowers now out.
No. 1 has been out for some time – lighter single pink and quite small flowers.
No. 2 is only just full out – larger single white flowers a few of which have an occasional pink flash on the outside of the petals. A drooping habit overall and the flowers hang down too.
No. 3 has only just produced its first single white flowers. A very much more open rounded flower habit and smaller than No. 2.
No. 4 was the second to come into full flower. A little darker than No. 1 initially when first out and full of wasps pollenating the (today) very scented flowers.
No. 5 (just through the archway) is always the last to flower but I did spot the first two flowers too high up to photograph properly.
First flowers out high up on the original Camellia sasanqua 'Narumigata'. Early!
Camellia x oleifera 'Winters Snowman' just out.
Camellia sasanqua 'Sparkling Burgundy' just out too.
Camellia sasanqua 'Narumigata' just out into fine flower.
Camellia x vernalis 'Yuletide' is still in tight bud here but already out in the nursery at Burncoose.
Fuchsia hatsbachii is still in full flower although with some juicy black seeds. Four or five years on from planting this is now 5ft tall with a 7ft spread. A worthy shrub for a border or woodland setting.
Rhododendron 'Norfolk Candy' has been out for three weeks. This is a superb secondary autumn flowerer.
A Rhododendron cumberlandense which I thought was dead from drought (like its two neighbours) has decided to reshoot lower down the stem.
Good autumn colour on Cornus kousa 'Doubloon'.
And on Rhododendron weyrichii.
In the Rireii Opening more laurel hedge pruning.
Odd and worrying yellow discoloration on a young Rhododendron rothschildanum. Unusual but what is the cause?
2016 – CHW
A surprise unknown rhododendron in the yakusimanum hybrids clump has several flowers. Cannot place it.
A young Stewartia monodelpha above the greenhouse is making a nice red display. Its first as only planted this year.
But not as red or good as Stewartia henryae nearby in the new styrax and stewartia plantation.
The east winds have mounded up the fallen yellowish beech leaves outside the back yard with a good smattering of old Magnolia delavayi leaves blown up from below the wall and up Laundry Hill. Unusual for it to blow in the east in October but no trees down as yet as far as I know.
2015 – CHW
Before the rain I revisit the liquidambers to see how the colour has developed in the last few days. Answer: virtually no progress and still largely green in leaf.
On the way I come across a small Ginkgo 'Jade Butterflies' which had previously been hidden away by deciduous azaleas now cut down. No hint of yellow autumn colour yet but a tidy little plant with very attractive leaves. A 2008 planting of three different leaved named ginkgos but very slow progress which is typical of ginkgos. I will try to catch up with the other varieties when they turn colour.
Liquidamber styraciflua 'Red Star' has moved on a bit in colour. The only one of the four to have done so. The lower branches have orange and yellow tints while the leader has more purple tones with a hint of black. It is in a good spot to be seen from the drive and will be a feature plant one day.
1998 – FJW
Many flowers on Nov Pink. Very wet year – very wet week.1962 – FJW
Rain came after 3 weeks.
1953 – CW
Picked first Camellia oleifera from wall almost open. Many pink Sasanqua as well as white open. Lot of Rho neriiflorum in Drive, also mucronulatum. November Pink showing colour, picked 2 buds.
1934 – JCW
Things are much as is usual and no frost as yet. Magnolia delavayi has had some fairish flower.
1918 – JCW
Lapagerias, hydrangeas, rose beds are fairly good. R decorum and neriiflorum look well. Various other rhodo's give bits of flower. Clematis panniculata is good.
1906 – JCW
C sasanqua in flower (two or three). A few two year old daffs up. Cyclamen are good yet and so are the lapagerias and roses. There has been a long fine autumn now apparently breaking.
1903 – JCW
We have two Polyanthus seedlings in flower. Tin Garden, a few two years old showing, no one year old. The cyclamen are over now.
(Handwritten note attached to Garden Book page, 1931)
Put in about 18 seeds of C speciosa x Camellia reticulata close to Gun Room door.
(Additional Note: July 21st 1932: six seeds are up.)