2023 – CHW
A trip to Burncoose where the camellias are even earlier than in the last few years.
Fascicularia bicolour has grown away on top of a wall in the car park but only in maturity has it started producing a show. Not yet as good as the one which used to grow in the old conservatory at Burncoose House.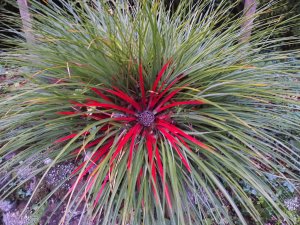 Beschorneria calcicola is a new catalogue entry for 2024.
Camellias galore in the tunnels but poor pictures on a very overcast day:-
Camellia japonica 'Alba Simplex'.
Camellia × williamsii 'Beatrice Michael'.
Camellia x williamsii 'Brushfield's Yelllow'.
Camellia x williamsii 'Charles Michael'.
Camellia 'Cornish Spring' (in October!)
Camellia vernalis 'Yuletide' full out and likely to be well over by Christmas.
Camellia x williamsii 'John Pickthorn'.
Camellia sasanqua 'Narumigata' nearly over already.
Good early colours on Metasequoia glyptostroboides.
Three new Sorbus varieties now in stock but no berries to be seen.
Sorbus hemsleyanus 'John Bond'. Very white undersides to the leaves.
Sorbus 'Wisley Gold'.
Sorbus 'Leonard Messel'.
Mahonia x media 'Winter Sun' just finishing flowering.
Schefflera rhododendrifolia now well established and growing well. Intricate patterns on the new growth.
Illicium philippinense with late red new growth.
A few berries ripening on Viburnum hoangliense for the first time.
Flowers appearing on Berberis xanthoclada but only on the sun facing side of the bush.
A newly potted batch of scented rhododendron liners. Saleable by next May at Burncoose or here.
Vernicia fordii has now even better autumn colours than 10 days ago.
Masses of seedling rhododendrons (mainly species) pricked out into cell trays.
Another seed gift from Raf Lenaerts just pricked out and potted of Machilus yunnanensis. This is not in Hillier's or New Trees either. Plenty of excellent seedlings which appear to be evergreen?
A batch of Cephalotaxus fortunei cuttings set in 7cm square pots.
A good tray of magnolia seedlings ready to pot on in the spring when still dormant.
A good saleable crop of Euonymus moupinensis for the nursery.
Asia has rooted cuttings of Tom's peculiar narrow leafed bay tree which grows beside Tregrehan House.
Trays and trays of rooted scented rhododendrons.
Camellia yushiensis flowering as a liner.
A large batch of different camellia species rooted originally from 2018 cuttings from Tregrehan. Many new ones to us here for planting out one day.
The mist bench absolutely crammed with rhododendron cuttings which, so far, look to have few failures. An excellent exhibition of 'how to do it' by Asia.
Acer takesimense showing good autumn colour.
Cornus florida 'Cherokee Chief' with similarly good red and purple colouring.
Rhododendron keysii with a decent flower. There is nearly always a flower on this rhododendron right through every month of the year.
Euonymus alatus with its usual spectacular colours.
Hydrangea aspera from Lord Howick – a fairly insignificant flower but clearly a rarity.
The first flower on Camellia 'November Pink' in October this year.
More unusual fungi.
The new five seater gator has arrived and the work on cutting back the laurel on the Main Ride is proceeding well.
Two very different but splendid orchids given to us recently as presents. I know nothing about orchids!
2017 – CHW
The seed on Magnolia officinalis 'Biloba' is still not ripe and splitting.
Squirrels open up the seed clusters on Lithocarpus pachyphyllus and devour the biggest seeds. This cluster was carried 20 yards or so from the seeding tree.
2016 – CHW
The Symplocos paniculata clump outside the front gates was photographed again today by Jaimie in the sun. A quite splendid show! Why do not more people grow this?
2015 – CHW
A quick trip up the drive late in the afternoon to see what a tractor is doing in the watermeadows (cutting rushes) brings me to the rather dull Cornus walteri and its trusses of black berries. The tree is still in full green leaf and there are not that many berries to be found except at the top of this Record Tree which we looked at earlier in the year in flower. You might expect good autumn colour soon but I do not recollect anything standing out on this cold, windy corner.
Buddleia lindleyana still has violet purple flowers out at the very end of the racemes although it is nearly November. No other buddleia could match that.
The two large clay pots beside the front door have plants of Camellia sasanqua 'Hugh Evans' which are now well out and doing well. They must have both doubled in size in a year and the deep rose pink flowers are a good size for a sasanqua. Certainly much larger than the tiny old sasanquas nearby on the wall featured over recent weeks.T here may well be more sasanquas out in the garden now and that will be the next quest.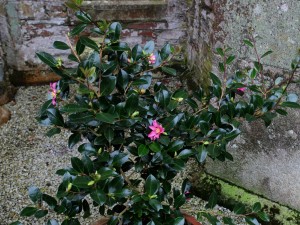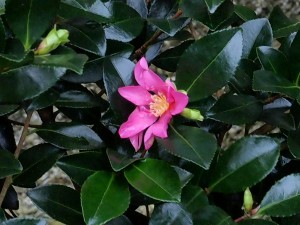 1999 – FJW
Flowers on Camellia noblissima by Georges Hut.
1974 – FJW
George Blandford died – he started work at Caerhays in 1900 and was in the garden feeding pheasants when he was taken ill.
1941 – CW
Camellia oleifera out also white and pink Sasanqua and one hybrid. Rho Yellow Hammer good and a few flowers on Auriculatum hybrid. Hardly any colours yet except Acer rubrum and some maples. Leaves seem late in coming off. Fuchsias at their best. Some flowers on 2 or 3 Maddeni hybrids. Counted over 20 flowers out on my old garden Magnolia.
1934 – JCW
I sowed about 24 seeds of Camellia near the door. They should do well if the sea sand does not touch them.
1917 – JCW
No C sasanqua yet. R neriiflorum has a good many flowers open.
1916 – JCW
Lapagerias good, cyclamen on the wane. Cassia good. Hydrangeas nice.
1901 – JCW
About 8 or 10 two year olds up and two 5 year olds. I picked the first Sasanqua. Some very good Papa Gontier about, I alata very fine.