2023 – CHW
Two elderly camellias near Donkey Shoe were crowding out the path so have had a haircut. They may be Camellia japonica 'White Nun' but that isn't quite the correct name.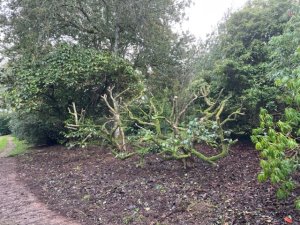 Beautiful autumn colour on Mallotus japonicus. Even better than last year.
Seed collected from various Lithocarpus pachyphyllus. Only the very large acorns will be viable. Cartloads of seed this year.
A large Ilex oak has split in half at The Vean and, annoyingly, smashed the posh metal fence. Quite a bit to clear up here and the rest of the tree has also to come down.
Seed heads now ripe on Hedychium 'Assam Orange' outside my study window.
A fine vase of x williamsii camellias in the hall – the unnamed one from the drive.
Oddly distorted new leaves on just one branch of Lithocarpus cleistocarpus. Drought reaction I assume?
Secondary flower on Rhododendron morii x Rhododendron euchates. Much paler than in the spring.
The leaves have dropped on Magnolia dealbata.
I have never seen secondary flowers before on Rhododendron prunifolium. Again very pale.
Wonderful autumn colour on Mallotus japonicus.
A new Sophora in the ground to replace the drought casualty here.
Another snake bark maple with terminal infection in its trunk.
Hoheria populnea rather closer to than we saw on the main tree last week.
Two gifts from Peter Mills – Nyssa sinensis 'Jim Russell' just starting to go red.
And Viburnum plicatum 'Opening Day' with its amazing autumn colours.
Morus cathayana planted on the bank below the medlar. Good light yellow-white autumn colour.
The third and darker pink ancient Camellia sasanqua has been out for a week.
The fourth and white ancient Camellia sasanqua is just starting to flower. A large upright bush.
The earlier into flower white sasanqua has a much more drooping habit and longer more pointed and more serrated leaves.
The earlier white sasanqua has five or six petals in each flower.
The later white sasanqua has only four petals.
Ilex aquifolium 'Bacciflava' with yellow berries already.
The view from above the fernery.
Machilus yunnanensis (seen as seedlings in the greenhouse a few days ago) is from the Lauraceae family. It is an evergreen tree from Sichuan and Yunnan with similarities to the genus Persea. Its flowers are pale green or yellowish-green in panicles at the end of its branches and dark blue nut-like fruits. Research suggests that little is known about this plant in Europe or the USA and it is a genuinely new introduction which we will now enjoy trying out here. It is found at altitudes in China 1,500-2,100 meters above sea level so its hardiness may well be in doubt.
2019 – CHW
A barn owl has taken up residence in the Tin Garden shed. When Jaimie visited the shed to measure up for visitor information boards it stunned itself trying to get through the window but was thankfully released unharmed. We need an owl box in the current opening to avoid problems like this when the gardens are open. The tiny window high up the wall was left out for swallows and a wren to nest inside. We had not bargained on a barn owl as well.
Sadly the drought has done for our layers on the pink sinogrande. Very little left and the main plant is nearly dead.
A large Camellia sasanqua 'Narumigata' in Rogers Quarry. Only a hint of pink in the petals.
The flower on Schefflera delavayi is now fully formed but not yet out.
2017 – CHW
Plenty of side shoots growing well to take as cuttings next week from Schefflera pauciflora.
First flowers on the Camellia x williamsii 'St Ewe' above the Auklandii Garden.
2016 – CHW
The English partridges have arrived at Tregirls Farm near Padstow as the start of our reintroduction project with the Game & Wildlife Conservation Trust. There were five hand reared coveys of 12 to 18 birds each. They will be released in about a week but appear to have travelled well and settled in well. There is hope for the project.
2015 – CHW
In the clearing above the original Magnolia campbellii a tiny spring rises to create a boggy area where everything we have planted has quickly died from waterlogging; especially big leafed rhododendrons. The only thing which has worked here is what I think is Taxodium distichum 'Pendens' although it is billed as a 2006 planted metasequoia. I can find no reference to an obviously weeping form of metasequoia so must assume it is a taxodium. Anyway it has branched out into a splendid dome and will soon produce autumn colour so one to watch. It very clearly likes its bog with a few wild candelabra primulas nearby. There is no obvious leader to the tree and it is not like Taxodium d. 'Nutans'.
Nearby I notice a wild collected form of Magnolia cylindrica from Eisenhut loaded with enormous seed pods which are much larger than the flowers photographed in the spring. Well worth collecting and growing. I doubt much energy for more flowers next year.
1999 – FJW
November Pink well out – taking 5 camellias to Garden Society Dinner.
1998 – FJW
House martins seen around the house – still very wet and stormy.
1995 – FJW
First perfect flower on Camellia High Hat – sasanquas fully out.
1928 – JCW
Sasanquas are opening. Colour on some of the Acer palmatums etc has been. The fruit on Berberis polyantha is very good. Neriiflorum on the steep bank is quite fair and has been for sometime. Lapagerias good. Some Magnolia delavayi's are in flower.