2023 – CHW
An inspection of Kennel Close today.
A superb showing from Cotoneaster moupinensis planted in 2010 (BWJ 8167). I have never seen it looking better. One of the best 3 cotoneaster species for fruiting after C. wilsonii and C. hillieri I think.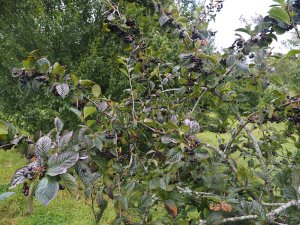 Cotoneaster hualiensis (BSWJ 3143) looking rather old and tired on what I suspect is far too hot a location in Kennel Close.
Idesia polycarpa loaded with fruit. I have never seen this before on this tree. Our other older trees in the garden do not fruit and may not be dioecious as this one clearly is. Apparently some trees are dioecious and some not. Odd!
Common laurel flowering in early October! What a seasonal muddle!
The Hydrangea aspera unknown form Lord Howick may well be the best thing in the garden today.
Myrceugenia ovata var. nannophylla is a dwarfish Chilean plant also put out in 2019. It had flowered and berried as you can see but I have missed it – one berry only! Odd to find it sitting in the mainly Chinese Cotoneaster species collection but that will puzzle a few plant experts one day. Hardy say Hilliers.
Cotoneaster parneyi – a gift from Fromefield Nurseries with the clear caveat that it is not to be confused with Cotoneaster lacteus. Tremendous growth in 3 years!
Cotoneaster naujanensis far from ripe when I look at the Fryer & Hylmo guide to Cotoneaster species.
How good to see a yellow berried Cotoneaster amid all the reds! Cotoneaster 'Rothschildianus'.
Cotoneaster erratus.
Cotoneaster teijiashanensis not yet ripe by any means but the leaf looks correct from the reference books. What a name!
Cotoneaster tengyuehensis also appears to true to name. Well done Mark Bulk Nurseries from whom all these new (to us) species came. Another tongue twister!
Cotoneaster 'St Andrews Blaze' – a welcome Christmas gift from Fromefield Nurseries which is growing away well.
Cotoneaster silvestrii with just a single berry and a rather odd and distinctive new growth and leaf formation. Once seen easily recognisable again. I fear you are bored with red berried Cotoneasters so I will spare you the rest!
2021 – CHW
The mycologists left this strange orange fungus for us to have a look at. When I try to look it up I do not get very far! More information awaited.
Gaultheria mucronata 'Bell's Seedling' looking plump and attractive in the nursery.
Cyclamen coum with very varied leaf forms.
Cyclamen hederifolium has attractive leaves too!
A new clematis for the catalogue – Clematis 'Romantica'.
Ficus carica 'Ice Crystal' with yellow autumn tints.
The new bench in the large greenhouse is complete and already full as the other benches get new insulation.
Rhus 'Tiger Eyes' with its developing autumn glow.
Another new plant for the website – Ceratostigma plumbaginoides 'Summer Skies'.
The late flowering Kniphofia rooperi.
Eleagnus x ebbingei 'Gilt Edge' with some leaves entirely yellow makes a startling show in the nursery car park on a drab day.
This is the large stock plant of Ilex mutchagara at Burncoose with Rob Toy in front of it. No flowers or berries to be seen!
We saw Acer 'Silver Cardinal' (formerly x conspicuum 'Silver Cardinal') with seed heads at Bonython. The Burncoose tree is now performing in a similar way.
I think that this is a fine display of Sulphur Tuft (Hypholoma fasciculare) growing on a dead rhododendron stump at Burncoose. A common fungus on dead and decaying woodland trees and shrubs but not always as fine a show as this.
The head keeper photographed a blackthorn in full flower above Portholland this week. You can just make out a ripe sloe in the picture as well. Of all the secondary flowerings showing up this autumn this is perhaps the most remarkable to date. The heatwave in May to June and subsequent dry summer has certainly fooled quite a number of plant species which do not usually do this.
Then the first fully formed seed clusters on Lithocarpus variolosus (NH 79). Not huge and, again, only a few potentially viable acorns. We have seen flower stalks on this small tree in recent years but these are the first to have ever matured into proper seed clusters. Jaimie commented that he has known this smallish tree for nearly 20 years but never expected to have to climb it to collect seeds. It was from a wild collected batch of seed given to us by Nigel Holman from Chyverton. It came here along with Nigel's collection of Quercus oxyodon which is now of a similar size and was planted out in 2000.
Ross has started a second fire below Higher Quarry Nursery and the path is nearly clear. The laurel hedge has taken a battering but will recover quickly with, now, more light.
The latest beech tree to come down (today) has a colony of wild black bees who are decidedly displeased at events. Ross will ring an apiarist tonight to see if he can box them up and then rehouse them early tomorrow. We sadly had no idea they were high up in the trunk.
This is going to be a really decent large area for replanting in February. Lots of thought and fun in the design as we have literally hundreds of plants to go out this time around.
Neolitsea sericea flowering away in the autumn in the greenhouse as a young plant. This is an evergreen autumn flowering tree which I need to inspect here in maturity. I did not realise it was an October flowerer. No scent here today.
Lespedeza thunbergii flowering away just as the rather similar Indigofera species are finishing. Quite a show today as it would be in an outside border to finish the season off. A shrub worthy of greater recognition.
A large cyclamen corm seems to have been rescued by Asia and potted up in the greenhouse. It is flowering away well and soon the seeds will emerge on contorted 'springs' which is the cyclamen way of spreading its offspring.
A new plant for us – Lardizabala biternata (Lardizabala funaria) in a nice batch in the greenhouse which Asia has propagated from cuttings. I have never seen it in flower but two or three are now planted out here on walls. This is a vigorous climbing plant with edible sausage shaped fruit. I cannot remember how we 'got' a stockplant but Asia will know! Looks a bit tender but that is not mentioned in Hillier's. A flower next year we must hope and perhaps a new climber to offer on the Burncoose website. Rather serrated leaves!
2016 – CHW
Camellia sinensis is out in the greenhouse as a small plant bought from France last year. Its flowers exactly match the old plant on Burns Bank which has reshot from the base and not flowered for a bit. This is however much earlier into flower than I remember.
Camellia sasanqua 'Variegata' not only has gently variegated leaves but also flowers that are a contrasting white and pink. An attractive combination although the flowers last only a very few days in the greenhouse.
Four (of many) boxes of rhododendron seedlings grown the old fashioned way in soil with moss are looking good. Some seedlings have been pricked out already but plenty more for next year.
2015 – CHW
We looked at Cladastris lutea (kentuckea) a week or two ago. Its leaves are dropping already but are a picture of pure yellow in the sun today. When will this USA tree be big enough to flower?