2017 – CHW
A trip to Tregothnan in the evening to quietly look at their Camellia reticulata collection on my own with Evelyn. For a long time I have wanted to assess all the varieties against the much older Kunming camellias here. The main source of 'new' reticulata varieties in the collection was Nuccio Nurseries in the US although Tregothnan grafted most of them themselves before the first phase of planting out in 2003. The second batch of plants came from Stervinou Nurseries in France in 2007. No camellias (or even cuttings) can any longer be imported from the US due to phytosanitary restrictions so the Nuccio reticulata collection is impossible to access now. The French only have a much more limited range of varieties.
Camellia reticulatas, especially grafted plants, are notoriously difficult to grow, tend to be prone to viral infections, and are difficult to keep growing upright without branches flopping down from the weight of their flowers. Deer particularly like reticulatas too. So the Tregothnan reticulata collection has been a struggle but also now a triumph of achievement. Out of the 40 to 50 varieties about 10 had finished flowering and many of the rest were well past their best. However many varieties were entirely new to me and, as expected, several varieties have flowers which are both singles and double on the same bush.
The majority of the 2003 planting are growing now in full sun in the open and quite exposed to wind. The 2007 planting is more sheltered with dappled shade and the foliage is far better for this. One wonders how many other varieties have become casualties along the way.
Camellia reticulata 'Lasca Beauty' is quite well known.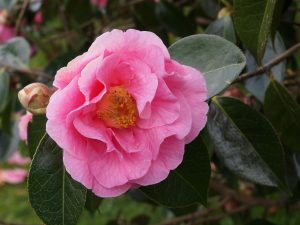 Camellia reticulata 'Simpatica' is not.
Camellia reticulata 'S P Dunn' is a good blowsy red in bud fading thereafter.
Camellia reticulata 'Debut' – a very full double I had not seen before.
Camellia reticulata (hybrid) 'Red Chrystal' – a darkish red single but late flowering.
Camellia reticulata 'Dobro' – almost a paeony form – only one flower left.
Camellia reticulata 'Lady Piet' – another red full double.
Camellia reticulata 'Nuccios Ruby' – just one flower.
Camellia reticulata 'Butterfly Wings' (formerly Nuccio's No 16) – much as its name implies and impressive both in bud and flower.
Camellia reticulata 'Curtain Call' – not a million miles away from 'Captain Rawes'.
Camellia reticulata Nuccio's No 18 – a bit like 'Lady Clare' but bigger.
Camellia reticulata 'Emma Gaeta' (formerly Nuccio's No 23) – later flowering and varying flowers.
Camellia reticulata 'Dr Clifford Parks' – at least this one is more common and better known.
Camellia reticulata 'Hulyn Smith' – another one much like 'Captain Rawes'.
Camellia reticulata 'Frank Houser' – a good red in bud.
Camellia reticulata 'Lila Naff' – some rather odd names – one wonders who these people actually were? Research to do.
Camellia reticulata Nuccio's 35
Camellia reticulata Nuccio's 36 – very similar to 35?
A rather nice Magnolia 'Butterflies' along the way.
Camellia reticulata 'Mouchang' – another we know and have grown at Burncoose. Fades quickly.
Camellia reticulata 'Carl Tourje'
Camellia reticulata 'Satans Robe' – not a pure reticulata I suspect but a hell of a colour.
Camellia reticulata 'Howard Asper'
Camellia reticulata 'Red Emperor' – another good red.
Camellia reticulata 'Fortyniner' – another one we have sold.
Camellia reticulata 'Tom Knudsen' – very good today.
Camellia reticulata 'Lasca Beauty' – again!
Camellia reticulata 'Arch of Triumph' – quite well known too.
Camellia reticulata 'Pink Dahlia' – virtually over but Evelyn said had been good. Hardly looks like a reticulata.
Camellia reticulata 'Crimson Robe'
Camellia reticulata 'Interval'
Camellia reticulata 'Lady Piet' – again.
Camellia reticulata 'Crimson Robe' x 'Arch of Triumph'
Camellia reticulata 'Red Emperor' – again.
Very fine cones on Abies spectabilis. We need to acquire this!
2016 – CHW
Meeting with Philip Brown to organise the tree planting here in late June by The Worshipful Company of Fruiterers in acknowledgment of the Historic Houses Association Garden of the Year. Sounds like another good lunch for the members of this city livery company!On the tour the best Rhododendron macabeanum is just coming out.
Nearby the newly registered Magnolia 'Tropicana' has snuck out without us noticing. It is a good name for this peculiar mix of colours which will not be to everyone's taste. Will it last until next Saturday week for the second Rosemoor show?
The view from above Hovel Cart Road is still good but the magnolias have caught it in Old Park and little still showing in the distance here.
Azalea 'Tebotan' is out outside the back yard and although I think the true from is in the rockery and by the front gate at Burncoose.
Yet another visit to the new sluice gate in Penvergate with Environment Agency staff. As discussed earlier the contractors have installed it 150 or more yards down from where we all agreed it was to go so now the runoff water in summer flash floods can only drain off in a third of the adjacent bog rather than the whole of it. The EA ponder getting the contractor to move it! The fish channel is clearly set too high and unusable by fish as well so all in all a total 'balls up'. We had put in the boards to dam up the stream in the morning and had a good pond by the time we met. I suspect this all has some way to go yet.
Chaenomeles speciosa 'Geisha Girl' is just coming into flower by the tower.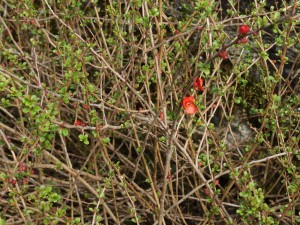 Magnolia x loebneri 'Snowdrift' is flowering above Four in Hand for the first time. Nothing special at all really.
Below Four in Hand is a large magnolia tree with smallish cup shaped white flowers which flowers quite late in magnolia terms. We have lost the label and it is not in the planting plan although I put it there 20 to 25 years ago. What could it be with a habit like this? Perhaps a Magnolia denudata shape but too big a flower and too big a tree? Certainly not a Magnolia soulangeana variety so what is left? Not really a Magnolia x veitchii flower shape either but quite nice!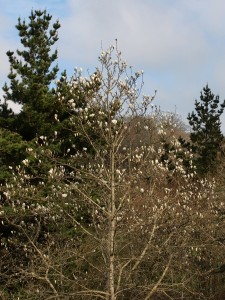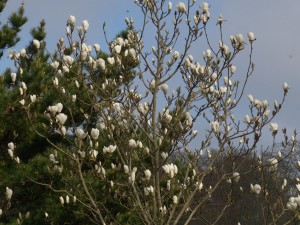 The wild violets are out but, when you look closely, the flowers are too large and these have hybridised with cultivated violas. These used to grow at The Vean before reconstruction and the Top Lodge before tarmac covered them. They were proper Irish 'gypsy' violets and these are all that remain today. Pity!
Magnolia x loebneri 'Wildcat' may have been battered by the wind but it is still miles better than 'Snowdrift' above. Too much naming, again, of hybrids/seedlings which are too similar to other varieties.
2015 – CHW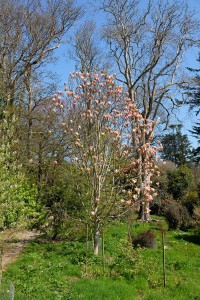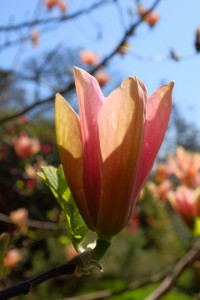 Magnolia 'Peachy' is now out by Tin Garden.  This is apparently from the same seedpan or a similar cross to our Fertile Myrtle x sprengeri 'Diva'.  'Peachy' is slightly less horrible with more of a hint of peach as it first comes out rather than the more vulgar stripes on our as yet unnamed (?) 'Fruit Salad'.  The third seedling from this batch is 'Flamingo' [get from Jaimie] which is somewhat different again.  This is not yet a plant which we grow.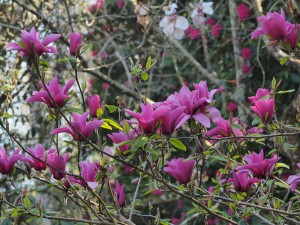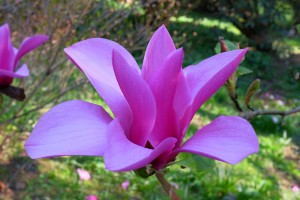 Magnolia 'Margaret Helen' is finally out on the drive.  A New Zealand cross very similar to 'Caerhays Surprise'.  BlueBell Nursery say that Margaret Helen is the best second flowerer of any magnolia with them in September/October.  We have never seen a second flowering on Caerhays Surprise which implies that Margaret Helen has some Magnolia soulangeana in its parentage which Caerhays Surprise certainly does not.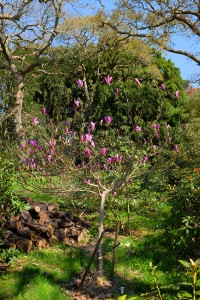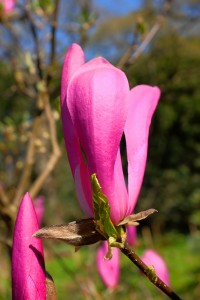 Magnolia 'Randy' is showing colour.  This is one of 'the girls'  crosses between Magnolia liliiflora 'Nigra' and Magnolia stellata 'Rosea'.  I first saw these 35 years ago working in the Valley Gardens at Windsor.  Despite attaching wires to the root ball to deter theft 'Randy' was always the first to be pinched.  The plant is rather dark in bud but it is supposed to be a light pink later so possibly a naming cockup here.  It may in fact be 'Ricki'.  Time will tell.  Good to see that the new Hillier's now lists only the best eight of 'the girls' and not the full dozen or more which always caused confusion (Susan, Pinkie, Jane, Ann, Judy and Betty).  Frankly the list could be cut further but then these are ideal plants for smaller gardens or tub growing.  'Susan' performs best here.
Two tours today (Sunday) involving 52 people.  The tea rooms are coping well and also an endurance ride of 20 mules starting from the beach.  The film crew have set up their compound above the café in the Outer Park field for filming from tomorrow.  All extra so good news.
2003 – FJW
Might soon call this Sunday 'Primrose Day'.
1998 – FJW
Snow on Easter Sunday. No swallows seen. Cold and floods up country. Camellias A+.
1996 – FJW
Swallows active. First good soak for some weeks. New Mag on Drive [J C Williams] excellent. Very late season. Daffs at their best. Excellent year for Camellias.
1979 – FJW
First swallows seen. (D.J.W.). T H Jobson died Maunday Thursday.
1969 – FJW
Swallows seen for first time.
1963 – FJW
Magnolias at their best.
1955 – CW
Went to Beech Walk extremely early. V. G Irroratum 200 yards beyond but Camellia japonica very few flowers. No sign of life at Trevennen – Mrs Butlers some at best. No buds on young magnolias. Big Robusta one at Donkey Shoe V.G. Saw Julians unknown plant above crino hedge, 'he thought a Mag perhaps', only a Reticulata with leaves blown off. Not very deep knowledge at his age.
1931 – JCW
Magnolia sargentiana opened its first flowers, very large purplish pink flowers, quite a fine tree. The daffs have reached Poet Arums and De Graaf opening, and it has been a very good season indeed.
1930 – JCW
Some Calophytums open but not all, a bad flowering year for them. The early Kobus – soulangeana – conspicua one plant. Salicifolia shows colour. Denudata nearly all out. Madame de Graaf is open in the Drive and poets are near opening.Several Prunus incisa V.G.
1929 – JCW
Magnolia denudata has been most remarkable but is on the wane. Bean put the best Kobus down as having two thousand blooms open. The swallows at the house today. The big pink Calophytum is at its best. The neriflorums are very good. Rho praecox is over but was excellent. The nursery wall stellata is in full flower.
1928 – JCW
Cernus rubens is at half length in the Donkey Show, Augustinii nears its best. Campylocarpum x auklandii is very nice. Neriflorums are very good. Auklandii buds far on. Mag halleana is fully out. Mag alba 'Superba' and speciosa both open.
1917 – JCW
P D saw the first martins.
1910 – JCW
Show day. De Graaf and Auklandii open, some poets there, a good show but flowers were short of moisture, rain came in the evening. Swallows came 3 days ago, the pendulous cherry most lovely, the others opening.
1909 – JCW
Swallows at the pond. A late season. C reticulata a few open, no de Graaf, similar to 1900. Shilsonii very good and so the Argenteums, probably the best things we have out.
1898 – JCW
Bob saw the first swallow.