2023 – CHW
The Easter Egg Hunt in the Rockery with Isla, Bea and Zara.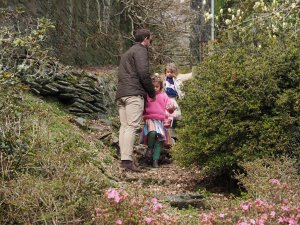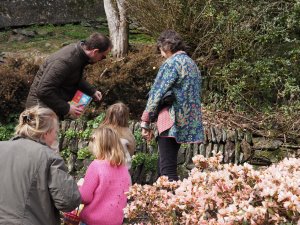 Pink bluebells outside the Rockery.
Grandchildren feeding the cattle with increasing confidence.
The aged flock of Guinea Foul appear to be all male. Females all lost to foxes when nesting in earlier years?
Swallows in the air but, in the sun, a massive hatch of flies at the front of The Vean.
A Magnolia 'Caerhays Surprise' looking fantastic on The Vean drive.
I discover the first flowers ever on Enkianthus serrulatus which was given to us as a large layer last summer by Tom Hudson. If this species had ever grown here before I can find no obvious record of it. The white flowers are much larger than on any other species and appear well before the leaves are properly out which, it would seem, is the only enkianthus to do this or to flower so early. A welcome new addition to the enkianthus collection which is growing nicely.
Illicium floridanum (possibly Illicium mexicanum) beside the Camellia 'George Blandford' on the main ride has loads of flowers but its leaves look yellowish. At the Hillier arboretum this plant seems to do best in full shade.
Lindera obtusiloba is still not full out but beginning to look quite nice. Although I saw this full out at Rosemoor three weeks ago it has been slow to perform here. More sheltered here?
The second group in the afternoon is led by Richard and Merigold Webb from Webbs of Wychbold garden centre. They are longstanding gardening friends and arrive in good odour having filled their cars with Burncoose plants in the morning.
Magnolia 'Goldstar', a yellow stellata hybrid, is perhaps the third yellow magnolia to emerge (arguably a little late) this season.
Magnolia 'Kalleberg' above Crinodendron Hedge is quite nice looking; a bit like Magnolia cylindrica. The tree clearly has a large sucker from below the graft to deal with.
The soon to be popular Magnolia 'Genie' nearby (one of four in the garden in flower today) has larger flowers than the one by the Acer griseum but still rather smaller than the pictures of it in New Zealand. Is this darker or better than the equally popular Magnolia 'Black Tulip? Clearly 'Genie' is going to be a much smaller growing magnolia than 'Black Tulip' and has more red than purple in its flower. These flowers have been bashed about a bit but have a pleasant white rim and inside to the tepals. If and when the flowers achieve the same size as in New Zealand it will be the better plant. Even now it just about shaves a win over Black Tulip.
Rhododendron praestans has a single flower out below Burns Bank. I think it is this species and not the adjacent Rhododendron monstroseanum.