2017 – CHW
Still dry and probably near critical if we do not get rain soon.
There used to be 25 of these Rhododendron 'Elizabeth' at the Four in Hand. Three elderly plants survive – one only just.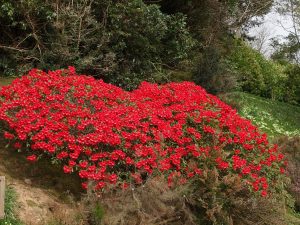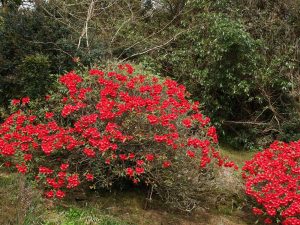 Prunus 'Matsumae-beni-murasaki' (syn 'Candy Floss') rather less spectacular but will be good.
The Kunming camellias are nearly over and too tall and enclosed now to see properly. I remember six to eight varieties but only two seem to remain in the old Charlie Michaels Nursery bed.
Some young, bought in Enkianthus serrulatus flowering for the first time. Not yet anything like as good as Tom Hudson's plant and I wonder if they are indeed true to name?
Likewise three Enkianthus campanulatus 'Ruby Glow'.
Another good flower on a young Magnolia 'Burgundy Star'. It may be as good as 'Caerhays Surprise' one day?
Prunus 'Horinji' – really floriferous and looking great already.
Magnolia 'Maxine Merrill' just out. A smallish yellow but a good colour this year. Very floriferous from a young age.
Magnolia 'Spring Rite' – not exactly spring!
Prunus 'Hokusai' – yet another new Japanese cherry but a nice contrast of pink and white. Not as floriferous as some.
The new Magnolia 'Sunset Swirl' now full out unlike last week. Similar to 'Peachy' etc really.
Camellia 'Tiny Princess' has very sparse flowers. Three in fact on the whole 20 plus year old bush!
Prunus 'Gyoiko' here is a new plant but we have another more mature one below the tower which is 20ft tall and just coming out now.
Magnolia 'Sweet Valentine' is nice by the Green Gate. Flowers are getting larger with maturity.
Prunus ichiyo (syn 'Pink Champagne') is very good also by the cash point.
Prunus 'Matsumae-fuki' (syn 'Chocolate Ice') may yet be the pick of the bunch. Certainly a great contrast between leaf and flower as the name implies.
2016 – CHW
A most hectic day with two full tours, one with lunch and one with tea and drinks. The first with William and Susie Gore from Pencarrow Farm, near Camelford, and their friends who have won the tour in an auction last year. Azalea Vuyks Rosyred is just out by the cashpoint as I try to find them amid a coachload of German visitors.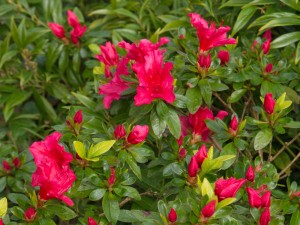 I discover the first flowers ever on Enkianthus serrulatus which was given to us as a large layer last summer by Tom Hudson. If this species had ever grown here before I can find no obvious record of it. The white flowers are much larger than on any other species and appear well before the leaves are properly out which, it would seem, is the only enkianthus to do this or to flower so early. A welcome new addition to the enkianthus collection which is growing nicely.
Illicium floridanum (possibly Illicium mexicanum) beside the Camellia 'George Blandford' on the main ride has loads of flowers but its leaves look yellowish. At the Hillier arboretum this plant seems to do best in full shade.
Lindera obtusiloba is still not full out but beginning to look quite nice. Although I saw this full out at Rosemoor three weeks ago it has been slow to perform here. More sheltered here?
The second group in the afternoon is led by Richard and Merigold Webb from Webbs of Wychbold garden centre. They are longstanding gardening friends and arrive in good odour having filled their cars with Burncoose plants in the morning.
Magnolia 'Goldstar', a yellow stellata hybrid, is perhaps the third yellow magnolia to emerge (arguably a little late) this season.
Magnolia 'Kalleberg' above Crinodendron Hedge is quite nice looking; a bit like Magnolia cylindrica. The tree clearly has a large sucker from below the graft to deal with.
The soon to be popular Magnolia 'Genie' nearby (one of four in the garden in flower today) has larger flowers than the one by the Acer griseum but still rather smaller than the pictures of it in New Zealand. Is this darker or better than the equally popular Magnolia 'Black Tulip? Clearly 'Genie' is going to be a much smaller growing magnolia than 'Black Tulip' and has more red than purple in its flower. These flowers have been bashed about a bit but have a pleasant white rim and inside to the tepals. If and when the flowers achieve the same size as in New Zealand it will be the better plant. Even now it just about shaves a win over Black Tulip.
Rhododendron praestans has a single flower out below Burns Bank. I think it is this species and not the adjacent Rhododendron monstroseanum.
We finish at 5.30pm which means nearly six hours of tours with two groups of six. The dogs are exhausted and are not alone but then Richard Wayne turns up with a roe deer haunch and roe deer burgers. Very good!
2015 – CHW
Part of a day of showing Tim and Ali around the garden properly.  They have a new garden in Dorset and are thinking about how to create something serious.  They have been staying in St Mawes and have visited Heligan and Tregothnan before Caerhays.
The outstanding new things which we saw today were: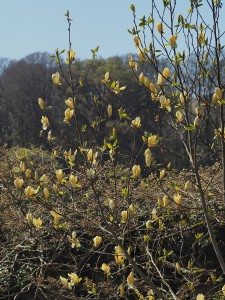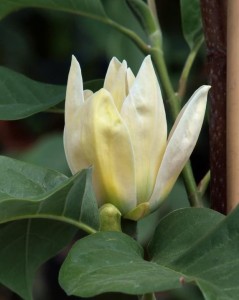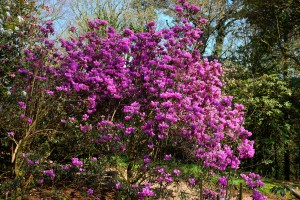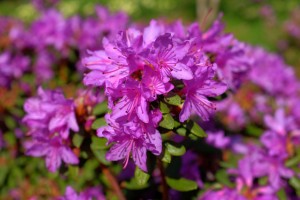 Saw on the lake this evening a pair of shelduck which flew out to sea. These huge and colourful ducks nest in rabbit holes but I have never seen one at Caerhays before.
1979 – FJW
About 30 Magnolias out in Big Wood. Calophytums outstanding. New layers by Tin Garden flowering well for first time. Beaneanum and Arboreum flowering for 1st time. Corylopsis coming. Still no leaf on Michelias and Auklandii still look dead.
1919 – JCW
Mr Bean is here. Cerasus subhirtella is very good. Various rhodo's recovering from frost. Spinuliferum hybrids very nice in the bed. Calophytum good, sutchuenense passing. Fortunei x Arboreum good. Fargesii passing. Red auklandii's are moderate, white auklandii x are hardier.
1916 – JCW
Weeping cherries fair, other cherries start, most of the other things injured by cold and cold wet. Daffs about their best but are poor and small.
1914 – JCW
The pendulous cherries at their best, the others coming on. R racemosum good in the beds. Clematis alpinia V.G. Rho spinuliferum is super – white Auklandii x Arboreums coming on. Daffs going off. Arboreum x Thomsonii over. Mrs Butler x going back. Auklandii just starting. R fargesii over.
1907 – JCW
Not quite all of the De Graaf are open, but this is about our best day for daffs, a few cherries show colour.
1903 – JCW
Nearly all the seedlings of value have opened, the Doriton, J B W Cassum is well out, one or two Waterers are open.
1898 – JCW
Dielytras starting into flower also parrot tulips, bicolor not open. The seedling beds are going back though there are several yet to open. Mrs Langtry only half open and so the M Cowen.
1897 – JCW
Habrothummus and Clianthus just open, Myosotis humile and parrot tulips. Daffodils except bicolor nearly over, Dielytras at their best. C montana opens.