2023 – CHW
A tour of Old Park with 2 of the 4 grandchildren; Isla and Bea.
Malus 'Royal Beauty' – another one out in the Kitchen Garden.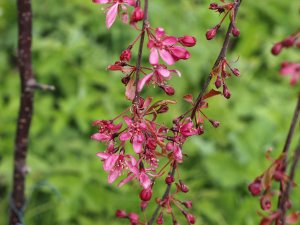 The Gunnera beds in Old Park are taking off. Some of these leaves have grown at least a foot in the last 4 days.
Magnolia 'Tikitere' just coming out. One of the last of the New Zealanders to do so.
RJW and Isla inspect Magnolia 'Fairy White'.
Betula utilis jacquemontii 'Pink Champagne' has shed its old bark and now has a pinkish trunk.
Impressive catkins now on Salix hookeriana.
Magnolia 'Strawberry Shake' in the Isla Rose isn't that exciting.
Magnolia 'Sunset Swirl' certainly is although only one flower.
Magnolia 'Dark Bird' is excellent too although the name is not in any reference book and has not been registered. Difficult to say what size the flowers are as the seem very variable.
Nearby the newly registered Magnolia 'Tropicana' has snuck out without us noticing. It is a good name for this peculiar mix of colours which will not be to everyone's taste. Will it last until next Saturday week for the second Rosemoor show?
The view from above Hovel Cart Road is still good but the magnolias have caught it in Old Park and little still showing in the distance here.
Azalea 'Tebotan' is out outside the back yard and although I think the true from is in the rockery and by the front gate at Burncoose.
Yet another visit to the new sluice gate in Penvergate with Environment Agency staff. As discussed earlier the contractors have installed it 150 or more yards down from where we all agreed it was to go so now the runoff water in summer flash floods can only drain off in a third of the adjacent bog rather than the whole of it. The EA ponder getting the contractor to move it! The fish channel is clearly set too high and unusable by fish as well so all in all a total 'balls up'. We had put in the boards to dam up the stream in the morning and had a good pond by the time we met. I suspect this all has some way to go yet.
Magnolia x loebneri 'Snowdrift' is flowering above Four in Hand for the first time. Nothing special at all really.
Below Four in Hand is a large magnolia tree with smallish cup shaped white flowers which flowers quite late in magnolia terms. We have lost the label and it is not in the planting plan although I put it there 20 to 25 years ago. What could it be with a habit like this? Perhaps a Magnolia denudata shape but too big a flower and too big a tree? Certainly not a Magnolia soulangeana variety so what is left? Not really a Magnolia x veitchii flower shape either but quite nice!
The wild violets are out but, when you look closely, the flowers are too large and these have hybridised with cultivated violas. These used to grow at The Vean before reconstruction and the Top Lodge before tarmac covered them. They were proper Irish 'gypsy' violets and these are all that remain today. Pity!
Magnolia x loebneri 'Wildcat' may have been battered by the wind but it is still miles better than 'Snowdrift' above. Too much naming, again, of hybrids/seedlings which are too similar to other varieties.
Two tours today (Sunday) involving 52 people.  The tea rooms are coping well and also an endurance ride of 20 mules starting from the beach.  The film crew have set up their compound above the café in the Outer Park field for filming from tomorrow.  All extra so good news.