2020 – CHW
There has never been a time previously when I could enjoy the garden twice a day and watch everything opening up on a daily basis at the prime time of the year for a woodland garden. I feel that I now know every nook and cranny in the garden as never before and could make a worklist for the next 12 months if we had more people to do all the work. A mental one now exists anyway.
It is one hell of a prison to be shut up in but I have run out of rude things to say about the BBC for the moment as their worm has turned on their line now (a rather popular one here) is that we should go back to work; or some of us anyway. Having rushed to promote shutting the country down, which history will show to have been unnecessary and draconian (whatever the shortages), they are now riding on the popular bandwagon of public opinion again about reopening. Hypocritic bastards!
We await Boris' return and 'the big decision'. Until then I might not even listen to the BBC's bleating which, as I have said before, will soon now be 'government inflicted hardship and misery for the poor'. This will be pretty rich from a BBC filled with Remoaners and easily classed as the metropolitan liberal elite! A few days before we get Robert Peston and Laura Kuenssberg on that but it is coming.
A trip to The Vean to see that all was secure in lockdown with no one having been there for three weeks. All quiet but still a lot of tidying to do in the shrub borders as instructed in January.
Phlomis fruiticosa just coming out as a huge clump.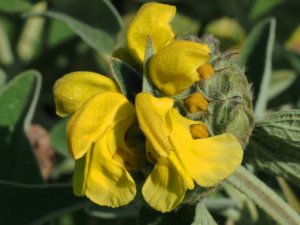 A good show still of some double flowered daffodils.
A young Rhododendron 'Tinners Blush' on the bank above the front of the house.
A windswept but still standing Magnolia 'Caerhays Surprise'.
Cornus 'Eddie's White Wonder' out already on the main drive – greenish-cream flower bracts turning white. They will get much bigger yet.
Boquilla trifoliata 'out' as far as it seems to get.
A very elderly Azalea 'Babeuff' out just outside the back yard.
Azalea 'Blushing Bride' just out by the Azalea 'Hinomayo' clump.
Azalea 'Tebotan' just starting too and Azalea 'Greenway' nearby about to show.
Rhododendron 'Johnny Johnstone' with its double flowers.
Rhododendron 'Van Nes Sensation'
Something is, like last year, biting the Embothrium flowers in half to get at the nectar. Pigeons or squirrels? The flowers on the ground have been halved!
Wonderful new growth on Schefflera taiwaniana.
Michelia foveolata, one of the last of the species to flower, now showing colour.
Lindera obtusiloba now fully out.
Chusquea gigantea by Tin Garden is flowering prolifically and will now die as all bamboos do when they flower. The three here were planted in 2011 and had got to 20ft or so. I only noticed because I was cutting back a few canes that had flopped onto two other plants nearby.
Magnolia 'Stellar Acclaim' is rather small flowered and dull!
Aesculus bushii with new growth and flower heads already – four to six weeks in advance of normal?
Aesculus wangii with new growth too.
Magnolia 'Purple Prince' – no comment!
This Aesculus species with wonderful orange indumentum on the stems of new growth and flowers which have just emerged from the sticky bud casings. It is labelled Aesculus chinensis but I do not think the label is on the correct tree! After a lot of reading it might in fact be Aesculus splendens but the problem is that none of the reference books refer to this sort of rust coloured downing on the new growth.
Malus 'Jelly King', planted this year, with its first flowers.
Aesculus carnea 'Aureomarginata' just in leaf.
Acer campestre 'Red Shine' living well up to its name.
Magnolia 'Carlos' – no comment here either. Only one flower!
Magnolia 'Purple Globe' with its first flower somewhat battered. A new one to us.
Magnolia (Michelia) platypetala now full out. A superb species which improves each year. We will need to give it more space.
Pheasants lay their eggs everywhere. The dogs learn to search them out as do the crows, magpies and jackdaws. Cock pheasants also eat eggs where they can.
The first time I have ever seen flowers on Eriobotrya deflexa from Taiwan. They appear before or with the reddish new growth.
Magnolia 'Royal Splendour' is a new one to us but clearly in the 'Peachy'/'Daybreak' category.
Cestrum 'Newellii' full out in flower in the nursery.
Rhododendron williamsianum x martinianum on the drive at Burncoose. Superb and well worth naming and registering properly.
Frankie Tregunna is clearing out the top pond in the water meadows with a swing shovel. It had become silted up and totally overgrown with trees so that there was no open water left at all. This used to be an important stretch of water for wildfowl and will now be restored to what it was 50 years ago.
Thieves have again ransacked the honesty box in Portholland car park securing £30 perhaps. Nobody saw nothing of course as is always the way with minor rural crime of this sort. The new metal cover replacement will be harder to break into we hope.
I have been wondering why several daffodil clumps dotted about have their leaves obviously dying already? Eel worm does not really strike in bulk like this. Then I wondered about spraying but there has been none here. Perhaps scorched in the cold?
Rhododendron cumberlandense – dark form just coming out and rather a good colour.
Ross is taking down an old beech tree and some laurels threatening our Rookery Nursery bed extension. A huge messy fire and it is still a quagmire but lots of room to replant. He has also demolished what was left still upright and what was not from an old leylandii hedge. Most of it blown over in early March.
The Ilex platyphylla windbreak will now have more light to get going and do its job.
Rhododendron 'Loch Awe' at its very best. Delicate colour changes and tones.
Despite the three original Camellia reticulata 'Captain Rawes' being totally denuded of leaves they are covered in flowers. Perhaps new growth will yet emerge and they survive? A startling comeback if they do.
Magnolia 'Atlas' – can there be a bigger magnolia flower?
Magnolia 'Purple Splendour'
Magnolia 'Yakeo'
Magnolia 'Crystal Chalice'
Magnolia 'Raspberry Fun'
Magnolia 'Betty Jessel' – what a colour!
Magnolia 'Princess Margaret'
2016 – CHW
Jaimie has taken pictures of the start of the repairs to the Old Dog Kennels below the Kitchen Garden. It is starting to look like a building again. This is the building which Natural England are very keen to see restored and for which they have provided a large grant under Caerhays' Higher Level Scheme agreement. However, for some bizarre reason, they will not grant aid the construction of the roof. To restore a building with public funds for use by visitors to Old Park garden without a roof seems somewhat illogical but there we are. The work will take about 12 weeks and includes repairs to the adjacent Kitchen Garden wall.
2015 – CHW
Back on the night train to a day of meetings.  The first house martins have arrived at the castle where they nest in scores or even hundreds by the end of August in the eaves under the castellations.   They are five days late despite the southerly winds and sand pollution from the Sahara.   Normally a few swifts nest with them but have heard them yet.A quick viewing of the now completed, wired and staked new planting above Roger's Quarry.   All looking good but we need rain.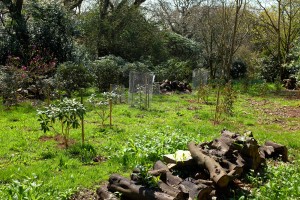 2004 – FJW
Very sunny spring. Today a nice soak of rain. George's Veitchii at its best.
1990 – FJW
1100 Easter opening. Donkey Shoe Rho loderi full out.
1979 – FJW
3200 at Open Day (Easter Sunday). Magnolias quite splendid. Miss Pascoe died.
1935 – JCW
(Typed letter attached to Garden Book page)
From Knapp Hill Nursery to J.C.Williams, Esq.
Dear Mr Williams,
Thank you for your letter. I think you would enjoy the Cherry Tai Haku, a plant or two of which we have here.
Its magnificent flowers are double the size of most of the cherries; it is very showy and appears to be a good doer.
I note with great interest that you may try and pay us a visit on your way south after deer-stalking.
Yours sincerely,
F. Gomer Waterer.
1926 – JCW
Daffs are over. The May poet is in the house. The Souleii hybrids are very very good. Maddeni's just opening slowly.
1915 – JCW
The poets begin to come and the large things in daffs to go back. R calophytum is in flower and is very fine. I crossed it with Argenteum. Thomsonii x Arboreum are over, the Mrs Butler x Arboreums are at their best, some pink and white Auklandii x Arboreum are opening.
1906 – JCW
Very much as in 1897, plenty of good Camellias. Would be some nice rhodo's but for sun, very very dry.
1902 – JCW
The Show day, we had as many things open as we shall ever have, M de Graaf very good, G brought a good lot of flowers, rhodo's rather over.
1900 – JCW
Homer, Horace and most of the poets including White Elephant are opening, also White Lady, M de Graaf etc, in fact this is about the best day of the season, Marrel is a long way off.