2023 – CHW
Rhododendron 'Countess of Haddington' just coming out after all the rain. Thankfully undamaged.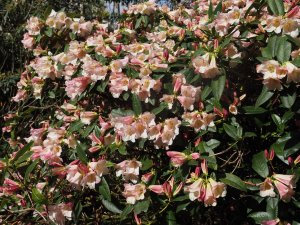 Rhododendron 'Else Frye' and Rhododendron impeditum 'J.C. Williams'.
More pictures of the new to us Magnolia 'Wim Rutten'. This really is 'different' and good.
Magnolia 'Cleopatra' x Magnolia 'J.C. Williams' has extremely reddish new growth which I have seen in some other magnolias but seldom as pronounced as this.
Magnolia 'Lemon Star' just out and excellent as ever.
New leaves and flower on Acer campestre 'Red Shine'.
Although this is incorrectly labelled Abies bicolor var. alcoquiana it is in fact the pretty rare Picea alcoquiana (syn. Picea bicolor). Most attractive today with male upright catkin-like 'flowers' and female juvenile cones. In one picture you can see a mature old cone which is evidently Picea not Abies.
Tilia paucicostata just in leaf. A rare newly introduced species not in Hilliers.
Rhododendron arboreum 'Sir Charles Lemon' is seldom quite as floriferous as this as a young plant.
First flowers just out on Rhododendron 'Fragrantissimum'.
A start is made on clearing the fallen beech tree in the Rookery which fell right along the path and damaged nothing else except 2 pheasants squashed under a pheasant feeder.