2020 – CHW
The BBC tell us it is disgraceful that some hospitals are actually washing their protective kit rather than throwing it away every time after use!
Most of it looks pretty washable at high temperatures to me.
This might even save the NHS money and, with heat in the wash, it must be about as safe as we are always told that washing your hands is!
But it is still ALL the government's fault of course and, now Starmer is in on the politics, the two can feed off each other as in the Remoaner era.
Listening to BBC and other journalists questioning the government and officials at 4.30pm every day have you noticed that the great Laura Kuenssberg and Robert Peston et al ask multiple questions to which they never listen to the answer (which has often been given already in response to someone else)? Nor do they care about the answer really! All they are doing is showing their self-importance and trying to score anti-government political points to make news and newspaper headlines. It is almost a competition to see how rude they dare to be to outdo each other and become a bigger celebrity of impending doom. The arrogance and hypocrisy is quite breathtaking masked as investigative journalism.
One lives in hope that the government will become even firmer in its handling of the BBC licence fee issue later this year as a result of all this negativism. No wonder Boris had banned ministers from being interviewed on the Today programme until recently.
One swan is back on the lake. A mother and two very mature cygnets left about 10 days ago. Normally the parents drive the cygnets away out to sea in the autumn but this last crop stayed all winter. Will the mother return? Is the newly arrived swan her former mate? It will be interesting to see what happens next as they should be building a nest very soon.
Enkianthus campanulatus 'Vesta' is the first one out of the three Vs ('Virgo', 'Venus' and 'Vesta').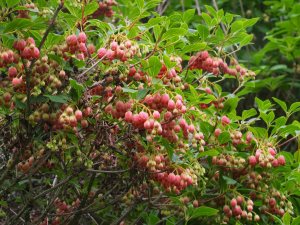 Rhododendron 'Linda' on Hovel Cart Road with the other groups of williamsianum hybrids.
Camellia reticulata 'Lila Naff' still full out and quite late.
First flowers out on Rhododendron 'Michael's Pride' below Donkey Shoe.
Magnolia 'Mighty Mouse' flowering better than ever before. This is a tiny dwarf plant with tiny flowers despite its rather good name (Minnie Mouse is already the name of a Michelia).
Rhododendron haemaleum var. atrorubens is another real rarity although Dr Davidian, the former great rhodo professor, was uncertain of its status and identity according to the pocket rhodo handbook.
I think there are now 20+ different yellow flowering magnolias on display today in Kennel Close alone. You have seen most of them this year already. Here is the small flowered Magnolia 'Maxine Merrill' which is putting on a good show as a small tree.
I have my doubts about Photinia macrophylla being true to name. So far it appears deciduous with small leaves.
Magnolia 'Sunray' is a fair tree now too.
A plant of Azalea 'Caerhays Lavender' with its gorgeous new growth but, as yet, no flowers out.
I had forgotten that we have a new species of Photinia above the Auklandii Garden. This is Photinia nussia which is half evergreen and has just dropped its old leaves to reveal the new growth. Quite red at first, as you see from some basal shoots, but it quickly fades. We now have at least ten different species of Photinia.
Magnolia 'Honeybelle' now full out with fully open flowers opening flat.
Magnolia x brooklynensis 'Titan', now that it is full out, does seem to have enough yellow in the flower for it to be probably be true to name.
Magnolia 'Hot Flush' looking superb.
Photinia davidiana is virtually leafless. The old leaves have just dropped but the new growth has yet to appear in the main.
This is the record tree of Photinia prionophylla which has nasty spikes. It has remained fully evergreen and the new growth is emerging only higher up and is green.
2019 – CHW
Rhododendron reticulatum in the Rockery. A very old plant which is deciduous most years but only partly so after this mild winter. This species can be a variety of colours from purple to reddish purple and with or without central blotches. Rhododendron kiyosumense (search elsewhere in the diary to see) is also a form of reticulatum but the Japanese recognise several related species from different Japanese regions.
Magnolia 'Sunset Swirl' is another from the same 'stable' or parentage as 'Daybreak', 'Yuchelia' and yesterday's new variety in the nursery. These few appear before the yellows really get going and give the magnolia season continuity.
We need some photographs of Acer macrophyllum for the website as this rare species is shortly to be offered by Burncoose. A 2011 planted tree has its first inflorescences here.
Asia needs to remind me of the name of this peculiar evergreen climber growing outside the back yard and now in full flower properly for the first time. [Boquila trifoliata]
2017 – CHW
A newish clump of Rhododendron 'Blue Diamond' below Donkey Shoe. This seems a rather paler form than I remember but these were bought in plants with Dutch labels.
Rhododendron 'Michaels Pride' is just coming out at least a month early for Chelsea where we usually show it on the stand as a cut flower. Yet another gap there to fill. Thank goodness we do not have a rhododendron centenary stand to fill in this very early rhododendron flowering year. They are great this year but forced on by the warm dry conditions of the last month.
A new rhododendron species to us – Rhododendron litiense with delicate yellow bell flowers. It is apparently a form of wardii-litiense group say the taxonomist boffins.
The scented Rhododendron 'Martha Wright' is full out and the hint of yellow which it has initially has faded.
Rhododendron 'Bergs Yellow' above Rogers Quarry is also new to me. Preferable to 'Hotei' or 'Logan Damaris' I think today.
Two forgotten and not that old (but already over mature) plants of Rhododendron williamsianum x Rhododendron martinianum. JCW never gave this a name although it is a good thing. Best in full sun. Gardener Martin worked for JCW.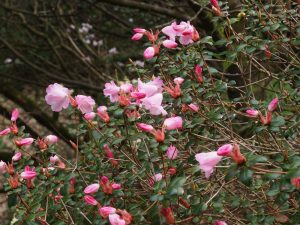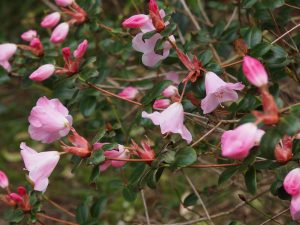 The rare Ilex ficiodes is in flower. Another first for me although not exactly the sight of the century! Unusual un-holly like leaves too. I guess Susyn Andrews probably named this obscure and well hidden plant for us originally. Not a name I recollect being around 40 years ago but that looks like the age of the plant. Not planted by me I suspect but can readily check.
A nice 10 years old group of six Rhododendron burmanicum are just emerging. This is another species which died out here long ago but was the parent of several Caerhays crosses including 'Michaels Pride'.
Here are some pictures of Dad's 90th birthday lunch. Sadly John and Katie did not produce their baby on the same day to make him a great grandfather. We await this news.
The flowers in the Dining Room included:
Rhododendron williamsianum hybrids bred by Dad
2016 – CHW
Out of the blue a request for a garden tour by a Northamptonshire landowner who arrived in a small blue helicopter which he flew himself. The wind was against them and they were a little late over the 1hr40m flight. We did two tours either side of lunch while the co-pilot refuelled at Bodmin airport. He was keen on trees, involved with Kew and is clearly expanding his arboretum although his estate has yet to have a house built on it (by him) and he currently lives elsewhere. An interesting contact not least because he has a grouse moor in Weardale.
Camellia 'Dream Castle' has recovered from its rather drastic haircut and has produced its first two flowers since the pruning. A risk which was worth taking.
An unnamed FJW cross between Rhododendron 'Elizabeth' and Rhododendron 'Charles Michael' is rather nice below Slip Rail. Two plants here which I had not seen in flower before. The cross is indeed a halfway house between the two parents with neither predominating. Jaimie is keen on it!
A Rhododendron sinogrande type planted in 1991 from Tom Hudson is very fine along from Georges Hut and I cannot see how I have missed this up to now. Although pale in colour it has a very distinct red eye as you can see. Perhaps it is a newer species? We can ask on Tuesday. [The answer was that it is the rare Rhododendron suoilenhense]
Magnolia 'Yakeo' is good value as a small growing magnolia and here in full sun. It had secondary flowers last autumn and is not dissimilar to 'Caerhays Surprise' at least as regards the flower.
The magnolias on the drive are, as usual, a fortnight later than the rest of the garden and quite superb today although Magnolia 'Caerhays Splendour' is now just over here. The campbellii alba seedling has lasted for weeks as has its parent.
Magnolia 'Goldstar' has emerged rather more and is a good colour this year. Hardly a small tree as its parentage would imply.
2015 – CHW
Estate bi-monthly meeting (a particular difficult one) lasts all day and then the fete meeting in the evening. The film crew have finished filming above the beach which has seriously annoyed our garden visitors with road closures. No time for the garden at all sadly.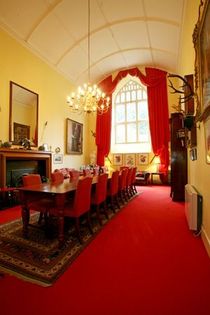 2000 – FJW
A little rain – no house martins – Magnolias rely on new varieties.
1954 – CW
Broke a rib at St Gorran Rectory Garden, nothing much there.
1932 – JCW
Much as in 1927 but Ciliicalyx has lost its flower buds. Camellia speciosa wanes, a bad year for flowers on most of the Cam japonicas. Rho lutescens is over. Mag sargentiana cut by the wind.
1927 – JCW
Rho ciliicalyx is at its best, it has never been really good before this in the 26 years or more we have had it, the cantabiles are very good and so are all the blues.
1925 – JCW
Prunus sargentii going back, Incisa is very good otherwise just as in 1922. Rho scintillans is coming on but most of that sort are bad.
1922 – JCW
Very few Poets are open. M de Graaf in the Drive is open, Mag denudata is nice. The Berberis hedge has been good for a long while. Wilsons Corylopsis are open. Some of the Sutchuenense rhodo's are good. Rho calophytum is just becoming open. Rho lutescens has been very good for a long while. Prunus sargentii is in flower.
1918 – JCW
The late Poets are opening. Recurvas not yet out, most of the daffs are over. Auklandii starting to open. Augustinii at their best and very nice in the 40 Acres. Some good blood red Arboreums there now. Broughtonii hybrids well on.
1911 – JCW
Plenty of daffs, yellow trumpets not quite over. Cherries coming on, P pendula not quite at its best. Clematis on Tower not open.
1910 – JCW
Plenty of daffs, yellow trumpets over. Cherries coming on, pendula at its best. Clematis on Tower began to open.
1905 – JCW
Was at Dinton. Poets not as good as last year, saw a good frilled trumpet and some nice small Leedsi's.
1903 – JCW
Thomsonii been out for a week, no Fortunei. Countess of M for a week, Auklandii the first bloom. Arboreum blood red at its best.
1899 – JCW
Thomsonii open.
1897 – JCW
R thomsonii, Falconeri, Fortunei and Countess of Haddington all open well. Tree ferns large and small have most of them started. The late poeticus begun to open.