2019 – CHW
More cold east wind and then heavy rain which the plants needed after a dry few weeks. Quite a few laurel leaves stripped and blown onto the rides by the wind reminiscent of The Beast last year but de minimis by comparison to then.
This plant of Rhododendron arboreum 'Blood Red' has been exposed to view by the lifting of the crown on the nearby pendulous Cedrus deodara. I had thought we had lost all the Blood Reds apart from an old one in Forty Acres Wood but was wrong.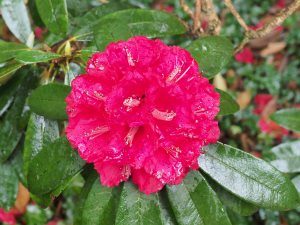 This is the rare and, as yet, unexciting Forestiera neomexicana (Forestiera pubescens); a desert olive which we have occasionally stocked in the nursery without much interest in it. A multi-stemmed shrub here with the yellowish leaves just emerging. I have yet to see the black fruits. Planted in 1991 or soon thereafter.
Before the 1990 hurricane there were many more of these huge 'blowsy' rhododendrons with flowers which fade from red to pale pink and, finally, white. There are still a few as here but I have never known the proper names. Probably a mix of griffithianum and arboreum?
Another flower or two on Ucodendron whartonii.
Rhododendron mengtszense collected by Alan Clarke with his collector's number AC 5663. In the Pocket Guide To Rhododendron Species it is listed as 'a rarity and/or of doubtful provenance' (irrorata Group). Anyway these are its first two flowers here and the leaves are distinct with a pronounced inward curl.
A day spent earlier this week removing lower branches to 'uplift' 20 to 30 year old specimen trees which (like the cedar shown above) were shading out other smaller growing shrubs nearby. Essential maintenance to protect other fine plants.
Rhododendron makinoi (best narrow leafed form) with its first flowers in the young rhododendron species collection in what was Orchid House Nursery. Darker in flower than the Burncoose plant by the Rockery there.
Rhododendron neriiflorum phaedropum also with its first flowers nearby. Very different in leaf and flower form from the original Rh. neriiflorum which grew so well here years ago below the Fernery.
Azaleodendron 'Hardijzer Beauty' (Kurume azalea x Rhododendron racemosum) is an excellent pot plant but rather dwarf and short lived in a garden context where it always looks a bit 'miffy' except perhaps when in flower.
Azalea 'Pink Pancake' – an evergreen Nakaharae hybrid with large bright pink flowers. This clump was only planted in 2016 but is already making a good show above the path and well worth propagating.
The clearance and dredging of the top pond is now nearing completion.
Magnolia acuminata 'Sunray' is nicely out in New Planting.
First flowers on our Magnolia 'Honey Tulip' on Hovel Cart Road.
Also first flowers on Magnolia 'Anya' in Kennel Close.
Is this Rhododendron sinogrande as good as any seen in western Ireland? Colour wise perhaps not but the size of flower is bigger I suspect.
Magnolia 'Spring Rite' has a decent-ish flower.
Magnolia 'Kusious' seems an odd name and may be a misspelling? Needs checking but not that startling as yet.
A young Staphylea pinnata just out. Why is this species four to six weeks later into flower than all the others which are now over?
Another one bites the dust as a Chelsea exhibit. Rhododendron 'Winsome' out already.
Azalea 'Fedora' very full of flower this year on the drive. Azalea 'Amoena' beside it nearly over.
Rhododendron 'Linda' full out on Cart Road. One of several nice williamsianum hybrids in this cluster.
An unidentified (and unnoticed by me before) yellow magnolia by the two betulas on Cart Road. Not on the planting plan! Not special.
Enkianthus campanulatus 'Hollandia' is startlingly good.
Enkianthus campanulatus 'Vesta' absolutely in its prime and laden down with bell flowers.
Enkianthus campanulatus 'Venus' is more sparse in its flowering and the trusses are more hidden by leaves.
Enkianthus campanulatus albiflorus is also sparsely flowered but quite pretty nonetheless. This row of enkianthus are easily the best thing in the garden today and not all varieties are yet out by any means (eg 'Victoria' and Enkianthus deflexus).
The buds on Styrax odoratissimus (veitchiorum) are now just out.
A newish but impressive clump of Rhododendron (Azalea) stenophyllum 'Linearifolium' is full out above the greenhouse.
Magnolia 'Woodsman' x 'Patriot' is blue in bud (but not as blue as 'Blue Opal') opening as you see. Different!
Magnolia 'Sensation' is good and improving each year. We have cut this for the Rosemoor RHS show on Saturday.
Azalea 'Salmon Pink' has been scorched by sun after 10 days of it. Originally from Glendoick.
Planted only last year but now five flowers on Magnolia 'Honeybelle'. Quite a nice shape as it opens but small, fading to crap!
A group of three Rhododendron aberconwayi performing nicely. Slow growing.
Magnolia 'Hot Flash' is improving with age (now 17) too.
A wild self sown clump of Primula pulverulenta in a damp spot where little else will grow despite several attempts.
2016 – CHW
What are the 'colours' of the 'BREXIT'? We do not know yet but, in plant terms, Brussels must be 'yellow' and the UK can be 'R W & B'. I will concentrate on these colours leading up to the 23rd June and the voting.So here we are with Magnolia 'Yellow Bird' just coming out in Penvergate. Not as good a colour yet as some years but still impressive.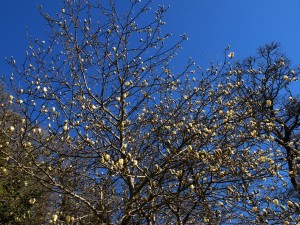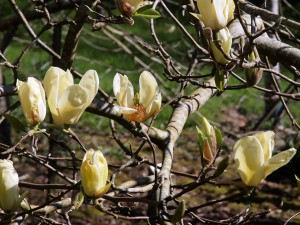 This is one that I have read about but only seen once before. Magnolia 'Lombardy Rose' is not really a yellow although it looks a bit creamy from a distance and white closer up. An odd name to explain away?
The second and rather better Magnolia 'Butterflies' in Penvergate has a low spreading habit and oddly shaped flowers. It is well worth growing as an oddity or odd yellow. US not Brussels provenance though. This year so far it is a far better yellow than 'Yellow Bird' but not usually. 'Yellow Bird' may have been blown open early.
I photographed Magnolia soulangeana 'Alba Superba' with some colour showing in February. Here it is two to two and a half months later just going over as the leaves emerge. How good a value is that. The nearby (pure) Magnolia soulangeanas are full out all along Penvergate and look splendid. Some date from the 1920s at least. I did plant a clutch of soulangeana varieties here but only two varieties seem to have made it.
2015 – CHW
A day at Burncoose to calm, I hope, the packers' nerves and stress at the ever increasing volume of orders.  An unbelievably good performance.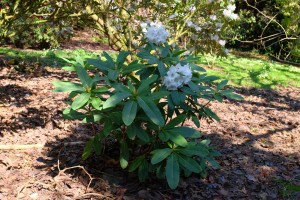 A quick dog walk brings me into the Auklandii Garden where a clump of unnamed rhododendron hybrids, originally layers from our former seedling hybrids in the Rookery, are full out.  The new layers here have taken so we can, in my lifetime, move these plants on again to a third new location.  The plant photographed is a Rhododendron calophytum cross which John Bond, the former keeper of the gardens at Windsor Great Park and one of my mentors and friends, once demanded a plant of for the Valley Gardens at Windsor. Student gardeners (as I was then 56 years ago) did not refuse their bosses. Nearby grows Rhododendron 'Titness Park', a pink Rhododendron calophytum hybrid by John Bond which flowers in early March.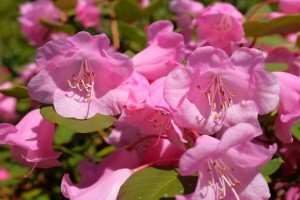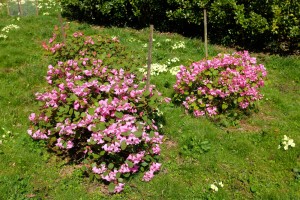 Rhododendron 'Temple Belle' is an orbiculare x williamsianum hybrid which I suspect may have been produced at Werrington Park (same ownership as Caerhays until 1955 and still very much family) since the plants just inside the Chinese Garden gates there are Temple Belle which are nearing the end of their life at 10 to 12 feet tall.  Our new plants appear dwarf by comparison and I am not aware that Caerhays ever had this hybrid – certainly not in my lifetime.  Rhododendron orbiculare is virtually impossible from cuttings with us (and the seed are never true) while 'Temple Belle' is very difficult but it is a superb plant which should be more widely grown.Magnolia yuchelia is strutting its excellent 'stuff'.   A less bizarre mixed colour than some of our other recent subjects in this diary and with a true michelia scent.  This is the first decent (?) cross (which is supposedly impossible) between a magnolia and a michelia (Magnolia acuminata 'Miss Honeybee' and Michelia foggii 'JackFogg').  The (Chinese and US) botanist would no doubt use this to justify their recent reclassification of all michelias as 'magnolias' which most UK magnolia enthusiasts regard as confusing bollocks – especially those who try to sell them commercially and have no interest in genetic evaluation.  The tepals (petals) stand proud today but will soon change colour and hang down, sooner especially if the escalating drought persists.  We are all now worried about our newly planted Chinese rhododendrons in Old Park especially where there is little shade.  Still no rain forecast.  It will arrive at Chelsea I expect but what to do with Chelsea plants in the coldstore?  This week's problem to devise a plan!
1941 – CW
Camellia speciosa still has nice flowers and its hybrids. Auklandii and Mrs Butler Rho hybrids at their best. Also Blue Tit and Yellow Hammer, reticulata past its best. Daffs nearly over. Some nice whites and poets left. Some cherries now very good. Mag veitchii opening well. Denudata – Sargentianum – Kobus – and Mollicomata over. Michelia becoming nice.
1925 – JCW
Near 1919. The Corylopsis are going back but remain the best thing in good light. No Auklandii starting indeed there may be no buds.
1919 – JCW
Reticulata nice yet. New Magnolia denudata very good and so Calophytum. Also Oleifolium. Cerasus subhirtella very nice. Big Japanese not open yet.
1908 – JCW
Very much as in 1900 perhaps the daffs are rather later. Primroses at their very best – short of rain after a long spell of dry northerly wind.
1906 – JCW
Came back from Horticultural Hall and Dinton, most of our daffs have passed over. Reticulata good now, Auklandii not yet open. Clematis indivisa not at its very best yet.
1903 – JCW
We are far ahead of the above.
1898 – JCW
Wild primroses at their best, a good few roses open, waterlilies throwing leaves in most cases. Beacon began to open, no 12 just out, all the named Engelhearts out except a few Poeticus. Montana has some flowers open.
(Hand written note, dated 1932, attached to Garden Book page of April 20th)
'I find in the Garden Book that Camellia speciosa can flower between and on the dates of January 7th and April 21st and then come the pink hybrids from it.'