2020 – CHW
Have you noticed how we are being governed by scientific advisors who cannot agree on anything but are having their moment of fame with the media. Matt Hancock, the health secretary, gave a broadside to Professor Ferguson about who is running the country. The latter is not in government but, to hear him pontificate, you would think he was.
Few other scientists appear to have the same ideas as Prof Ferguson yet he is calling the tempo on facemasks (no need for them – but we suspect there are not enough anyway) and the timing of the end of lockdown.
Not surprisingly, and as predicted, the newspapers are turning on the government 'for treating them like children'. We all know the attention span of 'children' and we can all see why you cannot reveal your plan early or lockdown will be ignored.
What a hellish decision for Boris yet again. The 'children' will moan and sue about deaths either way but we have to get the economy going! The government cannot bail out everyone and every business for very much longer.
The death rates may turn out to be double the hoped for 20,000 but how many of these actually would have died from other serious medical conditions? That will only come out later but it is a hell of a price that the rest of the country is paying for each death!
Six different young lime trees photographed today (and three more for website care articles) which I must do again when they are all in flower.
Picea glauca 'Piccolo' looking especially yellow today.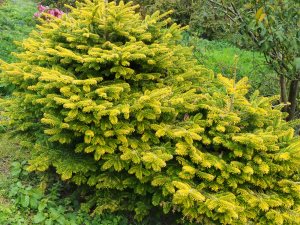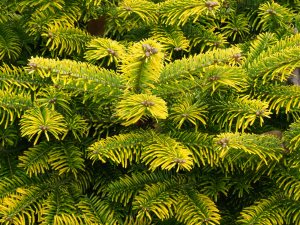 Still plenty of late flowers on an old (but pollarded back three to four years ago) Camellia x williamsii 'Caerhays'. Quite variable flowers in full shade but you can see the 'red' in the opening ones.
Salix undensis 'Golden Sunshine' just leafing up in Tin Garden.
Magnolia 'Daybreak' is darker than Magnolia 'Peachy' which is lighter in colour. The names seem the wrong way around as I have said before.
A young Magnolia x soulangeana 'Beugnon' with its first two flowers.
Enkianthus campanulatus 'Venus' now out as well.
A now established Tilia endocrysa leafing up. Spectacular!
Acer sterculaceum subsp. sterculaceum just leafing up. Quite bronzy.
Tilia tomentosa 'Brabant' planted in 2009 is already a good tree as you can see. Bark and young leaves also.
Betula utilis var. jacquemontii 'Inverleith' is developing good bark. Planted 2010.
Tilia paucicostata just leafing up.
Salix magnifica had erect purple catkin flowers last week. Today the catkins have opened up.
Tilia oliveri with drooping new leaves.
Tilia moltkei has much the same droopy new leaves today.
Crataegus chinensis with a flower.
Tilia mongolica 'Harvest Gold' with its yellow new leaves.
Tilia kuisiana, trunk and new leaves.
Wonderful bark on Eucryphia cordifolia.
Magnolia acuminata 'Golden Glow' x Magnolia 'Miss Honeybee'. Much the same as 'Miss Honeybee' as it seems to me.
Picea smithiana with attractive drooping light green new growth.