2023 – CHW
Magnolia 'Olav Kallenberg' nearly over. (M. 'Black Tulip' x M. liliiflora 'Holland Red'). Above Crinodendron Hedge.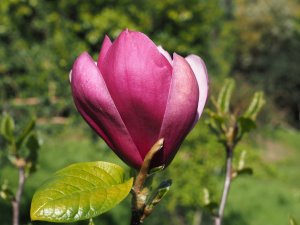 Sorbus matsumurana in bud but not yet out. Never seen here before.
A localised frost or cold wind has recently caught the new growth on a young Lithocarpus dealbatus.
Lithocarpus glabrata looking exceptionally well and about to come into new growth. It may well grow 2-3 feet taller this year but the deer have been nibbling so it still needs the wire netting surround.
Rhodoleia aff. parvipetala has dropped all its many flower buds. Perhaps cold but I am not sure. A huge crop of buds 3 weeks ago but now just the old brown remnant. So no great show this year.
First flowers out on Rhododendron loderi 'King George'.
Rhododendron haemaleum var. atrorubum (perhaps?)
Magnolia floribunda still has plenty of flowers on its lower branches.
Nasty looking rot in the base of a Magnolia dealbata. It hasn't got any worse at least.
Our largest Tilia endochrysea.
The very rare Rhododendron gingongshanicum is sadly on the way out. Drought or the pre-Christmas cold?
Magnolia compressa has recently shed most of its leaves but the new growth is coming so all fine.
What looks like tortrix moth has been eating these leaves of Rhododendron sinogrande.
A young and good Rhododendron orbiculare.
Quercus semicarpifolia – a mature tree. The young leaves have barbed edges but mature ones do not.
Stachyurus praecox 'Matsusaku' is an exceptional form with much larger flower clusters than straight S praecox.
Huodendron baristratum has a wonderful trailing habit and exceptional bark. We have so far failed to establish this at Caerhays after several attempts.
Michelia ernestii (formerly M wilsonii) is in flower with a yellow scented flower. Strangely there is nothing like this at Caerhays from of old although it would be very odd if it had not arrived at all. Lots of archive work to do. Tom offers cuttings in the summer. This is a must acquire for the Caerhays collection with plenty of room to grow!
Michelia compressa – here we start to have a laugh. Burncoose bought this supposed rarity in Holland but it has fat chubby rounded leaves. Nothing even faintly like Tom's plant which has tiny leaves, nice bark and a few tiny 2cm flowers 20-30ft up. A very dull species with a totally insignificant flower which Tom says is crap even in New Zealand where his father grew it and cut it down.
Cleyera japonica used to grow at Caerhays as a record tree by Donkey Shoe. One to reacquire.
Fokienia hodginsii – a very rare conifer which is similar to Calocedris calolepsis. Saw this once at Exbury.
Parkameria yunnanensis – in the Magnolia nitida category.
Michelia velutina has long pointed leaves but 'not in the top 10 by flower' according to Tom. Not on his list either.
Parkameria lotungensis is very similar to Magnolia nitida but the new growth is not rusty red. No flower sadly to compare.
Michelia chapensis is another glossy evergreen tree of some note. No flower sadly. Tom has just given us a plant. Cutting grown I guess.
Illicium simonsii was going over. We have this spectacular tall evergreen tree at Caerhays from Crug but the deer have trimmed it up. One for cuttings.
Manglietia duclouxii is very vigorous with shiny leaves.
Michelia platypetala we have seen also at Burncoose and Tregothnan but ours has yet to flower. Excellent scent and well worth its place. Seems hardy and quite easy to grow. Cuttings? Now renamed M cavaleriei.
Michelia xanthantha (now Michelia fulva var calicola) has very hairy indumentum on the bud.
Manglietia fordiana – we have this doing well at Burncoose and may soon see a flower.
Illicium yunnanense – huge trees which may have been merged into Illicium simonsii by the botanists. Cuttings here.
Manglietia yuyuanensis – this one may well be at Burncoose and Caerhays also.
Michelia fulva – we had this one, lost it and now Tom has given us one again planted by the Podocarpus salignus. Huge glossy leaves and very furry new shoots.
Manglietia Moto (now Manglietia kwangtungensis) is the one we have doing well by Georges Hut where it gets partially defoliated by wind to no ill effect.
Manglietia grandis has, as its name implies, huge leaves. M hookeri and M insignis are the only two old mature trees at Caerhays.
Michelia floribunda – now the fun really starts. The old plant at Caerhays which we have always known as M floribunda Tom (and the US expert Dick Figler) says is in fact Michelia doltsopa. This is because of the length of the leaf petioles which are here, on Tom's plant, 50cm long WITH A SCAR on the petiole around half the length of the petiole. Our plant has a SCAR of ONLY about 25% of the length of the petiole so this makes ours M doltsopa. Apparently the leaf shape and the flower colour (totally different to ours which is yellow whereas this is clearly white) are irrelevant in making the overall identification. We yell 'bollocks' and say how can a petiole scar possibly be the end of it. DNA analysis is the only way to resolve this delightful argument.
We then move onto Tom's (wild collected in SW Yunnan and 100 miles from his collection of floribunda) Michelia doltsopa with its smaller petiole scar which is of course also white and not creamy like our original plants. The flower shape is totally different as are the leaves. So the laughter continues. This argument is by no means over yet. Logic and common sense dictate that the Caerhays plants (the old ones anyway) are massively different. They may be Michelia manipurense but the new Chinese michelia reference book and Tom's master list make no mention at all of M manipurense! Why should we be fooled by the size of a leaf scar for heaven's sake and when was a leaf scar alone the key to a plant identification?
Manglietia sapaensis does not seem to be on Tom's master list. Quite a distinct hairy covering to the new shoots.
Rhododendron petalottii is a superb red species and totally unknown to us.
Michelia Cavaleriei (similar to Michelia platypetala which is now Michelia cavaleriei var platypetala just to confuse us even more) – you could be forgiven for finding it bloody similar to Tom's M doltsopa and M floribunda in terms of flowers and even the leaf although the M platypetala at Burncoose has larger leaves.
Michelia maudiae is one we thought we have by the old Lindera megaphyllas. Looking at this I am pretty sure we do. The leaves are totally glabrous with blueish undersides. The flowers are quite pointed.
Manglietia conifera (previously M chingii) is yet another thriving and hardy species which Tom has yet to see in flower.
Rhododendron suoilenhense is what I photographed a day or two ago at Caerhays and called it a sinogrande seedling which it is not. It is a wild collected species by Tom in 1990 to 1991. His plants are also in flower today.