2019 – CHW
I think those fuchsias beside the house have flowered all autumn and all winter. Now they are off again. Just shows what an ultra-mild winter means.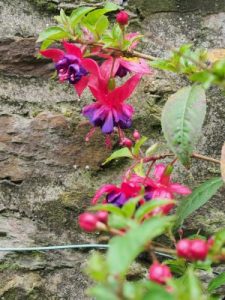 I have been watching Rhododendron desquamatum for several days. The wind has speeded its opening and what a sight it is if you like mauve-purple in profusion. One I must remind Asia to propagate as this is a short lived species due to over flowering as you can see.
First flowers out on Rhododendron moorei which is another that I know we have had to replace twice in 60 years. Fortunately three replacements went in last year as this clump looks pretty 'over mature'.
Pittosporum eugenoides 'Variegatum' gave itself away from afar with its strong scent. The flowers go nicely with the foliage.
Rhododendron 'Wine and Roses' making a nice clump. The leaf undersides are a bonus.
Another couple of Dad's hybrids – Rhododendron decorum 'High Sheriff' x Rhododendron williamsianum and 'Tinners Blush' (paler) which we need to propagate for the Tin Garden plantings next spring. Both were launched at Chelsea 20+ years ago but they will be well over by 19th May this year.
Podocarpus macrophyllus 'Aureus' has become a stunted spreading shrub after some 35 to 40 years. It is the new growth which turns yellowish but there is still a tinge here in last year's.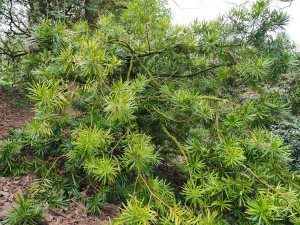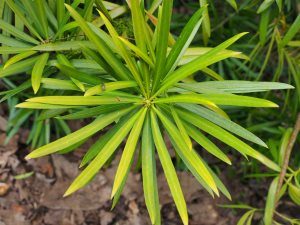 Camellia reticulata 'Den Burton' with its first enormous flower by Red Linney. A new one to us from France.
The rare white form of Rhododendron racemosum (near Tin Garden) which needs propagating by Asia later in the summer.
A particularly good form of Rhododendron 'Sir Charles Lemon' (arboreum). Better than 2 or 3 others in the garden.
Rhododendron 'Lady Montagu' (Exbury Group) nicely in flower and developing into a big bush which may reach 20-30 feet.
Daphniphyllum macropodum var. humile nicely in flower with contrasting yellowish new growth.
First flowering of Rhododendron tanastylum (an Alan Clarke collection). Another one on the 'rarely in cultivation or of doubtful provenance' list. I doubt Alan would agree!
The first grass cut in Kennel Close is now complete and the spraying around individual
trees has also been done. Very early perhaps but it has taken Tim 3 days with the
machine now whereas it would have taken double the time by late June or early July. It
looks much better for visitors too. Hopefully a warm windless week to follow to get on
top of more of the spraying although the Rosemoor Show will interrupt proceedings
leading up to next weekend.
First flower on Magnolia 'Livingstone' is a bit battered but a fine colour. A New Zealand hybrid I assume. A bit like 'Serene'? Never seen before here. Worth buying from New Zealand for the next catalogue.
An unnamed present from Tony Kirkham at Kew in 2014. Must ask him what it is? Probably not a viburnum but not a crataegus either. Perhaps a photinia?
Magnolia 'Theodora' is one of Vance Hooper's introductions I suspect. We have another on the drive. A nicely shaped flower but going over a bit here with the new leaves appearing. You can see the Magnolia soulangeana shape in the parentage as with Magnolia 'Genie'.
A wild collected form of Rhododendron rubiginosum from Alan Clarke's collection. Very pale to the norm but pleasant none the less. I would not have guessed what it was without the label and collection number.
A young Rhododendron thompsonii flowering for the first time. One survivor from three planted. This species is always difficult with us and our high rainfall.
Frankie has scraped off and levelled the bottom track with his swing shovel which is excellent. Good thinking by Jaimie as Frankie moves down the valley to start clearing dykes.
Attractive early new growth on the three Aesculus wilsonii (40 to 50 years old) at the entrance to Old Park. It is too high up on the 1903 Wilson introduction to see properly.
So nothing startling but Magnolia 'Livingstone' well worth its rather good place high up on the bank above the old kennels. Is it better than the Magnolia campbellii 'Peter Borlaise' seen yesterday? Too early to say.
Rhododendron 'Wee Bee' is smaller growing and less plastered in flower than its neighbour.
These Rhododendron russatum are the last survivors of a once large old clump. Interesting colour variation. The podocarpus needs cutting back from the paler plant.
This is the deciduous Rhododendron reticulatum. A very old plant in full shade in The Rockery and performing well today. This is a reddish-purple form without the dark purple spots or blotches which you see in some others which can also be purple or rose-purple. One for Asia to propagate. Today it looks one of the nicest of the deciduous species. Schlippenbachii is over as it quinquefolium and albrechtii. Only weyrichii is still to come out.
Rhododendron neriiflorum died out on the drive and this is one slow growing replacement. More dwarf than I remember and less floriferous.
Now we come to a problem. This is labelled Magnolia 'Daybreak' but I think it may well be 'Peachy' based on younger flowering plants in the garden. Certainly we have two different plants but which is which? This certainly looks more 'peachy' than the big tree below Tin Garden which looks, to me anyway, more like a much paler 'daybreak'. What does everyone else think?
Rhododendron oldhamii is a sparse flowerer but the new growth shoots are attractive in themselves. Very 'furry' leaves too.
The Euphorbia mellifera outside the library window is now massive and in full flower all over. Soon for the chop I expect.
Another picture of Isla Rose!
2016 – CHW
Another six boring hours (now 20 in all) on the Single Payment Scheme forms which have now been submitted in part electronically and in part on paper due to the Rural Payments Agency omissions on our field parcels which were entirely their fault and which we were unable to amend online. In the 95 page rule book a field of miscanthus has to be coded PC01 but it will not accept this online. When we ring the RPA they say the rule book is out of date and the code is in fact S01. They only sent the rule book last week! This famous online system failed totally last year and sent us all back to paper form filling having wasted many hours online. It has so far cost £200m and still has many glitches. The most annoying one is that you have to go back to the top of the field list every time you fill in and confirm a field rather than jumping back to where you were in the list. Childishly simple you would have thought. Too tired to bore you any more with this euro trash nonsense and bureaucratic fascism perpetrated by incompetents.
2015 – CHW
Banbury Town Hall for 'The Pride of Hooky' awards. 
Hook Norton Brewery's
annual pissup for its publicans.  The one sitting next to me is taking the week off to recover.  Lunch and the awards end at 5pm when the publicans lurch uncertainly to the two Hooky pubs in walking distance to carry on the bash while we have a five hour drive home.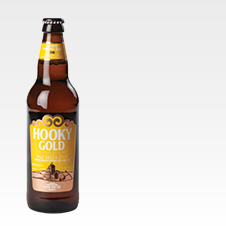 During the (very slow) lunch word comes of an invitation (a summons actually) to attend a speech from the PM at 9am next morning in West Cornwall.  The email comes at 6.30am saying it is at Penzance and be there by 8am.  Impossible to make Penzance and back in time for the visitation of the Scottish Rhododendron Society (26 people) at 10.30am so Scotland's gain and Cameron's loss!  Preferring the Scots to the PM has a strong whiff of topical amusement but I do not let on to the Scots.
1984 – FJW
Open Day 2500 people. Very fine not a gum boot in sight.
1922 – JCW
Far behind 1918-19-20-21. Auklandii not started, Augustinii hardly started, Orbiculare not started. Only ½ Calophytum open, Cherries in drive are ½ out, Subhirtella and dependens on the wane.
1921 – JCW
About the same as 1920 but only one flower of Orbiculare open and the reds are scarce.
1920 – JCW
Japanese maples good. New Planting Rhodo's wane. Augustinii is yet good. Orbiculare very good. Auklandii has passed the best.
1918 – JCW
Daffs are nearly over and the rhodo's mentioned in 1917 are all over now, we are nearly three weeks ahead of last year. Saw the first swallow.
1917 – JCW
Daffs just coming out well, very fine and dry. Rhodo 1350 just opening for the first time. R oleifolium is the best of the species now, red violet is very nice.
1915 – JCW
Daffs are turning back and we never saw so good a lot, or so many good things, or such fine weather for them. The white and pinky white Arboreum x Auklandii are opening and are very nice. R calophytum is very good indeed. Sir Charles Lemon is nice. A few buds of Auklandii are left by the frost, they are opening. Cherries are good.
1910 – JCW
Cherries about their best. Also Auklandii x Arboreum. Some nice late daffs now, but not many, beautiful moist weather for a week past. Clematis montana rubra good. Iris van T's fine.
1906 – JCW
Only about 3 daffs left to open. Recurvas is open, Iris lusiana, Korolkowi and cushion hybrids are all open, the last are the earlier. R falconeri and thomsonii open also R campylocarpum. Auklandii, Niveum and Yunnanense nearly. R augustinii opened for the first time.
1904 – JCW
Primroses good. Grandis nearly all open and so Langtry, recurvas well up, the first Auklandii just opening. Thomsonii very good. Daffodils have nearly all gone. Go to Dinton and Birmingham tomorrow.
1899 – JCW
Primroses at their best. A few Montana have been open for a week. Camellia reticulata going by. The last (Narcissi) Beacon is open. Sol is yet a long way off. Waterlilies growing well.