2020 – CHW
I hear on reasonably good authority (which does not of course make it true in these times of fake news) that Treliske hospital in Truro last week had only 23 corona patients of whom four were in intensive care. Cornwall may therefore have missed the worst of it but some cases may perhaps have been sent to Derriford hospital in Plymouth.
Sixty percent of Treliske is empty and the Duchy hospital alongside it the same or worse. All non-urgent operations cancelled and all cancer patients etc not coming in for treatment. At least that is all now being reversed but was such a panic struck hospital shutdown really necessary in Cornwall with all its consequences? What are all the NHS staff being paid to actually do?
Last Saturday I thought that the BBC had led the news with as story that sounded potentially made up or fake. When a supposedly impartial national broadcaster (who we all pay to listen to) can sink to behaving like a gutter press tabloid newspaper it is high time someone in government called them out. Exactly as their patently fake news item tried to call out / ridicule the government.
Charles Moore's 'Notebook' is worth repeating in full here as it appeared earlier this week in the Telegraph.
The oak is definitely out into leaf well before the ash (again) this year so we are in for a 'splash' and not a soak.
Mixed colours on the bluebells naturalising on the bank above the front door.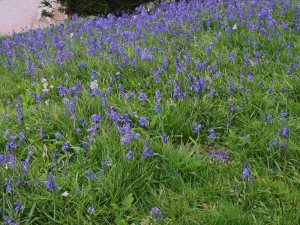 Magnolia 'Butterbowl' just out.
x Rhaphiobotrya 'Coppertone' with one flower out.
Petals fall from the last white Magnolia x veitchii in the Rockery.
Rhododendron davidsonianum (Caerhays dark form) in the Auklandii Garden. Very different in colour from others photographed recently in the diary.
A pure white flowering sport on Azalea 'Greenway' which we have propagated from and recently planted three "white" Greenway at Tin Garden.
Then to Burncoose for staff meetings and photography.
With no public in the nursery a KPK carpenter is mending all the tunnel doors and re edging all the tunnel pathways.
A nice view up the drive with Rhododendron sinogrande and Rhododendron 'Emma Williams'.
The Embothriums just showing up.
Azalea luteum just starting. Normally out to pick for Chelsea in a month's time.
Also looking good in the nursery:- Castanopsis concolor with flowers appearing in a small plant
– Rhododendron 'Jock' covered in flower
– Daphne gemmata and Daphne cneorum flowering side by side
– Azalea 'Fragrant Star' is new to our catalogue
– Agathosma capensis fully in flower
– Scilla peruviana just coming out
2019 – CHW
News! The Caerhays magnolia collection has (after inspection) been deemed
worthy/accepted by the RHS Rhododendron, Camellia and Magnolia Group as being
'outstanding'. A plaque to follow I expect and a press release to prepare before Chelsea.
On reflection this is the fifth successive year that the garden and/or Burncoose Nurseries
has received some sort of 'official' recognition or award as, perhaps the culmination of a
century or more, of hard work by everyone involved in creating something special and
unique here. Perhaps / surely another party is suggested? Too busy at present and with
Chelsea looming!Camellia 'Extravaganza' shattered by the east wind. It will now need a hard pruning to reshoot from 2-3 feet of trunk
First flowering of Magnolia 'Pink Royalty' x 'Daybreak'. More Daybreak than
Royalty I think and not, as yet, worthy of a name.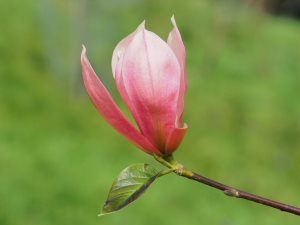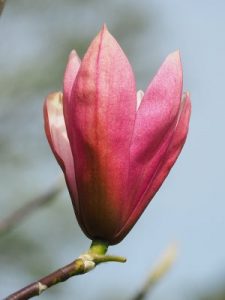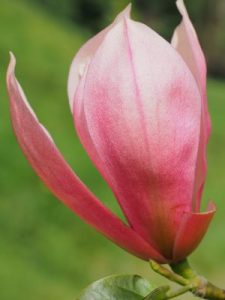 Isla Rose (aged 2) in the Isla Rose Plantation.
The unusual double flowered Rhododendron Johnstoneanum 'Double Diamond'
Isla Rose meets a cow who isn't excited about having her breakfast interrupted.
Isla Rose collecting pheasant eggs in her Easter Bunny basket. We couldn't get the eggs
off her so they didn't make the incubator.
2018 – CHW
These are Jaimie and Michael's entries at the Rosemoor Show over the weekend together with the prizes awarded (or not!).
Carrieria calycina – the largest I have seen in full sun. Presumably close to its first flowering.
Quercus crassifolia – not looking too evergreen. Nice bark.
Quercus flocculenta – hardly like an oak at all.
Schefflera delavayi – not one so far in the Caerhays collection.
Schefflera taiwanensis – very similar in habit to ours. Multi-stemmed.
Schefflera macrophylla – a mammoth!
Rhodoleia aff henryi – another exotic evergreen from Vietnam.
Iris confusa – very delicate and pretty. Only seen the white form previously.
Paulownia tomentosa – the best shaped and most floriferous tree of this sort I have seen.
Euphorbia x pasturei – Euphorbia mellifera is one parent. Not quite out yet but mellifera, alongside, was much as ours seen yesterday.
Quercus panosa – a nice one we must get and could sell.
Podophyllum ? melanthum in full flower. Well worth growing in damp and shade.
Lonicera tatarica 'Hacks Red' or 'Arnold Red' – not sure which but very good in full sun in a hot dry bed.
A well pruned and manicured old wisteria with no specific name. Can we identify what it is? A few photographs for the wisteria pruning article though.
Paeonia ostii – a tree paeony variety.
Pear 'Doyenne du Comice' well trained against a wall for generations.
A fig tree pruned and pleach trained onto a wall.
Magnolia 'Lois' in full sun (which ours are not) is superb. Arguably better in habit and colour than Magnolia 'Daphne'. Quite the best thing in the garden today.
Quercus multinervis is another good, stable and attractive species.
Quercus engleriana much like ours and with a side shoot like ours which we just cut off. First time it has produced flowers at Penrice.
Gordonia seczwanica – growing well in dappled shade.
Persea japonica – not as exciting as Persea thunbergii.
Seven years since we last visited Penrice. Many of the very rare oaks and other Vietnamese/Chinese trees are maturing and developing well. Thomas has 120 different oak species planted out now. Quite a collection but the best stand out – Quercus rhysophylla and Quercus semicarpifolia especially.
2016 – CHW
Early to Rosemoor for the RHS rhododendron show. During judging I found a plant in the garden of Lithocarpus henryi which I do not think grows at Caerhays but which was certainly here once. It is quite similar to Quercus acuta or Quercus glabra in some respects and is one we ought to propagate.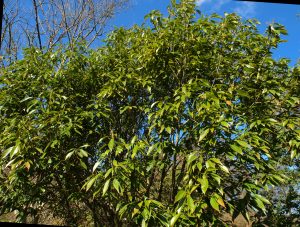 The Caerhays magnolia entries in the single spray classes were Magnolia 'Margaret Helen' and Magnolia 'Tropicana' which won first and second prize. In the other spray class Magnolia 'Caerhays Surprise' came first and in the yellow magnolia class Magnolia 'Yellow Lantern' also came first. A single flower of Magnolia 'Yuchelia' came second and we were also beaten in the other single magnolia flower class (but only just into second and third). Jaimie received the magnolia cup from David Millais, chairman of the Rhododendron Camellia & Magnolia Group, for the most points won overall in the magnolia classes.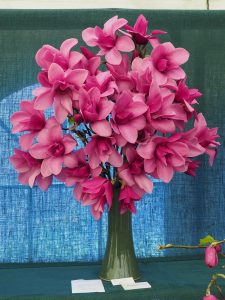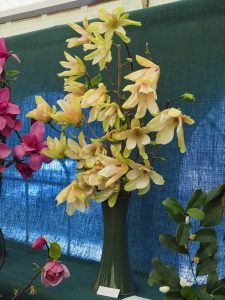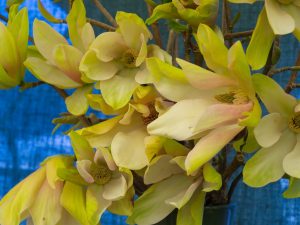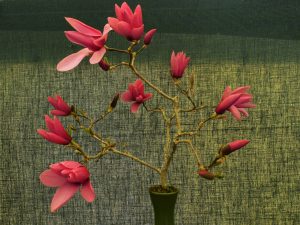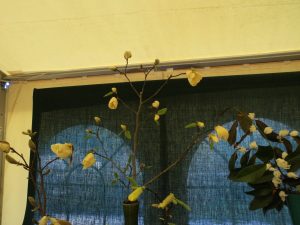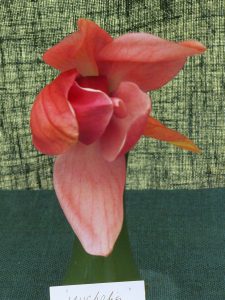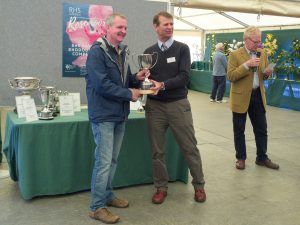 Michael also received an RHS rhododendron cup for the class with six single flowers of different rhodo species. This was a different cup from the rather larger one which we won last year when Exbury gardens did not attend.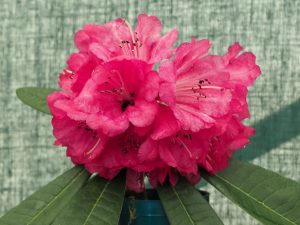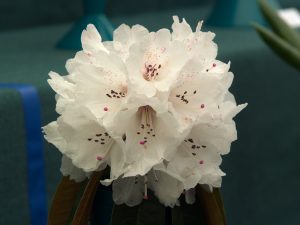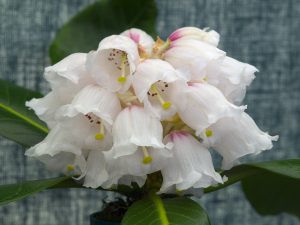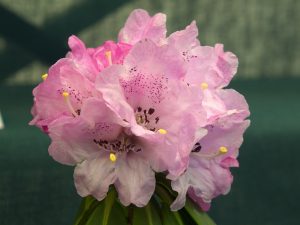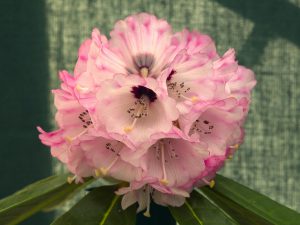 Also of great interest in the show and well worth obtaining for here were:
Alnus ?
And various camellias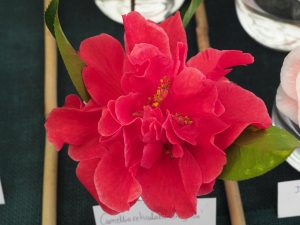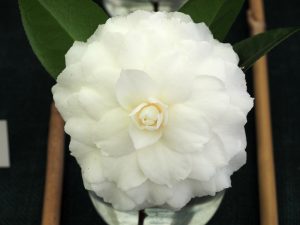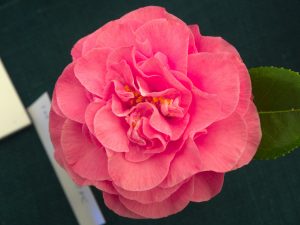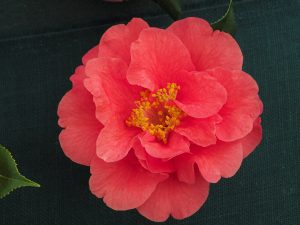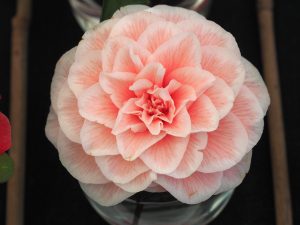 2015 – CHW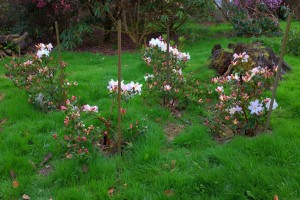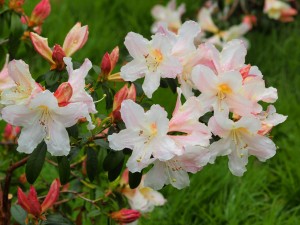 The Scots are well informed on rhododendrons but not as expert as I had feared. The scented Rhododendron 'Harry Tagg' is not as good a 'smellie' as last week's 'Anne Teese' –both Glendoick hybrids. They do not seem to know 'Anne Teese' any more than we did.I take them to the original Forrest clump of Rhododendron leptothrium which none of them can name. It is one of those I have had a mental blank about too so do not tell them the answer but offer seedlings as a prize for whoever works it out over dinner that night with the pocket rhododendron guide (page 378). Not a hugely exciting species but one which, unusually for Caerhays, does self-sow itself in profusion.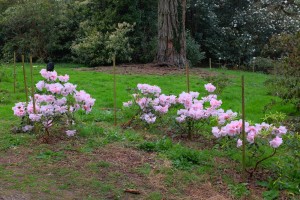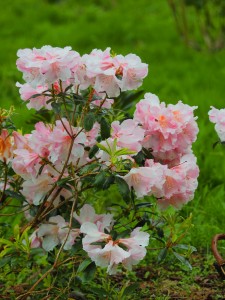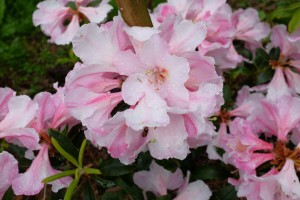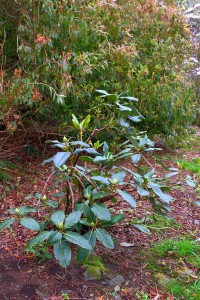 Now that the 'smellies' are nearly full out time to brief Asia on the ones to take cuttings from in five to six weeks' time when they are soft.  Rhododendron sinonuttalii has buds for the first time here.  A huge plant grew on the conservatory at Burncoose as the picture shows but the scent was overpowering and too noxious to risk cutting a flower for indoors.
Magnolia 'Stellar Acclaim' looks a small muddy yellow from a distance but close up it is a mix of colours and not very attractive. Magnolia x brooklynensis 'Black Beauty' is now full out above the Crinodendron Hedge. Not bad but x brooklynensis 'Woodsman' has no sign of any colour as yet while x brooklynensis 'Eva Maria' is nearly over.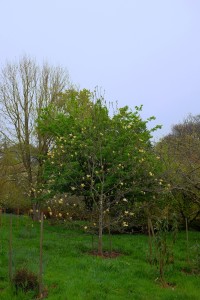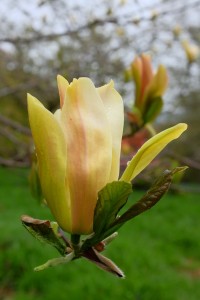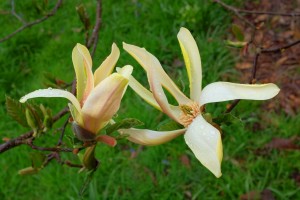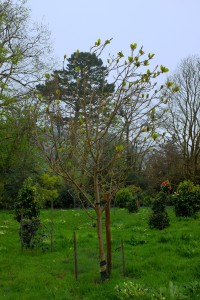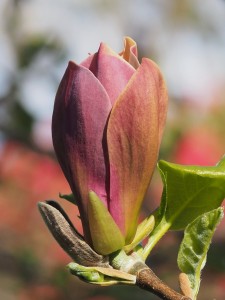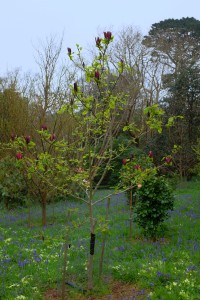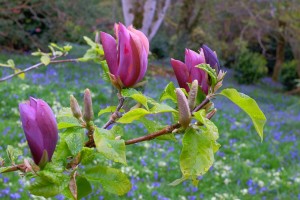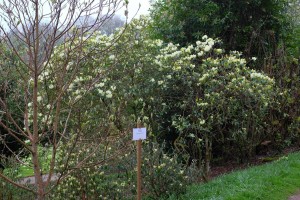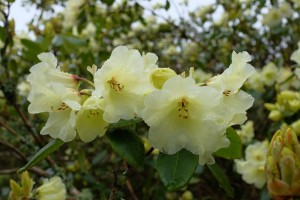 We look at Rhododendron 'Logan Damaris' which my father always said was the best yellow.  The original clump by the podocarpus forest died out years ago but yellows have improved mightily in 40 years and we pass by with little Scottish adulation.Magnolia yuchelia does however grab attention as well it should and there is another good plant above Crinodendron Hedge.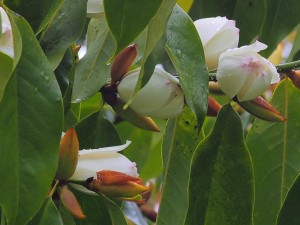 Michelia 'Touch of Pink' is just coming out in a very sheltered spot.  It should be 'Touch of Purple' really as that is what the ends of the buds have today.
1998 – FJW
First house martins seen.
1988 – FJW
David announced his intentions with regard to Sarah Williams. XXXXX Day.
1907 – JCW
Birmingham Show. Most daffs are over, Marvel are good, a few Frian left. Saw the first of my big crop for making Mrs JCW rhodo come into flower, it was sown in 1901.
1902 – JCW
Came back from Appleshaw and Drill Hall last night, a few Marvel seedlings to open and a late poet or two, other things nearly over, picked and opened a ripe bud of Cyclamineus. The best things seen at the Drill Hall and Appleshaw were 'Mrs Berkley and White Queen with Betty Berkley'. Bought a poet.