2021 – CHW
Cold drying east winds – rain desperate but none in the next week's forecast.
The pure white sport on Azalea 'Greenway' which Asia has propagated well in the greenhouse.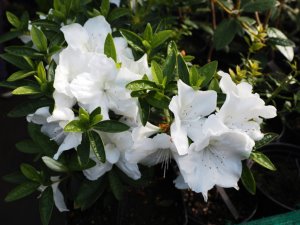 My father's Rhododendron 'Red Centurion' just about out.
Rhododendron veitchianum Cubittii Group just coming out.
Rhododendron edgeworthii x leucaspis and Rhododendron augustinii together – scent beyond belief.
Magnolia 'Daphne' is just coming out. The best yellow as usual.
This is Alan Clark's collection number 5663 which we have labelled as Rhododendron mengtszense aff. Tom Hudson says it is definitely Rhododendron onii collected in North Vietnam by Mr On (pronounced Mr Erm) who was a botanist based in Hanoi in the 1990s.
Rhododendron araiophyllum (C & N 5796) nearby in the Rirei Opening. It looks true to name to me in the pocket rhodo handbook.
Michelia 'Touch of Pink' coming out properly now.
Michelia 'Mixed up Miss' also just opening.
Magnolia 'Daybreak' looks a better colour here than Magnolia 'Peachy' has faded to elsewhere. We purport to have several 'Peachy', but I suspect the plant outside the front gate is in fact wrongly labelled and is also a 'Daybreak'.
Dipteronia sinensis just in leaf with a yellowish/bronzy tone.
An odd clump of daffodils still out in late April. They were hidden prior to Jaimie's tidying up here.
The Caerhays bred Rhododendron 'Nancor' just out.
Two plants of Magnolia 'Holland Red' (liliiflora nigra hybrid) have flowers at the greenhouse. We had planted this out before but lost it. A smallish shrub for a good place and a late flowerer.
A group of azaleas bought at the Landriana flower show (south of Rome) below the greenhouse steps are nicely out. No idea of the proper names but they are mainly doubles. Red and pinkish-red forms are the best today. We promised the Italian grower that we would not propagate or sell these and have not! The reddish one I discover is 'Salmon Pink Cushion' and the pinker one is 'Gerards Salmon'. Well worth propagating now!
Another wild collected Magnolia cylindrica is equally impressive nearby. The same as the one below the Magnolia x veitchii.
Stachyurus praecox 'Magpie' has attractive yellow and green variegated foliage but the flower is not bad today in the sunlight. A good spray of this on the Rosemoor show bench yesterday.
Azalea stenopetalum 'Linearifolium' is quite variable as to colour and the divisions in the flower. This one is in the car park and was originally from Italy. So we did propagate it after all! Different from the much older plants in the rockery and perhaps nicer?