2023 – CHW
Jaimie discovered a nest in the field beside his house containing both pheasant and partridge eggs.
Malus 'Evereste'.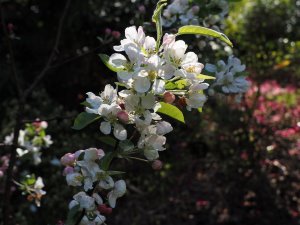 The cut rhododendron and magnolias for the Rosemoor Show sitting in the sheds prior to loading for the trip.
Malus 'Van Eseltine'.
Malus 'Admiration'.
The Malus planting in its first year of flowering.
Malus 'Jelly King'.
Malus 'Brandy Wine'.
Malus brevipes 'Wedding Bouquet'.
Malus 'Royalty'.
Malus 'Butterball'.
Malus 'Indian Magic'.
Malus 'Dr. Campbells'.
Malus 'Royalty' and daffodils.
Malus 'Louisa'.
Malus 'Pink Glow'.
Malus 'Crimson Cascade'.
Malus 'Paul Hauber'.
Malus 'Royal Beauty'.
Prunus incisa, the Fuji cherry, is becoming a small tree rather than a shrub and is now flowering properly. Previously flowers were sparse and a bit hidden in the mass of interlocking branches.
Magnolia 'Carlos' nearly over. A pretty poor yellow here today in comparison to many others and sparse flowering with us in recent years.
First colour showing this year on Magnolia 'Daphne'. M. 'Lois' has been out for two weeks or so. Daphne will not be ready for the Rosemoor RHS rhododendron show this weekend.
Tilia mongolica 'Harvest Gold' with its attractive (and early by Tilia standards) new leaves. Most other Tilias still have to leaf up but this one is already quite a spectacle.
This is Cleyera japonica 'Fortunei'. The variegated form of what we saw yesterday. In John Marston's recent Gorwell garden video he showed the variegated form in his garden in a very tatty state in an exposed spot. This 40 year old shrub is in deep shelter and shade so you do not get much of the attractive red markings on the leaves in winter.
Preparation for the flower show at Rosemoor this weekend. Three days work for three or four people to prepare. Some cut stuff needs sun to bring it on and some needs cold and shade to hold it back. Showing is expensive but, when you enter, the desire to 'win' is as strong as it was 100 years ago.
The climber tunnel in the nursery is as neat and tidy as I have ever seen it with superb growing plants.
And the lavender/agapanthus tunnel is spot on too with the plants leaping into growth. The lavenders are just about ready for sale and I have even seen a flower or two on one of the agapanthus varieties.
Kitchen Garden clearance now nearly complete and at the tidying up stage. Frankie has moved all the timber up into the field for collection by lorry when it is (even) drier in the summer.
2021 – CHW
Cold drying east winds – rain desperate but none in the next week's forecast.The pure white sport on Azalea 'Greenway' which Asia has propagated well in the greenhouse.
My father's Rhododendron 'Red Centurion' just about out.
Rhododendron veitchianum Cubittii Group just coming out.
Rhododendron edgeworthii x leucaspis and Rhododendron augustinii together – scent beyond belief.
Magnolia 'Daphne' is just coming out. The best yellow as usual.
This is Alan Clark's collection number 5663 which we have labelled as Rhododendron mengtszense aff. Tom Hudson says it is definitely Rhododendron onii collected in North Vietnam by Mr On (pronounced Mr Erm) who was a botanist based in Hanoi in the 1990s.
Rhododendron araiophyllum (C & N 5796) nearby in the Rirei Opening. It looks true to name to me in the pocket rhodo handbook.
Michelia 'Touch of Pink' coming out properly now.
Michelia 'Mixed up Miss' also just opening.
Magnolia 'Daybreak' looks a better colour here than Magnolia 'Peachy' has faded to elsewhere. We purport to have several 'Peachy', but I suspect the plant outside the front gate is in fact wrongly labelled and is also a 'Daybreak'.
Dipteronia sinensis just in leaf with a yellowish/bronzy tone.
An odd clump of daffodils still out in late April. They were hidden prior to Jaimie's tidying up here.
The Caerhays bred Rhododendron 'Nancor' just out.
Two plants of Magnolia 'Holland Red' (liliiflora nigra hybrid) have flowers at the greenhouse. We had planted this out before but lost it. A smallish shrub for a good place and a late flowerer.
A group of azaleas bought at the Landriana flower show (south of Rome) below the greenhouse steps are nicely out. No idea of the proper names but they are mainly doubles. Red and pinkish-red forms are the best today. We promised the Italian grower that we would not propagate or sell these and have not! The reddish one I discover is 'Salmon Pink Cushion' and the pinker one is 'Gerards Salmon'. Well worth propagating now!
Another wild collected Magnolia cylindrica is equally impressive nearby. The same as the one below the Magnolia x veitchii.
Stachyurus praecox 'Magpie' has attractive yellow and green variegated foliage but the flower is not bad today in the sunlight. A good spray of this on the Rosemoor show bench yesterday.
Azalea stenopetalum 'Linearifolium' is quite variable as to colour and the divisions in the flower. This one is in the car park and was originally from Italy. So we did propagate it after all! Different from the much older plants in the rockery and perhaps nicer?