2017 – CHW
Slight frost last night but nothing serious. Gloves needed in the sun and still no rain at all. A few more rhododendrons to catch up with.
Another berberis on the drive. This one is Berberis hookeri planted in 1999. Had not really noticed it before. Greenish yellow flowers.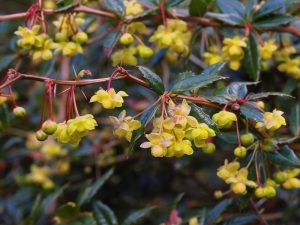 Rhododendron rubiginosum in ririei opening. Nothing like as impressive as Rhododendron desquamatum.
Slight frost damage on the record Rhododendron loderi 'King George' clump.
Rhododendron wilsonae (now latoucheae) with a few tail end flowers. Different from the one shown at Savill last week.
Caragana arborescens 'Walker' just out as a top grafted plant by Georges Hut. 1997 planted and still only 4ft.
Three plants of supposedly Rhododendron 'Mrs J C Williams' but no pink blotch? Very unlike the old plant on the main ride.
The new Rhododendron williamsianum clump full out and clearly planted too close together. Should we move some in the autumn?
Rhododendron williamsianum x campylogynum doing well as replacements for the huge clump which once grew opposite here.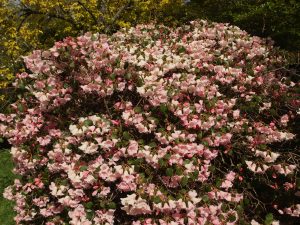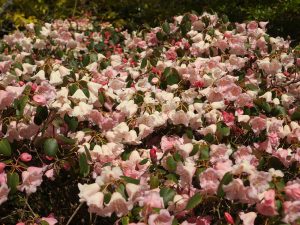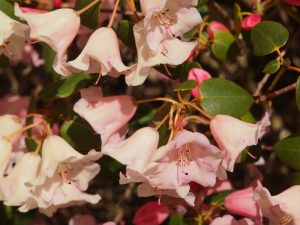 Rhododendron 'Moonstone' is also making a fine clump.
Magnolia 'Tranquility' – nothing much to excite here – tranquil or otherwise!
Yellowish new growth on the Cephalotaxus fortunei we saw so much of in flower six weeks ago. This is a fine conifer indeed.
A young plant of Rhododendron decorum (white form).
Rhododendron 'Lady Montagu Group' (Exbury) is quite nice but not a 'Mrs Butler' special.
Rhododendron 'Lems Cameo' just coming out. Five years from planting.
Rhododendron 'Cinnabarinum Group' – replacements for the rust diseased plants of old which do not look too healthy either.
2016 – CHW
Mother always raved about a daffodil called 'Green Howard' which used to grow by the front gate. A poor spot and it only flowered occasionally. The flowers eventually had light pink centres despite its name. From Trewithn I seem to remember. It was a bit like this lot in a clay pot in the yard with smaller pink trumpets.
The huge Magnolia x veitchii 'Isca' (white) by the sales point is only now coming out while the pink M x veitchii 'Peter Veitch' (pink/white) is nearly over further up the garden. Odd.
Prunus 'Beni-Yutaka' is the best cherry for flower below the tower. These cherries came from Thornhayes nursery who have a very odd trade discount system and do not like Burncoose much.
Magnolia 'Limelight' with its broad spreading habit is just coming out. Really green in bud, opening pale yellow and quickly fading to cream.
Metasequoia glyptostroboides 'Gold Rush' is exquisite as it comes into leaf. What a delicate leaf formation.
Rhododendron 'Emma Williams' is a good pink colour this year. Sometimes it can be more white/pale.
The unnamed white magnolia on Bond Street is still quite a show a fortnight or so on from first viewing. Possibly as good a show today as anywhere in the garden.
Enkianthus campanulatus 'Vesta' is sadly full out already above Red Linney. No chance of this lasting for Chelsea this year.
Magnolia 'Pink Kobus' is not really a pink form of M kobus. It only really has a hint of pink in bud and you have to strain your eyes to see the pink in the tepals after that.
Acer palmatum 'Orange Dream' is quite special outside the front gate and well worth its place and name.
This Zantedeschia aethiopica has featured in the diary this year several times already. Now it really is full out and still it is only April. Could we cut from here for Chelsea?
I rather like the cultivated pink bluebells which I first planted here under my fuchsia collection 45 or so years ago!
2015 – CHW
A brief wander into the Upper and Lower Rockeries shows successes and failures:Only one small clump of Rhododendron russatum survives from what was a double tiered clump 30 years ago.  We have tried three times elsewhere to re-establish a clump but without success.  Seems to like poor soil and dry conditions.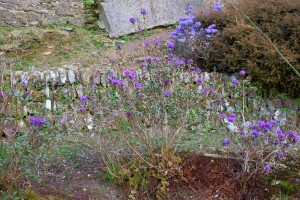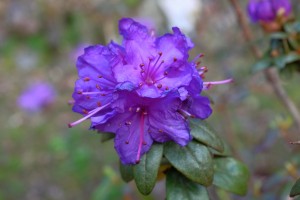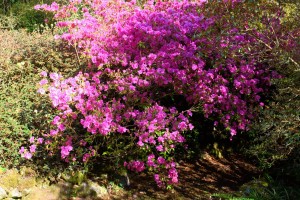 Another ancient plant of Azalea 'Tebotan' which looks much more like the plant I remember growing by the original Camellia reticulatas than the one featured last week.  In the rhododendron pocket guide this is billed as a species; Rhododendron yedoense which is apparently a garden cultivated azalea that grows wild in Korea.  Well worth propagating anyway.
A newish plant of Berberis amurensis 'Latifolia' (ex Crug) flowering nicely for the first time.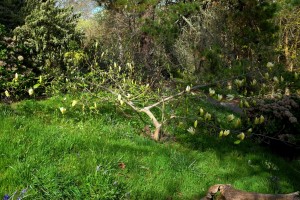 Magnolia 'Limelight' has an extraordinary spreading habit which shows off the flowers properly.  A better coloured yellow than 'Yellow Lantern'?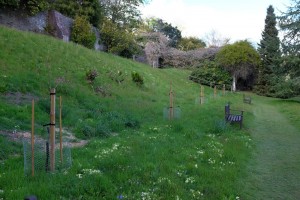 The five new plants of Magnolia Caerhays Splendour planted in pride of place in the old paeony beds where we dug out various (poor) cherries are coming into leaf.  What a sight behind the castle this might be in 30 years' time!
1997 – FJW
(See entry on March 26, 1997)
First two days of rain since about March 3rd. Least good this year have been the Camellias.
1953 – CW
Brought nice bunches of daffodils from Kennel Close. Still poets in Tin Garden.
1917 – JCW
The following species of rhodo' in flower: fastigiatum +,intricatum + , Williamsianum +, campylocarpum, thomsoni +x, lutescens +, fargesii + -,caucasicum (2 forms of yellow) +, sinovirgatum +, neriiflorum +, argenteum + -, Sir C Lemon +, arboreum + – , barbatum + – , campanulatum +, keysii +, rubiginosum +, cuneatum ( for the 1st time) +, racemosum + – , irroratum + – , afghanicum, davidsonianum +, pachytrichum +, sutchuenense + – , oreodoxa + – , augustini +i, ciliatum + – , calophytum + – , hookeri + – , faberi, trillianum, scabrifolium + – , searsiae +, barbatum +, maculiferum +.
+ all open on March 20, 1926
– going over.
1916 – JCW
Auklandii not quite open, a very bad year for flower, few buds and many cut by frost. Cherries very good. R ciliatum open, one very good Augustinii. Fastigiatums are splendid at Werrington.
1912 – JCW
Berberis stenophylla very good. Auklandii at their best. Clematis montana nice but the flower is small. Maples very good. The Augustinii are the best things now, though R orbiculare is very good.
1910 – JCW
No recurvas yet. Dalhousii breaks bud. Auklandii's open. Maples good. Azaleas starting. Berberis stenophylla at its best and also Clematis montana rubra.
1903 – JCW
Dalhousii breaking bud, sent off two recurvas yesterday, marvel just open, a few seedlings to come, several Auklandii and Azaleas open, a few carmine pillar open. Thomsonii over. Maples are good.
1900 – JCW
Came back from the Drill Hall and Appleshaw, Triandrus hybrids at the former and Lulworth seedlings at the latter impressed me most of all, a bad year for colour, afterwards bought the Lulworth seedlings.
1898 – JCW
The first P recurvas just open. The early Auklandii has one bloom, Countess of Haddington half open.
1897 – JCW
Poeticus recurvas nearly all open. Azalea altaclarence half open, various mollis open. Maples looking well. Auklandii's out. Edgeworthi opens. Countess of Haddington open. Gentians very good.