2023 – CHW
Symplocos aff dumicola in full flower.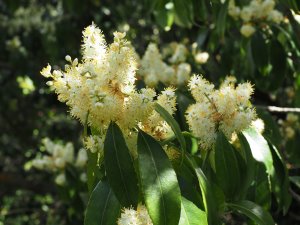 Eriobotrya deflexa in flower and with fallen red leaves on the ground as the red new growth emerges.
First flowering of Paulownia fortunei above Tin Garden shed. Two seedlings grown by Asia from a Sandeman Seeds purchase. One much better than the other. We have had a P. fortunei in Penvergate for some years with whiter flowers than this and with more yellow centres in the lip of the trumpets. Now nearly dead after 25 years.
Magnolia 'Tranquillity' better than I remember.
Magnolia 'Banana Split' a bit wind battered.
Seamus O'Brien and his Irish friends below Rhododendron 'Mrs. Butler'.
Rhododendron 'Duke of Cornwall'.
First flowers on the wisteria.
Three plants of the deciduous Rhododendron canadense awaiting planting which I bought at Rosemoor from David Millais. Not a species that I have ever known at Caerhays. It comes from Quebec and Newfoundland and is more often white than pinkish-purple as here. Looks very tough.
Magnolia 'Rose Marie' x 'Black Tulip' (no registered name) is better this year than last by the Hovel. A very late flowerer. I wonder if this has yet been named and registered as it ought to be?
This is one of the two plants on the drive of Magnolia 'Margaret Helen' which won the magnolia cup at Rosemoor. New Zealand bred and of similar parentage to 'Caerhays Surprise'. A lovely colour and very late.
Magnolia 'Apollo' has faded in colour but this plant has taken off and has been an excellent show.
Beside it the much newer New Zealand hybrid Magnolia 'Cleopatra' is still showing nicely weeks after it first came out. Despite the leaves now appearing it is a delicate light colour. Mauve not pink or red at this late stage.
Magnolia 'Serene' full out with the first yellow deciduous azalea in front of it. One of my father's azalea hybrids not worth a name but I remember them being planted here. There was a superb Prunus 'Shirotae' growing here which died in the 1970s.
Azalea 'Black Hawk' is nearly swamped out by adjacent magnolias (as was the plan) but what a dark red. Perhaps the darkest and best?
I memory of the above I planted a new Prunus 'Shirotae' nearby which has not quite got the trailing habit of its predecessor. Sadly this superb cherry lasts only a week or so and today the north wind is blowing off cascades of petals onto the drive.
Amelanchier is not a plant group which was represented much at Caerhays until 20 years ago. At Windsor Great Park they make much use of this in the landscape and in avenues. Good autumn colour too. So we have planted quite a few Amelanchier lamarckii in dull corners. Here is one below the drive holding its own as the nice coppery-reddish new growth complement the flowers.
The true and very old Azalea 'Tebotan' in the rockery is full out. We were right to resist the temptation to give it a haircut last week when other adjacent plants got a good clipping.
Just a tiny bit of Rhododendron russatum survives from of old in the rockery.
Rosemoor Garden is developing quickly with excellent new woodland walks and much new planting.  Sadly many of Lady Anne Palmer's rhododendron species nearest the house are nearing the end of their lives or now have died of old age.Magnolia 'Morning Glow' near the house was superb.  Huge flowers for a smaller growing plant with unusual dark markings on the tepals.