2017 – CHW
This evergreen Illicium lanceolatum came to us from Mark Fillan as a new species (to us) of illicium a year ago. It was fairly pot bound and is now growing in shade in Old Park. This is its first flowering here. A seed head is clearly in evidence and needs to be collected when ripe and hard. Then it needs a soaking in water to release the individual seeds before planting in a seed tray. This is the second new species of illicium to flower here this year.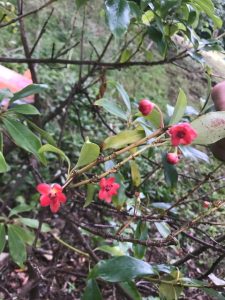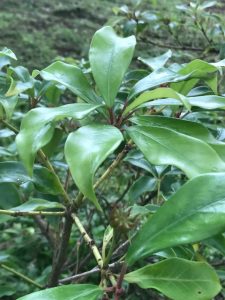 2016 – CHW
No entry.
2015 – CHW
No entry.
1953 – CW
Auriculatum at best or going over. White hybrids good. Eucryphia pinnatifolia big plant over. Rest at best. Nymansii very good, some cyclamen and lapagerias. Very hot over Bank Holiday.
1948 – CW
H.H.Hume, University of Florida came today on Camellias most interesting. Likes plants.
1918 – JCW
Have cut nearly all the gladiolus, Buddleias are fair, one of Wilson's Hydrangeas are good, very little else. The 1917 winer killed the gladiolus.
1916 – JCW
Romneya very good indeed, hundreds of flowers out, nothing much else in the shrub way left. Our hybrid gladilous look very nice, and very refined range of colours.
1913 – JCW
A late C, I go north tomorrow. Solanum good. Buddleia fair, even good. Very short of rain.