2019 – CHW
A visit to Jenny Knuckey, the widow of my former and original partner at Burncoose. Since David's recent death she has had major heart surgery herself but was back home and still tending their wonderful garden in Carharrack.
Bomarea caldassii flowering away in a big pot outside. It used to grow up to 20ft each year in the Burncoose conservatory before dying down to the ground level in winter.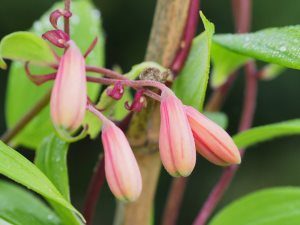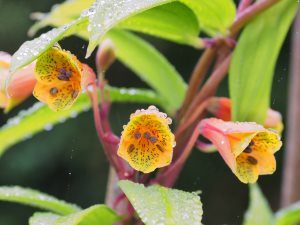 Hedychium densiflorum in full flower rather earlier than some of the other species here and in the nursery. A dullish colour but the flower spikes are 4-5ft tall.
What a wonderful colour combination of Hydrangea arborescens 'Annabelle' and Ceros canadensis 'Forest Pansy' makes. The 'Annabelle' need staking as here.
Not bad either to see Hedera colchica 'Sulphur Heat' growing with a fruiting vine ('Muscat of Alexandria').
Then on to see Edith Piper in Hayle hospital who has just had her third successive knee replacement operation on the same knee. Not good but she is otherwise alert and well in her late 80s. Edith and Des Piper became farm tenants at Burncoose in 1952 and Edith still lives at Gilly farm in the valley opposite the nursery which took over many of their farm buildings around 30 years ago.
2018 – CHW
Jaimie and his team have completed the hooking around individual plants in the garden today in record time since we are still one gardener short. Now for the laurel hedge on the Main Ride before the second cut.
This old stopcock once controlled the water from the main tanks below the church which supplied the castle. An exceptionally large spider with its cache of eggs in a suspended pouch.
2017 – CHW
The huge clearing above the old playhouse is now nearly finished. Now the real fun can start with the final
planting plan from the spectacular list which I wrote in the spring
. It will be a cold spot facing the sea winds. The planting list is attached so you can see how the thinking has gone. There is not enough room for all of it so a few things need to be dropped and excluded.
2016 – CHW
No entry.
2015 – CHW
No entry.
1999 – FJW
Total eclipse 11.14 am – house martins and seagulls caught out. Also much cloud. Everywhere at their best – 2 young Lithocarpus pachyphyllus have seed.
1951 – CW
Lapageria just out. Eucryphia pinnatofolia not at best and Nymansii beginning. Very few flowers on Auriculatum and its hybrids. A wet day and some storms. Little corn cut. Cyclamen Neapolitanum a few flowers. Magnolia delavayi and both grandiflora good.
1948 – CW
Lapageria has been out a day, Eucryphia pinnatifolia going over. Nymansii good. All the pink Griersonianum and Eriogynum about over. Many of the white at best. Auriculatum good. Prophertum x Auriculatum very good. Just began to sell Hydrangeas. Storms bad. Harvest good quality.