2023 – CHW
Fruits on Photinia villosa just starting to turn orange.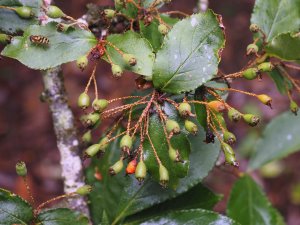 A well gnawed old lead label for Pittosporum daphniphyllum. Why do squirrels like these original lead labels so much? Few survived after the arrival of greys here in the 1960's.
Our plant of the decade is taking off – Viburnum plicatum 'Kilimanjaro Sunrise'.
Aesculus parviflora is said to be a suckering shrub but the clump of 3 are much as I planted them in 1991 and very little sign of any root suckers. The same is true of other clumps here and at Burncoose.
Tetrapanax papyrifer 'Rex' getting going after a couple of previous failures near George's Hut.
Podocarpus matudae covered in still green podocarps.
Afrocarpus falcatus (Podocarpus falcatus) has a very dense habit.
This Magnolia campbellii 'Copeland Court' was cut back by the Beast from the East in 2018. It recovered well but is now flowering in the autumn out of season which does not bode well. Huge swollen buds and one rather pathetic flower.
Tertiary small flowers on the adjacent Wisteria.
Hydrangea aspera 'Hot Chocolate' (one dead, one will be dead shortly and the third struggling) is in too hot a position. We need more shade to grow this beautiful variety properly.
Just about missed the first flowers of Desmodium elegans. Planted this spring.
Pinus wallichiana is now getting established and starting to put on decent growth. A Chelsea stock plant put out before lockdown.
Hibiscus syriacus 'Blue Bird' nicely out in the nursery where I am for the annual garden tree survey.
Cautleya spicata 'Robusta' just out in flower. Not the most exciting 'Ginger' I have ever seen.
Marsdenia oreophila out in flower in one of the glasshouses.
The unusual double flowered form of Eucryphia glutinosa by the Burncoose pond was nearly over.
A very fine clump of Hydrangea aspera Villosa Group by the lawn at Burncoose. Nicely shaded here and prospering where 'Hot Chocolate' was not.
Aesculus parviflora well out too.
A young Magnolia caveana with excellent new growth.
Quercus insignis is finally getting going after a wet summer. Still some dieback from last winter evident here and there.
I see in 'New Trees' that the original Meliosma pungens (Meliosma simplicifolia subsp. pungens) which had once existed at Caerhays has 'disappeared'. Well it has not actually and, now in more light after tree removal, is actually redeveloping well from earlier dieback.
Marvellous new growth on Ilex dimorphophylla.
Odd how the pure white Camellia reticulata holds its four month passed flowers on the twigs.
Superb and extensive secondary new growth on Magnolia zenii.
Magnolia 'Todd's Fortyniner' now properly out in flower and covered.
2020 – CHW
While looking at an area to clear this autumn for replanting we came across this rare tree with several pairs of flowers. I thought it was Asimina triloba but this flowers earlier in the year and the flowers have six lobes and not four as here. The individual leaves are not unlike the Asimina growing on the drive but the spreading habit of this rather older tree certainly is not. It looks like a 1991 planting and was probably put in at the same time as the nearby Ilex centrochinensis (as we now think). Another nice puzzle but what else could we guess? Euonymus looks unlikely. Help needed please but my guess is that it is Asimina perhaps with just the odd small leftover flower. Leaves have no scent if crushed.
Due to the dry weather the lawn has not been cut for a bit and small flower heads of Achillea millefolium are springing up with both pink and white flowers. Native Yarrow!
The cyclamen under the yew trees on the lawn have just started.
The Symphoricarpus albus var. laevigatus has berries and a few pinky flowers left.
Then the rockery provides a bit of cheer!
This old Rhododendron kiusianum was pruned in April and has made good new growth despite the early summer drought.
The elderly Rhododendron russatum clump which I thought would die of old age has started shooting again from the base. A bit of a feed did it no harm!
Rhododendron campylogynum is having a secondary flowering at about the same level of flower numbers as in May when I thought it too was on the way out in the then heatwave.
Hedychium densiflorum in full flower rather earlier than some of the other species here and in the nursery. A dullish colour but the flower spikes are 4-5ft tall.
What a wonderful colour combination of Hydrangea arborescens 'Annabelle' and Ceros canadensis 'Forest Pansy' makes. The 'Annabelle' need staking as here.
Not bad either to see Hedera colchica 'Sulphur Heat' growing with a fruiting vine ('Muscat of Alexandria').
Then on to see Edith Piper in Hayle hospital who has just had her third successive knee replacement operation on the same knee. Not good but she is otherwise alert and well in her late 80s. Edith and Des Piper became farm tenants at Burncoose in 1952 and Edith still lives at Gilly farm in the valley opposite the nursery which took over many of their farm buildings around 30 years ago.
2018 – CHW
Jaimie and his team have completed the hooking around individual plants in the garden today in record time since we are still one gardener short. Now for the laurel hedge on the Main Ride before the second cut.
This old stopcock once controlled the water from the main tanks below the church which supplied the castle. An exceptionally large spider with its cache of eggs in a suspended pouch.
2017 – CHW
The huge clearing above the old playhouse is now nearly finished. Now the real fun can start with the final
planting plan from the spectacular list which I wrote in the spring
. It will be a cold spot facing the sea winds. The planting list is attached so you can see how the thinking has gone. There is not enough room for all of it so a few things need to be dropped and excluded.
2016 – CHW
No entry.
2015 – CHW
No entry.
1999 – FJW
Total eclipse 11.14 am – house martins and seagulls caught out. Also much cloud. Everywhere at their best – 2 young Lithocarpus pachyphyllus have seed.
1951 – CW
Lapageria just out. Eucryphia pinnatofolia not at best and Nymansii beginning. Very few flowers on Auriculatum and its hybrids. A wet day and some storms. Little corn cut. Cyclamen Neapolitanum a few flowers. Magnolia delavayi and both grandiflora good.
1948 – CW
Lapageria has been out a day, Eucryphia pinnatifolia going over. Nymansii good. All the pink Griersonianum and Eriogynum about over. Many of the white at best. Auriculatum good. Prophertum x Auriculatum very good. Just began to sell Hydrangeas. Storms bad. Harvest good quality.