2021 – CHW
My favourite edge of the moor's garden noted for its roses which were sadly nearly over
A second flush of flower on Rosa 'Princess Alexandra of Kent'.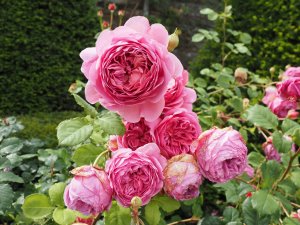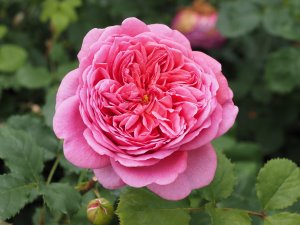 Sambucus nigra 'Black Lace' and Hydrangea paniculata 'Limelight'
Potfulls of lilies.
2020 – CHW
A visit to a garden near Wolsingham where Rhododendron ponticum has taken over and there is a need for a swing shovel to clear the way for new shrubberies.
I failed to identify this plant?
Some sloes forming but still green and swelling. Last year they were ripe.
Even the blackberries were sparse, undeveloped and with tiny fruits.
The elders mainly had very few seed heads and these too were sparse and underdeveloped for the time of the year.
A decent Eucryphia 'Nymansay' at last!
Prunus pilosiuscula is plastered in fruits which are red then black. Asia needs to gather these now. I have never noticed such a crop before.
2017 – CHW
We have missed most of the flowers on the pink form of Magnolia delavayi by the dog kennels but there was one small flower left. The tepals are not terribly pink but I think they would have been much pinker before the bud opened. This is the first time we have remembered to photograph the pink M. delavayi which is now about 15ft tall and 10ft across.
2016 – CHW
No entry.
2015 – CHW
No entry.
2002 – FJW
George Henry Williams shot his first grouse – even summer – gales and floods in Europe.
2000 – FJW
Delias new tapestry arrived (3 ½ ft).
1917 – JCW
Buddleia magnifica very nice. Forrest's rogue buddleia very pretty. Auriculatums over. Cyclamen starting and so the hydrangeas. Gladiolus at their best.
1914 – JCW
Cyclamen ⅕ open. Lapageria a few.