2018 – CHW
Encouraging signs from Asia's aerial root experiments. Despite the drought the moss is growing out of the sealed capsules. This implies that the capsule has not dried out. Time for Asia to inspect and see if proper rooting has taken place inside. Hopefully something to pot up? I bet she has had a look at a few but I have heard no good news yet. Should we pot after the next real rain or wait until spring? Probably remove and pot in September if there is enough of a root formation to sustain the severed shoot. Again trial and error.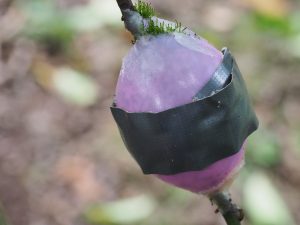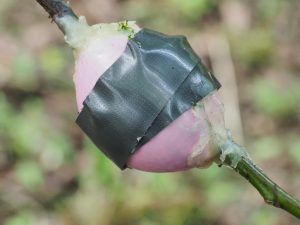 A decent Eucryphia 'Nymansay' at last!
Prunus pilosiuscula is plastered in fruits which are red then black. Asia needs to gather these now. I have never noticed such a crop before.
2017 – CHW
We have missed most of the flowers on the pink form of Magnolia delavayi by the dog kennels but there was one small flower left. The tepals are not terribly pink but I think they would have been much pinker before the bud opened. This is the first time we have remembered to photograph the pink M. delavayi which is now about 15ft tall and 10ft across.
2016 – CHW
No entry.
2015 – CHW
No entry.
2002 – FJW
George Henry Williams shot his first grouse – even summer – gales and floods in Europe.
2000 – FJW
Delias new tapestry arrived (3 ½ ft).
1917 – JCW
Buddleia magnifica very nice. Forrest's rogue buddleia very pretty. Auriculatums over. Cyclamen starting and so the hydrangeas. Gladiolus at their best.
1914 – JCW
Cyclamen ⅕ open. Lapageria a few.