2019 – CHW
Daphne Scott-Harden's wonderful garden at Newbiggin near Blanchland had suffered in the rain as well. The roses were shattered and the herbaceous borders nearly over but the new growth on everything was impressive even without the colour. A year ago the garden was full out.
A couple of fine potfulls of Agapanthus 'Streamline' (I think?) nevertheless.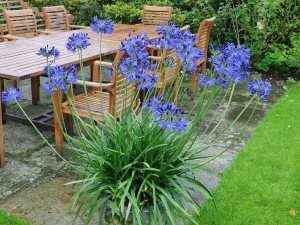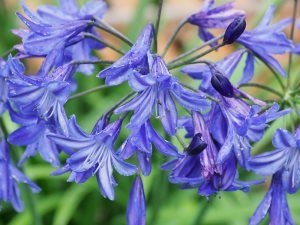 Tropaeolum speciosum growing in a Banksian rose.
And through a clipped yew with nearly ripe fruits.
Hydrangea arborescens 'Annabelle' and Gentiana asclepiadea were a gorgeous colour contrast. We need to stock this tall growing 3-4ft herbaceous gentian.
A fine display of mistletoe on a young apple tree with berries forming early.
Aconitum 'Sparks Variety' growing 5-6ft tall here is a wonderful herbaceous border plant. It never looks much in a pot in the nursery.
2018 – CHW
Sorbus wilsoniana with three clusters of berries ripening away on a young plant planted only in 2013.
Acanthopanax aff. sessiflorus (now eleutherococcus presumably) we saw last autumn with clusters of black fruits but we did not see these extraordinary flowers in spherical heads. Quite bizarre really.
2017 – CHW
A new syringa species to us flowering for the first time in August. Syringa reticulata looks much like Heptacodium miconoides but the scent is rather nicer!
2016 – CHW
No entry.
2015 – CHW
No entry.