2018 – CHW
A tiny dead baby grass snake in the Rockery. Possibly killed by pheasant poults? Many sightings of adders this summer and several dogs bitten walking on the cliffs in Cornwall. At the GWCT clay shoot last Saturday I looked at a large springer spaniel from the Lizard which had survived an adder bite but the venom had decayed and rotted the flesh around the bite. The poor dog now has a 2'' hole in its belly, a jumpsuit to wear and daily changing of the bandages.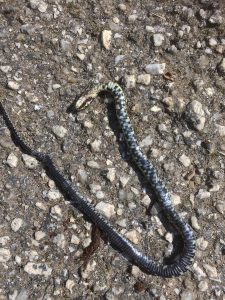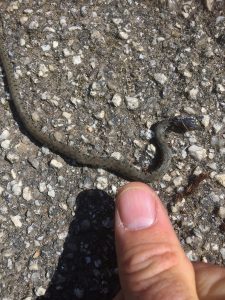 The hot summer has produced another crop of unusual insects. Here a couple of stick insects found by Michael in his garden at Rescassa. Occasionally, over the years, we have spotted these in the nursery where they may have arrived on plant imports from Italy or Spain. Odd how such insects could have survived The Beast in early March. I wonder what their life cycle is?
Wikipedia
has the answer: Some species, particularly those from temperate regions, undergo diapause, where development is delayed during the winter months. Diapause is initiated by the effect of short day lengths on the egg-laying adults or can be genetically determined. Diapause is broken by exposure to the cold of winter, causing the eggs to hatch during the following spring.
Sarcocca wallichii flowers nearly out. Very early I think.
Viburnum macrophyllum given to us by Rod and Mary White this year is growing away well in its cage. Huge new growths.
Crabiodendron yunnanense is just finishing flowering and the ground is carpeted with greenish white balls resembling those of a pieris. I always seem to miss it when full out usually after walking under the tree several times!
Rubus ichangensis is still in flower. This raspberry is very late to fruit and already the leaves have great red and purple autumnal tints. Last year we saw fruit in November I think?
The cyclamen are popping up in profusion again all over the bank above the lawn. Thankfully just after the second grass cut.
2016 – CHW
This 1996 planting of five Hydrangea paniculata is today quite superb with just a hint of pink developing on some of the florets in the most sun. Now that Rhododendron 'Polar Bear' are mostly over this is the best thing in the garden today.
Rhododendron flavidum is having its usual secondary flowering which is a bonus, albeit a small one!
Just as the eucryphias have been universally late this year so the hoherias have very little flower as yet. Hoheria sextylosa 'Pendula' has just an odd flower but loads of bud a fortnight or so off.
A drowning yesterday evening off East Portholland. Scuba diving apparently. Father died and one daughter also taken in the air ambulance. The new RNLI warning signs are all in place but yesterday was a remarkably calm and warm day. Without knowing any facts relating to this incident, and reading several recent cases of drownings all over the country in the fine weather, I wonder what more can really be done to prevent accidents of this sort? The local media do not yet seem to be trying to blame anyone and the rescue services (large helicopter, air ambulance, ambulance, coastguards, cliff rescue teams etc) were all on site at a huge cost to the public purse.
2015 – CHW
Rhododendron flavidum is another species which has an unspectacular flowering in the autumn.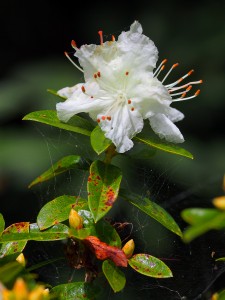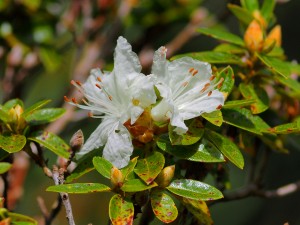 Cladastris lutea (kentuckea) starting its amazing display of pure yellow autumn colour.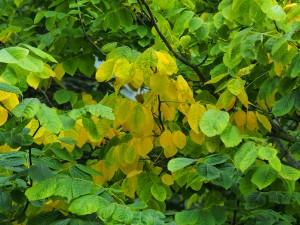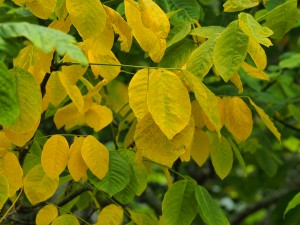 Another, rather dull, form of Hydrangea sargentiana from Crug flowering for the first time at Donkey Shoe. A poor replacement for the old clump which died out here 20 or more years ago. There were three plants but I killed one pruning it when I thought it was dead. Just dormant and my stupid mistake as these do not produce side shoots if you remove the leader.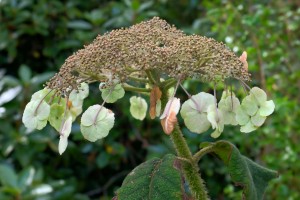 1975 – FJW
Corn cut – yield good straw very sparse indeed.
1973 – FJW
All straw in.
1964 – FJW
Harvest finished.
1942 – CW
During the summer I picked off over 1800 Magnolia seed pods. Parviflora most over 9000. 5050 from No 2 and 2200 from No 1 – over 3000 Sinensis, 1500 from the big one, 5400 Wilsoni, 800 from the single one in New Planting, also 800 by Engine House.