2023 – CHW
Escallonia bifida just out in flower.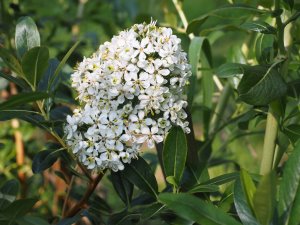 Hoheria sexstylosa 'Pendula' just coming out.
Secondary new growth on a newly planted Accer calcaratum.
Flower just coming out on Tom Hudson's Callicarpa species unknown.
A visit from a Ukranian mother and her two daughters who have been in the UK for over a year. Here the girls discover Tree Ferns.
Ripe seed already on Magnolia sieboldii.
Acer palmatum 'Senkaki' turning yellow already.
As you might expect, a newly planted Carya cordiformis has fared rather better. Carya are heat tolerant even in full sun as here.
Pterostyrax levellei in Tin Garden has made itself into a small tree in only 4 years.
Acer macrophyllum with enormous, largely 3 lobed leaves on its successful, new growth.
One large seed head nearly ready for Asia to collect on Magnolia 'Elizabeth Holman'. I didn't see another seed head today anywhere in Kennel Close.
Purple petioles on the new growth of Catalpa szechuanica. Oblivious to the drought as you might guess.
Amaryllis belladonna and Sedum spectabile.
Liquidambar styraciflua 'Silver King' with mature foliage.
Sorbus hedlundii with fruits.
Quercus bushii 'Seattle Trident' with a flush of late new growth.
More roe buck damage on a birch trunk. I think spiral guards might help at the rutting time.
Crataegus watliana with ripe hips already. Tasteless when we tried them.
Crataegus combyi not quite fully ripe.
2020 – CHW
Burncoose has started offering Forestiera neo-mexicana (now called Forestiera punctata in Hillier's) again and we do not have a full set of photographs. I can think of four small evergreen shrubs / small trees which it might be in the garden. All are pretty dull but rare. Bean says that he has never seen this olive-like tree produce fruits in the UK. Native to the SW USA and introduced to Kew in 1925 but thought unlikely to fruit in our climate.The first viewing turns out to be the Chilean Schinus polygamus (now Schinus polygama in Hillier's) above the greenhouse. Twelve to fifteen feet tall and pretty dull. That is what it is labelled anyway. I have seen tiny yellow-green flowers once. Planted in 2007.
Nice autumn tints on Parastyrax sp. nova (Crûg 15165).
Then I find Forestiera punctata (neo-mexicana) just on from Magnolia tamaulipana. It is also about 10ft tall with multiple stems. No sign at all of fruit and it is really in far too shady a position. You could pass it daily and not notice it. Easy from cuttings says Bean. Planted in circa 2000.
Then another unidentified tree below Tin Garden which definitely has spine tipped shoots and may very well also be Schinus polygama. I did not notice the spine tipped shoots on the other one which had much larger leaves which were not as ovate as these. Schinus molle has drooping branches so it cannot be that and neither can the tree above the greenhouse which is particularly erect growing. Never seen flowers on this plant which is also 10-12ft high. Planted in 2005/6.
This tree I had mistaken for a Ptelia a few months ago. I have no idea what it is but I guess Shepherdia argentea but this does not marry up with the description and I am not sure if it is evergreen or not when I think about it. S. argentea is however another very dull thing. I need an expert opinion! Six to eight feet tall.
An unidentified rhododendron on the path on from the old Lower Quarry Nursery with what I assume are secondary flowers.
2019 – CHW
Jaimie has found a peahen nesting in Bramble Field by the water tank. I do not think we have a resident male this year so it may well be sitting in vain. Peacocks normally hatch in June or sometimes July if they have a second clutch after losing the first. This peahen had been living on its own in the rearing field and is probably immature as well so it is very unlikely to produce any chicks. There have been peacocks here since 1960 and it would be a pity if this was the last.
Persea borbonia is another new Persea species. Very long pointed leaves.
The double form of Polyanthes tuberosa was smelling gorgeous.
Cornus canadensis with brilliant red fruits and still the odd flower.
2017 – CHW
Plenty of seed on Stachyurus praecox on the drive. Very different in appearance to the racemes of seed on Stachyurus chinensis.
Secondary flowers, as usual, on Magnolia 'Iolanthe'.
Heptacodium miconoides is just coming out. This is spreading into a large shrub with quite some late season impact.
Quercus cerris 'Argenteovariegata' stands out nicely in the sun. A wonderful colour combination but some green shoots that have reverted and need cutting out. I did this in the spring but more have appeared.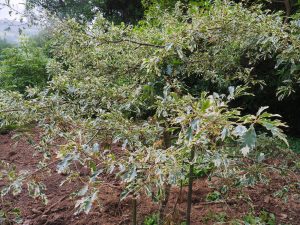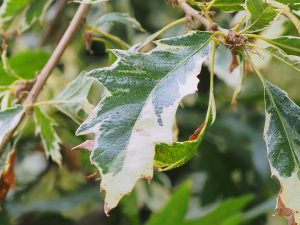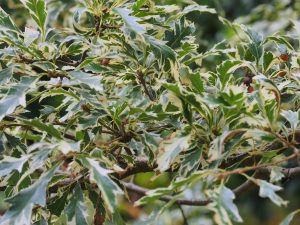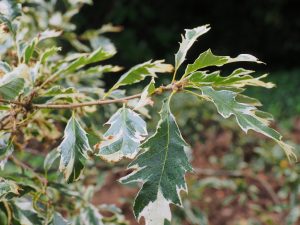 Olearia solandri 'Aurea' is just coming out. A good plant as a 'sacrifice' in a new planting. It will soon be time to remove it as it has done its job. Slightly golden leaves and bark. Tiny but prolific flowers.
Magnolia 'March-till-Frost' is living up to its name. Very dark coloured flowers indeed and much darker than last year's.
Huge seed pods on Magnolia 'Big Dude'. Plenty to collect here.
Luma apiculata 'Glenlean Gold' is another sacrifice plant grown here as a windbreak in the new planting above the greenhouse. Soon time for it to go having done its job – or all three plants actually.
One of Karol's small size new labels in place. No seeds on 'Tina Durio' but plenty of buds for next year.
2016 – CHW
The Garden Diary is littered with references over the last 100 years to the lapagerias being out by the front door in the autumn and indeed even in January. In more recent times it is not that unusual to see them out in August. This is a very ancient and very scruffy surviving plant but still laden with flowers. One flower is clearly nearly over already.
Fuchsia exorticatica which has been featured in this diary in flower several times since this January is now showing a fine crop of ripe reddish turning black seeds. If it did not propagate so easily from cuttings there might be a point in collecting them. The foliage is starting to go purple and, when the leaf drops, we will be able to see more fully the glorious peeling bark of this exceptional eight to ten feet tall shrub. All fuchsia lovers, as I was in my teens, should have this in their collection.
The much younger Lapageria 'Picotee' also looks pretty horrid although it has grown considerably into the camellia alongside it this year. Nevertheless, amid its annual ugly dieback, and in the camellia, are many more flowers than might be expected. We gave this plant a good mulch in the spring which has helped. Lapagerias like their roots in the shade (or under a slate or mulch covering) and their long climbing tendrils in partial but not scorching sun. Much like Tropaeolum speciosum in fact which has yet to flower in nearby camellias. I saw the tropaeolum full out last week in Northumberland.
I have just given a talk to a wealthy out of season German group of eight. They had seen the sex scenes in the Rosamunde Pilcher episode filmed here last summer and 'just had to visit' (I quote). Rosamunde Pilcher is the German equivalent of Poldark with more sex which Germans watch on Sunday afternoons! The (rather slim) wives looked well up to it!
2015 – CHW
A fine display of Prunus laurocerasus berries below Slip Rail. The laurels are yellowish here near a huge fir tree where they bake in the sun with little moisture. Hence the berries which you seldom see on cut laurel hedges.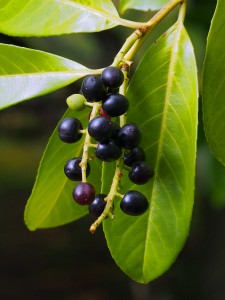 Major collapse of an old Pinus insignis below Hovel Cart Road. Just the main trunk left and a terrible mess in the Rhododendron Cornish Reds below. These old firs put on huge numbers of fir cones just before they die. These open in the sun and then after rain the weight becomes too much for the tree and it collapses on a very still day. Nature's way of spreading seed to the surrounding area but the moral of the story is do not sit under a Pinus radiata (insignis) in August!
1961 – FJW
Harvest definitely finished. 35cwt average per acre. Best fields – School House Meadow and Eastern Close 50m cwt.
1959 – FJW
Lapagerias have been out for some time.
1941 – CW
One or two Lapagerias out for a week – Red Azalea by Tin Garden still in flower [probably Rh prunifolium as it is still there 2016]. Auriculatum hybrids mostly going over but lots for the house still. Fuchsias at their best and been good for six weeks. Eucryphia nymansensis just past best. Big Cordifolia well out on top. A lot of rain all this month. Harvest bad.