2017 – CHW
The ancient Pittosporum tenuifolium in our Seaview garden.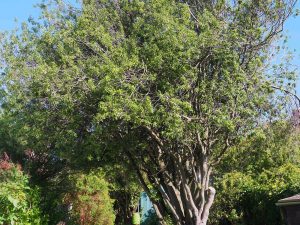 A fat fruit forming on Passiflora caerulea. It will soon go yellow.
2016 – CHW
No entry.
2015 – CHW
No entry.
1994 – FJW
Very heavy rain.
1979 – FJW
David John Williams took first wicket for Gorran – he also caught (1) and scored (0).
1964 – FJW
Mr and Mrs Tom Michael in church.
1949 – CW
Eucryphia pinnatifolia over. Nymansii v good. Several bits of mountain Rhododendrons – a good deal of rain. Magnolia delavayi still many flowers, also both forms of Grandiflora.
1939 – JCW
Eucryphia pinnatifolia 2 days short of best – Billardieri still good in places and been out since June – Rho Didymum still nice. Auriculatum hybrids going over but some still at their best. Very dry early June and May – since then lots of rain and all July growth good.