2019 – CHW
Tilia kiusiana now just out in full flower and the bees having a field day as usual.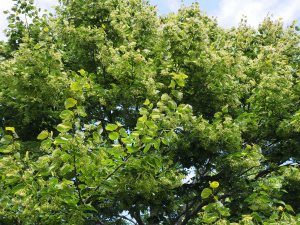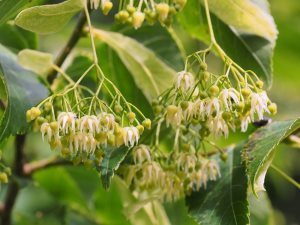 Sorbus japonica with plenty of brown speckled fruits which will shortly turn red. Planted in 2010.
Sorbus alnifolia with fruit clusters that are still very green.
Tilia maximowicziana is a young plant but here with its first set of seeds which are still far from ripe.
Catalpa bignonoides is now full out at 40-50ft in height outside the arch. This plant once grew in my grandmother's garden in St Mawes but was dug up and moved here 30 to 35 years ago.
Lagerstroemia indica 'Red Emperor' is flowering well as a result of the hot conditions this plant needs to perform in our climate. This is the third variety to flower in the nursery this year.
Passiflora edulis with a couple of fruits forming for the same reason. What colour will they end up? Interesting to see as this has not happened before in the nursery with this tender species.
Pittosporum bicolor was seen this spring in flower on Garnish Island in Eire. We now have plants in stock and the new growth is attractive. Not at all like most pittosporum species in leaf and neither are the flowers.
2017 – CHW
Hard pruning of the Magnolia delavayi plants below the castle is taking place. It looks drastic and it is intended to be! These elderly plants regrow over the top of the wall at such speed that they obscure the views of the sea from the downstairs windows. They also block the gutters with their huge old leaves above the garages. We are shredding all but the largest branches and leaving the residue as a mulch for the roots. You can see two days' worth of progress in these pictures. At least two more to go. We will leave the Magnolia grandiflora beyond the delavayi uncut because there is a demand for their bark from a peculiar source! (And I am not telling you what that is!)
2016 – CHW
No entry.
2015 – CHW
No entry.
1992 – FJW
Has been damp for a month with no really heavy or prolonged rain. Eucryphia of all sorts are out well – very early for them.
1962 – FJW
Philips operation a success. Season still late – Eucryphia not nearly out. Auriculatum hybrids lasting well. Acer laxiflorum above Orchid House Nursery died suddenly.
1918 – JCW
Michael went round with me, he has not been here since January 15, he was very keen about the things, nothing much open now but the mountain forms.