2016 – CHW
Jaimie planted this Magnolia 'Lanarth' seedling at the top of Forty Acres wood in 1996/7.It is currently 25ft tall but you cannot see if there is any bud for next year yet as the remaining leaf canopy is still too thick.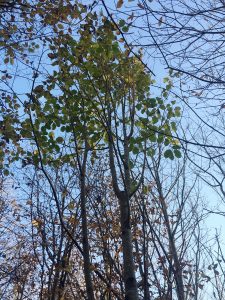 The plant is in an area of new woodland planting after the 1990 hurricane. One day the top of the hill may have a purple blotch from afar!Time for a bit of thinning around it now though.
2015 – CHW
Jaimie mentioned that Camellia 'Cornish Snow' was out in his mother's garden near St Stephens. In shoes with no time I did not get far enough to check here but I did find its sister cross Camellia 'Winton' just coming out above Orchid House Nursery bed. Again rather early! (Not out yet on the drive.)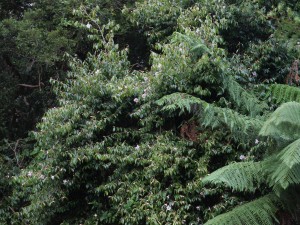 'Winton' is Camellia cuspidata crossed with Camellia saluenensis. This was made by Hillier's Nursery. 'Cornish Snow' is a Caerhays hybrid with the mother plant of the cross the other way around. 'Winton' is a light pink and 'Cornish Snow' a pure white. I prefer the white!
Alongside 'Winton', quite literally, and totally unknown previously to me, is what I assume from its location must be a self sown seedling of Camellia oleifera. Small flowers but very lovely really and absolutely full out (as of course is Camellia saluenensis seen a few days ago).
2002 – FJW
A cold spell began.
1998 – FJW
Wet with short spells of cold – Big Japonica camellia out on Burns Bank so is Cornish Snow near Georges Hut. All Noblissima have flowers. One flower George Blandford. Unnamed Williamsii clump above Acer senkaki are magnificent.
1951 – CW
George Stoddart came today after measles.
1948 – CW
Camellia sasanqua and oleifera going over. A few lapageria and roses left, also bits of Auriculatum hybrid and 2 or 3 Mag grandiflora. Rho reirii just coming out. Quite a lot of Cam saluenensis and 2 or 3 of its seedling. The big quarry one well out and a few buds picked 3 weeks ago. Very mild and wet. Big Mag sinensis has died, it was 36 yards round. Dead almost to roots.
1926 – JCW
We are later than the 1918 year. Cotoneaster salicifolia and Camellia sasanqua including Delavay's decorum, and the Maddeni hybrid in the hall.
1918 – JCW
The Engine House double white camellia is beautiful. R dahuricum and R mucronulatum are fairly good.
1906 – JCW
Camellia sasanqua at its very best. Roses remain quite nice. Daffs coming through well. Lapagerias fair.