2016 – CHW
Euphorbia mellifera is shedding its old yellow leaves by the library window. Very attractive and not seen before.Two echiums have died without flowering in their second year. Others look fit to flower next year.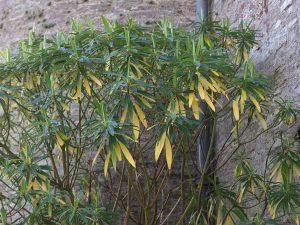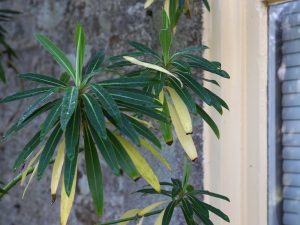 Cotoneaster horizontalis has a fine show of autumn colour now the berries have gone.
Echinops battanicus still has a surviving pale blue flower and a couple of buds still to come if we remain frost free. Unusual!
You can just see my old dog, Rio, taking himself down to the beach to see if any of his girlfriends are there rather than coming shooting. Sex before work! Last Saturday he missed the departure of the guns trailer for the same reason and was very contrite at lunch. All the dogs are exhausted but never too tired for a bit of bitching. Saturday's mob were a bit like that too by the look of them and I am not referring to complaints.
1984 – FJW
Very bad storms all day – Porth Luney beach enlarged – early Williamsii splendid.
1934 – JCW
Most of the lapagerias are away for the most. We put 150 small tree ferns in the nearest quarry to the castle, it was mainly done by a man in the house.
1928 – JCW
A bud of Eriogynum opening in the Hall. C speciosa opening and a few Cam sasanqua left. Hamamelis mollis ½ open. Flowers on the white C japonica Dutch Pearl shows colour.
1927 – JCW
A good few lapagerias flowers, several Rho sulfureum and lutescens, and then odds and ends of rhodo'n. A very harsh wind, next to no frost.
1926 – JCW
Hardish frost last night. Cam sasanqua holds yet. Cotoneaster salicifolia is very good indeed but requires a sunny day.
1907 – JCW
Camellia sasanqua remains, no real frost, solanum quite fair, a fair lot of daffs of all ages have moved up.
1906 – JCW
Several coums open, a good few daffs up.
1897 – JCW
Jack [Williams] picked the first wild primrose.