2016 – CHW
The old clumps of Erica arborea are nearly full out on the middle bank as usual. The ones at the Four in Hand have been out for a few weeks already.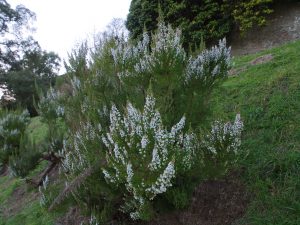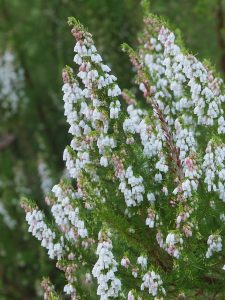 Nearby the men have downed another row of leylandii and bay trees below the greenhouses to let in more light. A good fire.
The new medlar has lost its leaves but not yet its fruit. The plaque is now installed on a stone above it and looks fine.
2015 – CHW
Weather forecast wrong yet again and no rain (like yesterday)! The dying aucuba windbreak above Bond Street has been cut back hard but it will probably have to be ripped out before the year is out.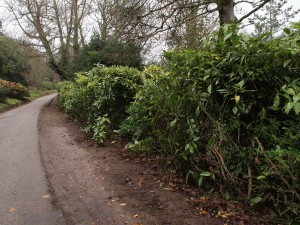 The leaves on the sides of the drive have been half done about a fortnight earlier than usual. This tedious and time consuming job takes three men about three weeks. It looks really good however when finished until the wind blows again.
1940 – CW
First Sutchuenense hybrids out also Arboreum thomsonii x. Camellia sasanqua, double white, speciosa and its light and dark pink hybrids, also Oleifera very good. Some fuchsias still nice. Erica hybrida out and the yellow Maddeni we have had several vases here for a week.
1926 – JCW
Lapagerias remain nice and C sasanqua are good yet, no real frost above the top terrace so far. Daffs just show a little. Some Iris stylosa. Several Maddeni hybrids show.
1906 – JCW
Some lapagerias very good. C sasanqua at its best. Solanum and rose, Papa Gontier, hold on.