2016 – CHW
The young Rhododendron 'Bo Peep' – pink form has two flowers out on the drive today. The mature clump in the garden has yet to show.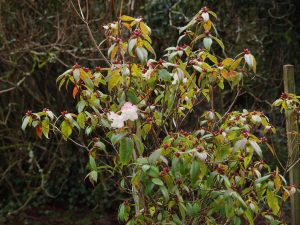 Rhododendron nobleanum is now full out and splendid on the drive but slightly battered by wind and frost. Exactly on time I guess.
Opposite it Rhododendron 'Emma Williams' is demonstrating that it is semi-deciduous but laden with bud for next spring.
Soaked to the skin on a family day's shooting. Wonderful day for those who could stick it out.
1932 – JCW
Fuchsias are nearly over from the wind. Hydrangeas are fair. Hamamelis mollis is very good indeed. 40-50 lapagerias under the bathroom window.
1927 – JCW
Our cold wind with zero in E and N England turned to S.W for the time. Flowers as above in 1920.
1920 – JCW
The frost left yesterday and Rho moupinense showed colour at once. Some lapagerias and Camellia sasanqua retain a few flowers.
1916 – JCW
A recent hard frost has cut away all kinds of blooms.
1914 – JCW
Some coums show, also some Cam sasanqua, lapagerias,. Rhodo's lutescens, mucronulatum, nobleanum, keysii, thomsonii show bits of flowers.
1908 – JCW
Some coums, some polyanthus and blue primulas.
1903 – JCW
Coums begin to look well, three or four polyanthus daffs open, and have been some of them since October. Cam sasanqua just over, a few lapageria and some tame primrose.