2017 – CHW
Embothrium can never decide if they are evergreen or deciduous with us. The plants vary greatly. This one is dropping today but many leaves remain green and may go on to next season.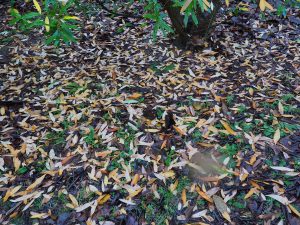 Still a good show on Camellia oleifera a good eight weeks since it first showed colour.
Grass cutting in Kennel Close in Christmas week. Notionally to allow us to see the new daffodil clumps properly but some of the daffs are already in bud.
Camellia 'Volunteer' is a new one to us and rather good!
Garlic well grown now! It first showed a month or so ago.
2016 – CHW
The forecasters described today as very windy and very wet. Wrong again up to lunchtime. Are they just liars or total incompetents? I guess they know it will rain on Christmas Day so want to get us all depressed first. I suggest the wind is 10-15mph at the top of the garden this morning. Not cold at all after a clear night and very slight frost in the valley bottoms.Two old plants of Camellia 'Noblissima' full out by Georges Hut just like the one by the front door.
A tiny flowered but unnamed x williamsii camellia seedling by Tin Garden is full out in the last four days and shedding leaves. More wind than I thought?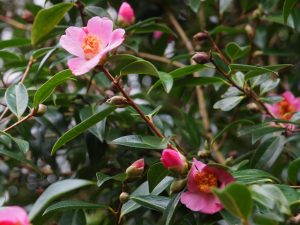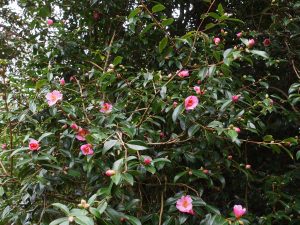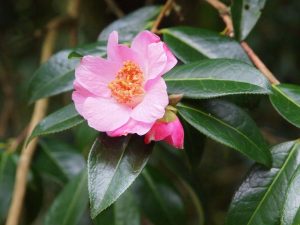 First flowers on Azalea 'Hinomayo' for Christmas as usual here and at Burncoose.
2015 – CHW
Retire to bed.
1978 – FJW
Very dry autumn. Weather did not really break until beginning of December – Camellias on time especially November Pink.
1974 – FJW
Camellias have been late. Rhodo's early – Nobleanum, Pink hybrid and Busaco full out.
1972 – FJW
First flowers on November Pink – latest yet.
1971 – FJW
We picked flowers on George Blandford.
1966 – FJW
Picked the first flower of George Blandford and gave it to him.
1939 – JCW
Rho mucronulatum very good. Also Cam oleifera on wall and by Engine House. Rho lutescens opening. Fuchsias just feeling the frost. Erica darleyense quite nice. Some lapagerias left and odd roses. Plenty of Camellias out, a big vase cut both speciosa hybrids and early double white from below Engine House.
1929 – JCW
Hamamelis is nice. Mucronulatum also. Cam sasanquas keep on but are smashed by the wind. A good few daffs above ground. There have been several hot days of sun in that garden.
1919 – JCW
Very little showing flower excepting H mollis and Rho mucronulatum, these are very good.
1913 – JCW
Roses good, never so good at Christmas. Some C sasanqua, some coums. Cynoglosum nice. Rho lutescens opening. Picked the first Thomsonii x 3 days ago.
1910 – JCW
Not much frost yet. Cam sasanqua remains, some roses also. C coum ⅕ out. Erica hybrida ⅓ open. A piece or two of Erica codonodes. A bud or two of Rundles scarlet. A quite remarkable lot of rain. Daffs are on the move.
1909 – JCW
We had enough frost to cook a large part of the Auklandii blooms. Just a coum or two showing. Neapolitanum have grown well. Election is in full blast.
1900 – JCW
Crocus imperati open. I found a snowdrop showing colour.