2019 – CHW
A look at what was out in the garden on a fine sunny Christmas Day!
Azalea 'Hinomayo' out for Christmas as usual – well just the odd twig here and there really!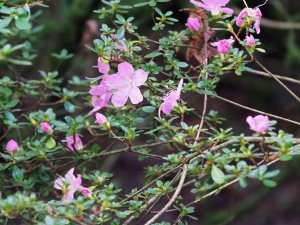 The darker of the two original wild collected Camellia saluenensis has its first flower on Christmas Day. The paler form was out two and a half weeks ago. This flower hangs down vertically which is unusual.
All that is left of the fine Camellia sasanqua 'Narumigata' which split in half a month or so ago. The second half has now gone too but the flowers now decorate the castle. Hopefully it will eventually reshoot. I see one twig left at the base.
Here they are in a Christmas arrangement.
A vase of camellias in the hall.
The Picea omorika branch now fully decorated.
The Christmas arrangements outside the front door 2019.
And, less seasonally perhaps, the side door arrangement.
Also out today was Magnolia delavayi.
And flowers on Magnolia grandiflora – one bruised by passing vehicles.
We saw early odd pale flowers on Rhododendron nobleanum but it is now full out. Perhaps a month later than would be normal again suggesting a cold snap to come.
Camellia 'Winton' with its first flowers.
One flower on Rhododendron sulfureum.
And one on Rhododendron leucaspis.
A few odd premature or secondary flowers on Azalea amoena which is unusual but just on one of the elderly bushes on the drive.
Hydrangea 'Ayesha' with several nearly opening flowers.
That is 11 things to brighten up the day anyway.
Camellia 'Optima'
I am back to the first flowering of Camellia gigantocarpa. The plant in flower has very different leaves to the separate ones in full growth in the Auklandii Garden. Is the one in flower in fact Camellia crapnelliana? I think not because the bark on the stem has not got an orange hue and the Chinese reference book makes no mention of brown bud coverings in C. crapnelliana. I may well yet stand corrected!
Camellia 'Takanini' full out and a very dark red indeed.
Yet more young Pinus insignis blown over in recent gales.
Rhododendron Golden Oriole Group – 'Busaco' with its first flowers on a newly planted group on the Main Ride.
First single flower on Rhododendron 'Bo Peep' (Yellow Form).
Magnolia dawsoniana still clothed in leaf.
Acanthus mollis with one flowering spike and many spikes of seeds.
Fuchsia gracilis with new growth showing and the odd surviving flower.
The Camellia x williamsii 'J C Williams' hedge by the Rockery looking great.
The clump of Zantedeschia aethiopica outside my office are in rude health!
A tail end and unusually late flower on Camellia sasanqua 'Hugh Evans'.
But no flowers on Camellia 'Lady Clare' outside the front door although others are out in the garden.
A strong running sea and a SW gale for Christmas day.
Sarcococca saligna with flowers nearly over.
2016 – CHW
So what do we find out in flower on an exceptionally mild Christmas Day? As children we often played this game collecting different camellia flowers. We once got to nearly 100 with my brother. Now a grandchild on the way so we can all begin again.A fully grown and full out campion below White Styles. Cor!
The unnamed Camellia x williamsii clump outside the front gate is full out and the best thing in the garden today.
Rhododendron 'Cornish Red' with buds opening all over the huge clump. Only one branch had premature flowers four to six weeks ago.
Four young Camellia sasanqua 'Narumigata' still full out and very fine in the sun.
The first spring Cyclamen coum flower on the bank amid an array of leaves. A new self-sown clump here.
Several flowers on several of the Magnolia grandifloras. Not unusual in recent mild winters but unbelievable to previous generations.
Daphne bholua 'Alba' nearly out by the greenhouses – not unusual.
Camellia hiemalis 'Yuletide' – but of course! It is in a pot under cover but even so!
Camellia hiemalis 'Bonanza' virtually over.
A few flowers still left after the leaves have long gone on Fuchsia magellanica 'Alba'.
The ground below the original Camellia sasanqua 'Narumigata' is covered in white petals but there are still more than plenty flowers left.
Many small birds are singing are singing away in the stillness as if it were already spring. A pleasant and hopeful Christmas day. I would love to compare this all with what other readers of this blog have found today?
2015 – CHW
Christmas Day – plans to photograph every camellia in flower today (and pick one of each as my brother and I did in our childhood) abandoned as still in bed! Missed all the festivities entirely!
Floods in Lancashire and York. Heavy rain here mainly overnight but nothing exceptional.
2002 – FJW
Flowers on wall of Magnolia delavayi.
1964 – FJW
The day whitened up considerably in the afternoon.
1961 – FJW
CHW did his first big job with his father in EPR's quarry.
1904 – JCW
Crocus imperati open. November frost left very few lapagerias. Rest as above but no aconite.1903 – JCW
C imperati open fairly well, a snowdrop or two, 50 lapageria on the winter plant. Erica open, some roses, Nobleanum open for three weeks, an aconite out, a wild primrose, daff seeds hardly any but Maximus blood moving.1902 – JCW
C imperati nearly open. Galanthus nearly. About 100 lapageria on the pillar plant. Some Erica nearly open. Several roses going yet and a very fair lot of buds in the roses. This years daff seed is slow in starting. Nobleanum out a week.1901 – JCW
The first imperati nearly open. About 40 lapagerias on one plant, frost has hit them very hard. Not many roses. Some I stylosa alba and alata. Hardly any moved bulbs show but several perhaps nearly all the unmoved. Erica arborea in flower.1900 – JCW
Many Stylosa alba open. 80 lapageria on one plant. Coum one third open. Erica arborea in flower. Picked a good Mrs W.J Grant. Several bits of roses. A fair lot of daffs up, a sprinkling in the seedling pans. Crocus imperati open.1899 – JCW
Several Stylosa open. 150 lapageria out on one plant. A great number of daffs above ground though most of them are moved bulbs. Several nice roses. C coum one or two in flower.1898 – JCW
About 300 lapagerias out. G found Lent Lilies breaking up. Berberis [?]. Habrothamnus out. C picked a big bunch of Scilly White.1897 – JCW
Many daffs through '37' of the new ones. Crocus imperati still good. Many camellias, a good few roses. Some snowdrops well open. Iris stylosa and bakeriana.