2017 – CHW
The huge Rhododendron 'Cornish Red' beyond the greenhouse is out early. BBC Spotlight get our press release about the naming of Rhododendron 'Red Centurion' and, typically, ring up wanting to do a piece on early rhododendrons. Red Centurion flowers in May!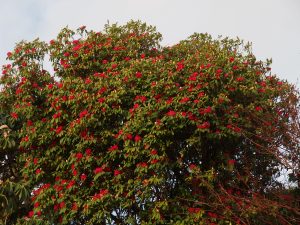 Next to it the Rhododendron grande clump is just coming out. Pinkish as the bud opens then fading creamy white. Not a good flowering year for this species with relatively few flowers.
Rhododendron aureum is out in the greenhouse. This species is much mentioned in JCW's garden diary notes but is not one I have ever seen before here. Short lived I guess and appears a dwarf for the Rockery soon.
Also in flower inside is Eurya japonica 'Moutiers'. Compact growing and almost a hedging plant for a flower border. Looks nothing at all like our old tree Eurya japonica in the Rookery. Tiny flowers in profusion. New to the Burncoose catalogue this year. The foliage has a slightly silvery hue on the underside of the leaves
Sorbus hedlundii still has three huge yellow berries on it. A new species to us to plant out. Nice foliage too Asia says but I have not yet had the pleasure.
Magnolia 'Todds Fortyniner' is out in colour as I said a few days ago. Very good value in terms of flower numbers on a small plant.
The greenhouses are stacked high with new young plants and seedlings. We need to send a lot to Burncoose to make more space for potting on this spring. All excellent work by Asia.Magnolia grandiflora 'Symons Select' still has a good bud to come and three flowers currently out. Amazing!
This huge Camellia japonica, perhaps our largest japonica since it has never been pruned like the ones on the back yard walls, has hung above and over the top wall since I was a child. Always out early, but not quite as yearly as Camellia noblissima by the front door, it stands proud and full out today. JCW called it Camellia japonica 'Sodekakushi' although he often spelt it slightly wrong in the diary. Today the accepted name is Camellia 'Gauntettii'. This plant must be well over 100 years old and may well date from the 1890s or even earlier. JCW would have been readily able to see it writing his diary from his desk as can I. Hillier's says it has a 'weak constitution'. However you would be pushed to find a larger hardier plant in the teeth of the wind here.
The Cyclamen coum have seeded themselves and expanded all over the bank by the front door in different colours. Fifty years ago they were only to be seen under the ilex trees above the middle path and never as now. Mixed with the snowdrops here too which were transplanted from The Vean 10 years ago before building work started
2016 – CHW
Barbara Oozeerally and her husband have just left after a weekend of viewing magnolias to paint for her second major pictorial book on the subject. Absurdly early but we did manage to find her some new subjects:F J Williams, Bishop Michael, campbellii 'Werrington', Bishop Peter, Suzannah van Veen, New Zealand form 'Lanarth', Hawk, Shirraz, True 'Lanarth', campbellii 'Sidbury', campbellii 'Lamellyn  Pink', Red Lion, Delia Williams.She gave us the most beautiful original picture of Magnolia sprengeri 'Burncoose' which is quite outstanding and will go in pride of place when framed.
All the above have been photographed already and are in this diary over the last few days.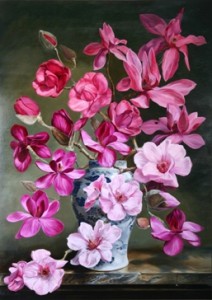 Barbara will need to come back again once or twice more this season if we are to move forward. She is the most accurate painter of magnolias of the three or four artists commissioned by us (with very different styles) over the last 30 years to paint Caerhays plants. Helen Hilliard, Michelle Bennett-Oates and one other.
2001 – FJW
Back yard Magnolia shows colour.
2000 – FJW
Giddle Magnolia has several flowers.
1972 – FJW
George Stoddart came to stay at the Barton.
1964 – FJW
Mild and dry to date – not so advanced in flower as 1948.
All the Hamamelis species have flowered together.
1948 – CW
Rhodo's praecox, barbatum, argenteum, moupinense, sutchuenense and its hybrids, some thomsonii x arboreum. About six Cam reticulata species opening. Also the Japonica hybrids very good. Unspoiled as a long mild spell. A few early wild daffodil. None in Tin Garden. Prunus pissardi and conradinae. Snowdrops, aconites and cyclamen for weeks, a few lapageria. Colour on Mag sargetiana and robusta, no others.
1933 – JCW
Rhodo's open are Caucasicum, Praecox, Mucronulatum, Moupinense, Triflorum, Thomsonii x , Barbatum, Lutescens, Sutchuenense near sinogrande, Prunus conradinae – pissardi – p yunanense – p triflora. Snowdrops very good, no magnolias yet.
1901 – JCW
Cold has been on for sometime, a hard frost last night, nothing much moved since February 9th.
1899 – JCW
Rhodo praecox shows colour, snowdrops going back.