2017 – CHW (photos to follow)
Serena spent the day with two photographers and the features director of The Field getting shooting pictures for her forthcoming article which she has written. As a Purdey's ambassador she has the full Purdey shooting kit and looks unbelievably smart. Will she be the cover girl for the May edition? She has her two dogs with her and Billy plus Nuttie go too which I fear may not have been that helpful.
Quite a week for filming and publicity immediately prior to opening on Monday. 'Salvage Hunters' is viewed by two million people so we will see what this does to visitor numbers in due course!
2016 – CHW
BBC Spotlight TV news was not too bad last night and Michael was good but, as expected, the cameraman did his utmost NOT to show any magnolia flowers in the main clips. Better not say any more or suggest how he might do his job better!
An hour with Asia in the greenhouse to show her the old fashioned way of planting magnolia seeds, 40 to a box, in wooden boxes. Very simple and a much easier way to grow on hundreds of seedlings for grafting which we need. Everything in the greenhouse needs some spring warmth to get going.
Phil Knuckey and the Burncoose landscapers are trimming and pruning around The Vean. Brambles still to do and they will not finish today. All looking spring cleaned now.
The Environment Agency contractors have started to build the new sluice gate in Penvergate and the lake is full of more herring gulls that I have ever seen. Swans, sheep and seagulls!
Now raining AGAIN and another wet weekend in prospect but no more frost we all hope.Magnolia 'Iolanthe' on the drive is showing colour absurdly early as this is a late April New Zealander normally.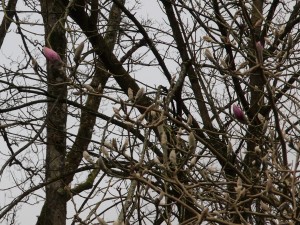 Then we have a few really nice camellias towards the Top Lodge:
Opposite them is an ancient clump of Leujocum aestivum already in flower. The 'summer snowflake' and a form of snowdrop normally out in April or May. Bonkers again!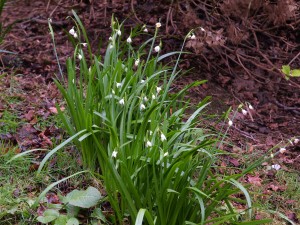 The new steel extension to the beach café is just up with its new cover but no sides as yet. It will be a huge improvement but too wet now for photographs.Karol has 'done' 175 missing website pictures found on his database with 125 more to go by Sunday. The total number of missing pictures on the Burncoose website should now be around 300 with 15,700 present and correct (four per plant online). It has taken nine years to get even close to a full set of good pictures of the plant in flower, leaf, pot, garden etc. We have not pinched anyone else's so woe betide anyone caught pinching our copyright.
Karol has taken some nice new pictures of the Nash arch on a fine day which now dominates the car park and Porthluney cove. Visitors are in for a pleasant surprise.
1994 – FJW
T Hudson seeds arrived.
1961 – FJW
Early year – Rhodo's Grande – Sutch x Arboreum – Golden Oriole – R Admiral – well and truly open. Trewidden grafted Grande looking superb. Flower buds on Macabeanum. Mary Williams full out but C noblissima very late. Colour on G.B's campbellii.
1958 – FJW
Crossbill coming. Well out are Rhodo praecox, ciliatums, irroratum, arboreums, 2 G. Oriole. Prunus pissardi also good.

1945 – CW
Rhodo barbatum, lutescens, ririei, also Blood Reds and Sutchuenense hybrids out, Leucaspis and both Moupinense and its hybrids. I picked 12 different red cups and clear yellows in Tin Garden. No magnolias showing colour. Single Camellias very good, Speciosa at its best.

1933 – JCW
No Magnolias yet. Rho lutescens should be very good shortly, the first Narcissus cyclamineus by this window shows colour.
1932 – JCW
No sign of a Magnolia anywhere. E darleyense V.G.
1921 – JCW
About 20 species of Rhodo show bloom, some Prunus conradinae very good, 2 dead with silverleaf. The heaths are nice, E darleyense has been very good since December. Camellia speciosa shows promise of being very nice, one bloom each on Magnolia kobus and Magnolia denudata.
1911 – JCW
Wilsons conifers etc soon here, and last week at Werrington.
1908 – JCW
The 1899 things are not open, some nice Arboreums are out. Anenome blanda is nice.
1899 – JCW
No reticulata, no C.J.B, or Cernuus, or Horsfieldi etc but Tenby, H Irving and Caerhays a good lot.
1898 – JCW
Many reticulata, picked some C J Backhouse, Cernuus at its best, some Horsfieldi out and a Sir Watkin. Jacko just breaks ground, Weardale only lately, nearly all Tenby and H Irving open, many Pallidus and Praecox.