2023 – CHW
Burncoose on a sunny but cold day. Few camellias in flower yet on the main sales beds. A few things out in flower here and there but still not much. A later spring season than for a few years which is good news.
Camellia 'White Swan' with the odd flower.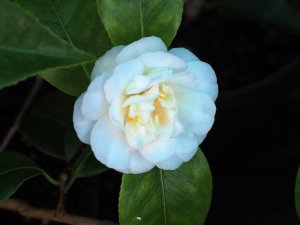 The camellia sales beds – full with good healthy plants.
Genista 'Porlock' just starting to flower as normal.
Kalmia angustifolia 'Rubra' still showing its dislike of the recent cold weather with droopy leaves. It will soon pick up.
Cercis chinensis 'Avondale' in flower rather unexpectedly early.
As usual Pseudocydonia sinensis with extremely early new growth.
The Pittosporum and Ceanothus beds well stocked and looking good for spring sales.
Nandina domestica 'Firepower' still with good red tints.
Nandina domestica 'Woods Dwarf' not quite as good.
Syzygium paniculatum 'Newport' with minor frost damage. Trim out with no problem.
Leptospermum scoparium 'Pink Cascade' with a few errant flowers now.
Coronilla glauca 'Variegata' is normally out now.
Clematis armandii nearly in flower – again a bit later than normal.
Azalea 'Salmon Kirin' out at the garden entrance. 'Kirin' was out here just after Christmas.
Jaimie's new magnolia hybrid is stunning even if blown open a little early. This is its third year of flowering and, now, one can see its full potential. Registration comes closer and I hope to get more pictures of the tree itself. We need to think about a name.
A vase of Magnolia 'F J Williams', Magnolia 'Philip Tregunna' and Magnolia 'Bishop Peter'.
Removing the potholes from the Porthluney beach car park perhaps prematurely before Storm Eunice.
Corylus avellana with the catkins fully extended. One sees these all along the motorway verges.
Magnolia mollicomata 'Werrington' now full out.
Camellia reticulata 'Dr Clifford Parks'
Work moves on apace in the Kitchen Garden and Frankie has got through to the top bit and burnt the infestation of Lonicera nitida.
2021 – CHW
Planting the yellow magnolia collection (Phase 1) and a few specimen trees in Tunnel Field (two acres) at Burncoose. It does not look a big pile but there are 60 different yellow magnolias here! In 20 years' time quite an addition to the woodland garden if we can keep the deer and rabbits away from the plants for a bit.
Plenty of space for Phase 2 – more yellow magnolias, deciduous azaleas, Matsumae cherries and other taller shrubs. Rhododendrons will have to wait. Specimen camellias in the autumn. At least we have made a start on a dry day.
This camellia hedge was bought from the nursery 10 to 12 years ago. It now shields this property on both sides of the entrance in Perranwell. A very good advert for Burncoose and camellias as a windbreak hedge.
Acacia dealbata in full flower as a hedgerow tree also in Perranwell. Flowering away despite the Beast in the last week and about 25ft in height. Absolutely stunning and I had to stop and photograph it despite having to make a detour to do so as the road was closed in Frogpool.
Another holly which I had hoped might be the true Ilex dipyrena but, so defoliated is this plant, that I am not at all convinced. The purple colouring on the new growth looks, perhaps, more like Ilex x meserveae 'Blue Prince' or 'Blue Princess'?
A 50 year old Lithocarpus pachyphyllus had lower branches removed a couple of years ago and is now suckering from the base.
A newly planted Polyspora speciosa (KWJ 12204) has gorgeous red new growth and veining but, sadly, the one flower has been destroyed in the Beast.
While planting here we suddenly notice dripping white sap running down the trunk of a 20ft tall self-sown Abies grandis. A branch high up had snapped in the wind and hence this sap deluge. I have seen this before in moderation from sawn off lower branches but never as much energy as this being wasted.
Magnolia campbellii 'Lamellyn' is out early as usual on the drive. Better, I think, than Magnolia campbellii 'Werrington' or Magnolia campbellii 'Sidbury'.
The deciduous azalea nearby which always flowers way out of season has buds which will shortly burst. I have however seen it out six weeks earlier. I must remember to check the one at Burncoose.
Galanthus nivalis 'Sam Arnott'
Galanthus nivalis 'Augustus'
Fatsia polycarpa – 3L. This particular clone was found by Edward Needham formerly of Tregye. It has especially narrow leaflets on its finely cut leaves. Very nice flower too and totally unlike Fatsia japonica.
Aucuba confertiflora – which we lost at Caerhays in the cold in 2012
Arbutus canariensis – tender
Mahonia russellii – a tender Mexican species which will not cross with the Chinese ones
Mahonia hartwegii – a Roy Lancaster introduction from which Mark has made jam from the fruits
Dichroa gzum
Eucryphia 'Dumpling' – a bit like Eucryphia milliganii
Salvia daubneyi (spelling?) – tall growing and still in flower
2016 – CHW
BBC Spotlight local news want to do a TV piece here today. Hope the weather is better than yesterday's solid rain until lunchtime but now mild again. In fact we have had a bit of a frost again but only at the bottom of the valley.Today I found the first snakebark maple in full leaf above the nerine bed. It will not be long before we find a six week early sycamore in leaf too. Just a bit more sun would do it and I am keeping my eye on the bluebells too. The same applies.
Magnolia 'F J Williams' has escaped the frost in the Auklandii Garden but is still far from being full out which is just as well.
Magnolia zenii had a flower out about a month ago but has not moved on to being full out yet. More windblown than sap rising I suspect although I saw colour like this too at Burncoose on the plant on the lawn.
Myrtus lechleriana is full out and even dropping its flowers by Orchid House Nursery and at Burncoose. We have often had this on our Chelsea stand in late May. Saw it full out at Trewithen a fortnight ago too. It has a fairly nasty scent close up but not too bad at a distance.
The Magnolia 'Delia Williams' on the lawn which had a few flowers out has been clobbered by the frost. Perhaps the majority of the flowers still in bud will be fine? Two and a half hours with a BBC Spotlight TV presenter and cameraman to film two minutes for a news item on the Historic Houses Association award and early magnolias here. Michael Levett also filmed and also did a piece for Radio Cornwall hopefully about our being open from next Monday.
It amazes me that TV interviewers turn up totally unbriefed on the story. A quick look at our website or a look at the Historic Houses Association / Christie's press release (which the producers must have seen to have initiated the article) you might have thought? Even our own PR people might have done a briefing but, no, it is all noddy land and start from scratch. 'What is a magnolia?', 'when do people come to your gardens?' – when they are open you idiot! So two hours of tedium and fannying about, then there is a shower and, finally, we do the whole bloody interview word perfect with no retakes in two minutes!
The cameraman does his best to avoid pictures of magnolia trees and my attempt to get a magnolia flower to the Plymouth studio is 'too difficult' while the presenter says 'have you ever been filmed for TV before?' I resisted the temptation to tell her where to put it or that I was on Westcountry TV only last week! Dad would definitely have called her a silly b…. and walked away but I managed not to. I did however manage a quip about her (pink) jacket being a revolting colour compared to a magnolia which I doubt they will use live. My dog 'Rio' was in the clip also looking bored and fed up.
While they buggered about I took a few shots of Magnolia campbellii full out.
2002 – FJW
Flower on big pink Campbellii.
1978 – FJW
Worst gale of century so far. Auklandii Garden nearly flattened.
(Additional handwritten note attached to Garden Diary page for Feb 18th)
Winter 1977/1978
Winter started mild but wet. Then on Feb 18 came the blizzard in Devon and the start of a month of gales at Caerhays. Feb 18th was the worst day.
1. Auklandii Garden: 2 Turkey oaks, 1 Abies, 1 Oak, 1 Plagianthus betulinus, (knocked down Mag hypoluca, tripetella, 2 soulangeana, + auklandii.
2. 5 Beeches, Ashes etc in Rookery.
3. Ash by Rookery Gate.
4. Big Insignis near Rookery Gate – knocked out R Cuneatum.
5. Beech above Veitchii + 3 poplars (Retic seedlings)
6. Crassum and Bo Peep nearly blown out of ground.
7. Slip Rail Insignis + Oak (this happened in March) knocked down Mrs Butler and shaved white Campbellii.
8. Beech below path.
9. 4-5 Elms by Rogers Quarry.
10. Big Fir by Tin Garden (knocked down best Salicifolia)
11. Tall Oak shaved best Delavayi group.
12. Q laurifolius in Ririei Opening.
13. 1 Insignis near Bramble Field Gate (earlier than Feb 18).
14. Big Beech, just missed Higher Quarry Nursery.
15. Small Fern Quarry enveloped by a Beech and 1 other.
Damage very considerable – Thank goodness for Power Driven Saws.
1969 – FJW
Strong East wind.
1963 – FJW
Snow again (4th fall of winter).
1962 – FJW
One malformed flower on Doltsopa.
1934 – JCW
Camellias are very nice in particular the shell pink crop. Most of the 1918 Rhodo's are open.
1933 – JCW
Just as in 1919, just a few Camellia japonica open.
1919 – JCW
Wilson's Cotoneaster salicifolia is most brilliant and Mr Ivey says it has been since Christmas. Moupinense, Sutchuenense, Barbatum, Arboreum hybrids, Erica darleyense are all very nice.
1918 – JCW
The following Rhodo' species are open or show colour – Longistylum – Moupinense – Ciliatum – Sutchuenense – Keiskii – Arboreum – Lutescens – Pachypodum colour showing – Argenteum – Primulicuum – Cuneatum – Dahuricum – Dahuricum semperivens – Scabrifolium – Barbatum – Ririei – Oleifolium – Irroratum – Hookeri – Mariesii. Cerasus Conradinae and the Italian cherry very good.
1915 – JCW
About 15 species of Rhodo' show flower Barbatum and Argenteum are really the best but R moupinense is very nice. Very few daffs of any kind, just a flower or two of P pissardi.
1911 – JCW
P pissardi opening much as in 1897, quite mild just now. White hoops are over, Lent Lilies, double yellow and Caerhays opening, Coums going back, some Barbatum out, others not, a good few Arboreum show colour, several Ciliatum.
1908 – JCW
Aconite at their best. Barbatum, Arb x Thom, Praecox all show colour, Coums very good, heaths are opening, no daffs to speak of but Cyclamineus.
1907 – JCW
None of the more important of the above are open. I send a bunch of Min x Cyc x to Rev Engelhart.
1906 – JCW
Well ahead of the above R shilsonii open, Anenome blanda, [?] some, several incomp seedlings.
1905 – JCW
P pissardi well out, many seedling trumpets and crocus, Coums very good, R praecox at its best, H Irving and Caerhays have some open, Tenby shows colour.
1901 – JCW
Nothing of the above except an odd white crocus.
1897 – JCW
Prunus pissardi opens, N maximus, Golden Spur, Cernuus, several trumpets at Tregony, white crocus here, nanus seedlings.