2017 – CHW
A visit from Raf and his Belgian mentor with lots of very rare plants in exchange for magnolia scions of our newer varieties. Raf has just started a new nursery in Belgium propagating very rare plants which Burncoose will of course purchase when and if he gets his act together.The yellow form of Magnolia campbellii alba is out above the Auklandii. Only a few flowers this year but they really are quite yellow as the buds start to open. Raf tells me that Mount Congreve gardens, from where this originated, have given it a name but I cannot remember what it was.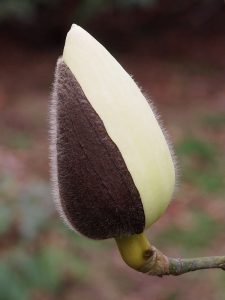 The original 1911 Magnolia campbellii is now nearly full out and looking splendid. A good colour this year. 'Spring has Sprung' at Caerhays!
This is the second polyspora species to flower with us this year. Polyspora longicarpus (WNJ 11604) is looking good even if the leaves have taken a battering in the wind. Raf (pictured) tells me that all gordonia species have now been reclassified as polyspora which may or may not make sense.
The other old Magnolia campbellii near Tin Garden is now full out. A dull whitish colour.
Magnolia mollicomata 'Werrington' is coming out in Kennel Close. Dramatically darker than shown in last year's blog.
Magnolia campbellii 'Darjeeling' is always early but, again, an especially good colour this year.
Magnolia 'Bishop Peter' is now almost fully out as well.
The Magnolia mollicomata x sargentiana robusta seedling above the Crinodendron Hedge is perhaps the best full out magnolia in the garden today although we are looking here after the sun has gone down. Sadly the public seldom stray in here to see it in its glory.
This is the list of the very rare and mainly grafted plants which Raf brought for us:Magnolia floribunda ex Kunming (PB)
Magnolia floribunda var tonkinensis (BKR 20100845)
Magnolia floribunda 'Furry Uok'
Magnolia glauca
Magnolia maudiae (hardy -20)
Magnolia sinostellata
Magnolia spaerantha
Pterocarya macrocarpa var insignis
Pterocarya rhederiana 'Fern Leaf'
2016 – CHW
George Williams and friends arrive for a flying visit. George is keen to discuss his PlantSnapp business which is growing like topsy since initiation 18 months ago (www.plantsnapp.com). It is a simple plant identification app with potential to do far more. As penance for a Sunday meeting I drag them reluctantly around the garden to see the magnolias. Many more are emerging into flower daily.
Today we find: Magnolia 'Caerhays Splendour' with three or four flowers out
Magnolia 'Caerhays Belle' with one flower out
Rhododendron desquamatum
All three are at least a month earlier than ever before but the impact/significance is somewhat irrelevant to this audience as we move on to 'drinks'. George managed to put diesel in his petrol car on the way down to Cornwall at the start of the M4. He did not arrive at Burncoose House until 3am Saturday!
1998 – FJW
Return from Bath. All Campbellii proper are out. Also Mollicomata x nearest Auklandii Garden on drive. Tin Garden Diva flowers dark and poor size. No flower on Mag Bishop Peter.
1982 – FJW
First Magnolia flowers seen on mollicomata cross by steep steps – others looked to be well ahead and was amazed to see flower after a coldish night.

1947 – CW
Returned in second snow storm, came out in farm trailer behind lorry. About 8" on lawn. Church Hill blocked. Michelias bad, very little broken by snow except big Camellia.
1943 – CW
One Magnolia sargentiana 1/3 flowers out, one Mag mollicomata has flowers now, Mag salicifolia in 40 Acres almost at its best. Magnolia denudata showing colour. Blood Reds in 40 Acres very fine. Daffs very forward and perhaps ⅓ out. Rhodo sutchuenense at its best, one Camellia reticulata flower open and several of the species Reticulata.
1941 – CW
There has been more frost and snow. Few Camellias cut this time but species Reticulata slightly browned – Blood Red X not so. Rhodo sutchuenense hybrids good. About a dozen daff seedlings out, half with colour.

1934 – JCW
A late season without much frost, a good many Camellias show flower so far.
1933 – JCW
A fair lot of daffs open and have cropped some, also (flowering) is Forrest's big Camellia by the gun room door, with a big single white lower rookery.
1917 – JCW
No sign of a daff bud. Only Rhodo mucronulatum and moupinense of the Rhodo's.
1916 – FJW
As against 1897 the earliest recorded year, the hard wood things are further on and the daffs are just as far on.
1904 – JCW
Tenby, Caerhays,H Irving just out, Maximus shows colour, Cyclamineus x showing colour, Rho praecox good, Ericas good, Rho barbatum and Carlyons Arboreum colour. Narcissus minor open, Anenome blanda open, Soleil d'Or good, snowdrops at their best.
1897 – JCW
Some Reticulata open, nearly all Caerhays open, one or two Pipardi, several Maximus, one citrinus.