2017 – CHW
More murk and poor photographs.A trip to Old Park to view the first two magnolias out here. The first is a campbellii seedling from the same batch as we gave Lady Mary Holborow a plant when she retired. I think we dug it up from beside this one and I believe it has flowered at Ladock Rectory. This is not bad and the flowers will become larger and paler pink in due course.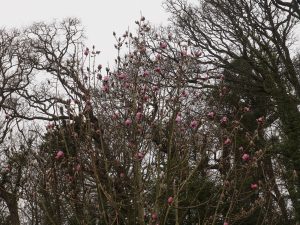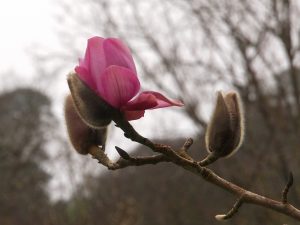 These Camellia japonica seedlings were grown by us as children and planted en masse for Covent Garden foliage sales. Quite a few stems sent this week. As seedlings the plants are all slightly different in habit and the flowers can vary. Usually 'pure' Camellia japonica has few small red flowers but one of these here has lots of quite large ones opening flat. You do not of course want the flowers for foliage sales.
This Magnolia 'Lanarth' seedling just below the top gunnera patch is just out on the top ride. It is a good colour but this is lost in the drizzle and cloud today. I need to revisit when out further.
The first of the old fashioned double flowered daffodils (which are sterile and do not set seed) is just out by the fernery. There are many ancient clumps on Bond Street, by the Petrol House and on the path above Burns Bank.
A nice wild and natural clump of variable jonquils under the Magnolia dawsoniana outside the front gates. Survivors as hybrids from 100 year old crosses of JCW's?
2016 – CHW
Magnolia 'F J Williams' which featured in yesterday's article is absolutely full out today. Not a huge tree but plastered in flowers. Here are five varied pictures of FJW in 'his' pomp. Today its arguably better than 'J C Williams', 'Philip Tregunna' or 'Delia Williams' magnolias put together but all these are yet to come out so I am probably talking nonsense!
1969 – FJW
Peacock tapestry started – mild after bad week.
1963 – FJW
East wind started again. No progress in the garden.
1961 – FJW
Flowers on Mag campbellii and kobus – Magnolias held back. Picked flower on Macabeanum seedling. First time this species has flowered here. Reticulatas nearing best – 30 flowers on big [?]. Flowers on George's Michelia.
1955 – FJW
Nine or ten inches of snow on lawn. Church Hill drift still 3 ft deep on March 12th.
1929 – JCW
About a fortnight of cold has kept flowers back – no daffs in the Tin Garden, no ice on the pond.
1926 – JCW
50 or more Rhodo species show flower. Rhodo planetum is the best of them.
1925 – JCW
Not been out after tea yet, plenty of flowers but cold and rough.
1916 – JCW
The first turn after tea. A fair lot of daffs open well ahead of 1897 – frost now.
1912 – JCW
Magnolia halleana shows white.
1909 – JCW
Snowdrops on the drive and 20 Aconites, a good few Camellias open of different sorts. A few Tenby, Caerhays, Maximus and Jonquil seedlings open. Very near or in front of time.
1902 – JCW
None of the above. A few Minor, snowdrops and aconite at their best.
1901 – JCW
Prunus pissardi just open, a faint sign of colour on one Maximus but an odd H Irving and Tenby, but none of the above otherwise.
1899 – JCW
Nearly all the Maximus, H Irving and Tenby open, many Caerhays trumpets and one or two Cernuus, many R praecox, C indivisa open, some Italian trumpets.