2022 – CHW
To Forty Acres and Penvergate. Magnolia campbellii 'Sidbury' now completely over.
A young Magnolia 'Theodora' in Penvergate with its first flowers.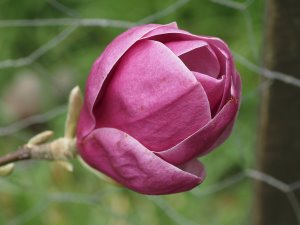 Astonishingly the ancient Magnolia soulangeana are already in flower in February. I have never seen them even faintly this early.
Magnolia 'Scented Gem' (from Kevin Hughes Plants) is making good headway with a dozen or so flowers just about out. Not that remarkable a flower but the scent is excellent for a magnolia.
The top path of Forty Acres is littered with storm debris and a few blown over trees which were planted here after the 1990 hurricane.
Only a couple of magnolias showing colour in the main clearing.
2021 – CHW
The new laundry sorting building is taking shape in the farmyard remarkably quickly. The concrete base is all in and skimmed and the roof will be here by next week we hope.
A new upgraded security system is being installed in the rearing field. A fine day to finalise the details and still plenty of birds on the ground.
Magnolia 'Scented Gem' in Penvergate just showing. This was purchased from Kevin Hughes.
Magnolia campbellii 'Sidbury' full out in Penvergate in the sun.
A fine young Ilex kingiana is doing really well in Penvergate. I had previously thought it to be Ilex latifolia but now know I was wrong.
Jaimie has staked the Trachycarpus wagnerianus trunk which blew over in a gale with half its roots out of the ground.
Earlier in the week a sad moment when the family of Pam Kitts placed a beautiful bench in memory of Pam and her daughter on the lawn here. Pam had worked in the castle for many years since my mother's time. I saw her here last at the 2019 Caerhays fete where her courage and determination in extreme ill health was all too obvious. Even more sadly Pam's work colleague here, Cathy Vellenoweth, died a day after the new seat was first installed.
Another young Magnolia campbellii 'Blood Moon' which has been less wind damaged than the other two which we saw a few days ago. Still nothing that outstanding or 'bloody'.
A near white Magnolia campbellii subsp. mollicomata seedling – 50+ years old. Very similar to the Burncoose tree above the Tennis Court there.
A similar mature seedling of Magnolia sargentiana var. robusta. Rather better than 'Blood Moon'!
First flowering at Caerhays of Rhododendron gratum (CN 3855). Similar to Rhododendron grande perhaps but with larger leaves. Only one of the three plants has flowers. No noticeable indumentum under the leaves. Not listed in the 'pocket' rhododendron bible.
On to Forty Acres and Magnolia 'Frank Gladney' was just coming out high up. This was registered in 1984 by Ken Durio of Louisiana Nursery as a cross between M. campbellii and an unknown pink Gresham hybrid. Quite nice.
Magnolia 'Eleanor May' is well worth growing and reminds me a little of Magnolia 'Margaret Helen'.
Magnolia 'Fireglow' (Pickard's hybrid) has never impressed and well battered here this year.
Magnolia 'Pickard's Crystal' is in much the same category.
As do the two magnolias above the wall.
Fuchsia magellanica 'Alba' full out on the top wall and still in leaf after this mild winter.
Flowers on a young Lindera praecox ready now for planting out. A new species to us and available at the nursery also.
Illicium philipinense, also a new species for planting out today, with its first flowers. This is going into the new clearing in the Rookery.
The second elderly mature Magnolia campbellii caught in the sun from above in the Rookery.
The clump of Rhododendron 'Red Admiral' full out above the Rockery.
Is this Camellia 'Mars'? More like Camellia 'Takanini' when I look it up.
Camellia 'Little Bit' is full out below the Tennis Court beside the path.
Rhododendron spinuliferum like we saw last week at Trewithen. Gold red colour but not full out yet. This is a young plant/cutting by the crossroads from the 30 to 40 year old one on the drive.
Michelia 'Fairy White' four to five years on from planting and absolutely full out a bit before the one at Caerhays.
Camellia 'Leonard Messel' full out. Look how variable the flowers are in size and frills! This is a Camellia reticulata x Camellia x williamsii cross and very fine today. Best camellia in the garden today?
Rhododendron moupinense in its prime too.
A rather better and darker flowered Camellia granthamiana than the one photographed at Caerhays a week or so ago. This one is by the steps up to the office. A paler and more floriferous form in the garden too.
Daphne 'Perfume Princess' now full out in one of the greenhouses.
Camellia 'Holly Bright' extraordinary holly-like leaves!
Camellia x williamsii 'Christmas Daffodil'
Camellia 'Canterbury'
Also new to us and perhaps the website was a Senecio 'Angel Wings'. Very fine white leaves which have an extraordinary white indumentum.
The last meeting of the day in the Burncoose dining room – eight of us including two of the dreaded 'legal' species.
The view from the Burncoose front door still has no magnolias at all showing. Rather good news as we all view the cold east winds.
This is a very rare conifer species – Keteleeria davidiana which Roundabarrow nurseries have propagated. A sod to get going and this plant clearly needs potting and caning up straight. From China and Taiwan. Long pointed leaves a bit like a huge yew.
The 1911 Magnolia campbellii stands out impressively amid the gloom. Started raining shortly after this.
Rhododendron 'Ostara' on the main ride is about 8ft tall and stands out well. Despite the mild winter few leaves remain on what is a semi deciduous Rhododendron mucronulatum hybrid.
To my surprise Magnolia 'Philip Tregunna' has snuck out only four days after I last checked it. Not full out yet by any means.
Another new clump of daffodils brightening up Kennel Close with a couple of young magnolias out in the distance. Rio is 'mousing' with little success.
The old Michelia doltsopa near the Acer griseum has blown open in the wind. The other big ones have no colour yet. This plant is out a good six weeks later than last year. Note the wonderful golden velvety indumentum on the bud covers and the hint of yellow/cream in the flowers as they first emerge. I believe this is really Michelia manipurense and not Michelia doltsopa. This is what JCW and Forrest thought anyway until the botanists started reclassifying in 1927. My article on all this and michelias is to be published soon.
Magnolia 'Ians Red' has popped open too. This is Ian Baldick's New Zealand bred hybrid but, as we found once at Burncoose to our cost, it is a bit tender in a late frost. This killed stone dead a similar sized plant in 2012.
Camellia 'Fairy' was newly planted in 2016 and imported from France. Quite nice.
Magnolia 'Sweet Sixteen' was like this in early January last year.
Raining now but the New Zealand form of Magnolia 'Lanarth' has huge flowers and a very vibrant colour this year below Donkey Shoe.
Another deciduous azalea has decided to flower out of season. There is one at Burncoose and another here which has the same odd characteristic. Why?
A few paces on the first flowering we have seen (in the garden) of another Vance Hooper New Zealand creation. This time Magnolia 'Mount Pironga'. A hint of purple at the base of the bud and flower about Magnolia 'David Clulow' in size and shape. Not as good as a new introduction as Magnolia 'Plum Pudding' or yesterday's Magnolia 'Cleopatra' I suspect but very nice none the less.
Further on another Magnolia 'Lanarth' seedling which is flowering much more prolifically than ever before. It is nowhere near as good as its sister seedlings 'Bishop Michael' or 'Bishop Peter' but, although pale, it has the 'Lanarth' shape and is worth its place as the only 'Lanarth' on the drive. Pity it is a bit hidden away behind the Magnolia x proctoriana which is just about to come out and is now a big tree which I planted I or pre 1990.