2017 – CHW
Prunus incisa just below the Hovel is just showing its first white flowers. The tree in the Auklandii Garden blew down last year and is still to be cut up and burnt.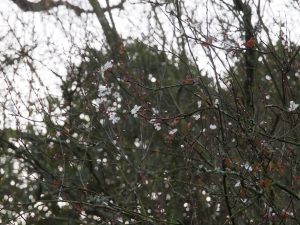 2016 – CHW
Power out last night at 8.50pm as another gale rages. How do you deal with getting Dad upstairs in his frail state in the dark? Fortunately he was asleep when the blackout came and did not notice at first. Then refused to go upstairs until he had finished his cheese. You try finding the bloody candles in the total darkness in a place like this! Fortunately the power cut lasts only half an hour. Still blowing hard at dawn but it is due westerly so most will be over the top of the garden. Howling westerly gale with 60-70mph winds persists into the day so photography difficult. Twigs, branches and worse on all the paths and drive just when everything was spruced up for opening. Now the wind swings north and is cold.
Magnolias and Climate Change at Caerhays?
A couple more good magnolias discovered out:Magnolia mollicomata 'Werrington' in Kennel Close flowering for the first time. An excellent colour and better than I remember the original at Werrington?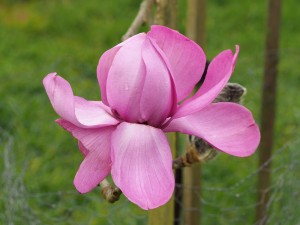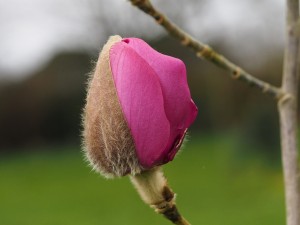 Magnolia mollicomata 'Copeland Court' below Tin Garden. If you put this in the search box you will discover the rows with developers over the original plant which grows in the garden of the former bishop's residence at Copeland Court in Truro.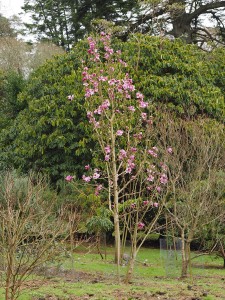 Magnolia campbellii 'Strybling White' with much worse to look at elsewhere after today I fear. You may well have already seen the best of the magnolias for this year.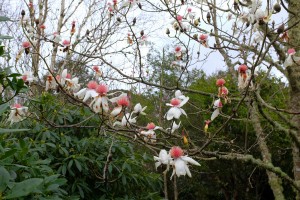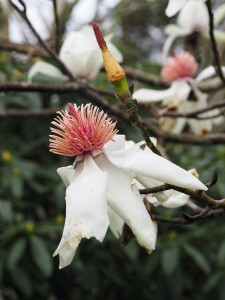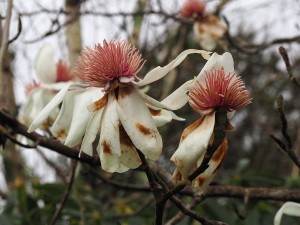 A few other oddments of note out in flower today:Ilex latifolia with berries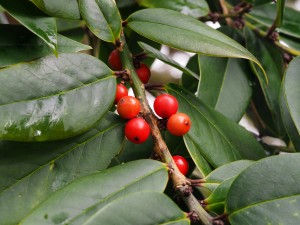 Camellia 'Fairy Blush' (to go with yesterday's Fairy michelia!?)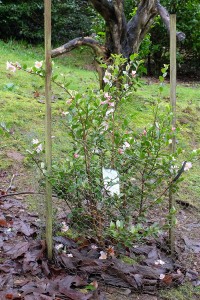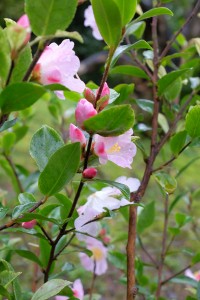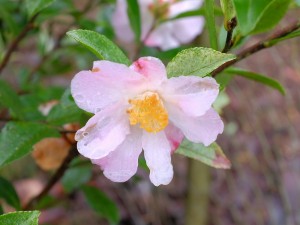 Very attractive new growth, not seen before by me anyway, on Podocarpus henkelii. Well worth growing just for this and never mind the huge podocarps (seeds) seen last year at Tregrehan on female plants.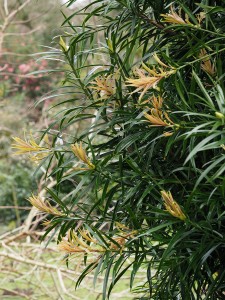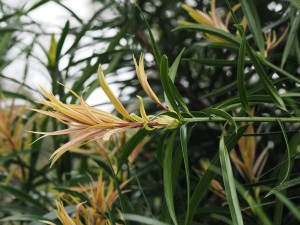 Camellia 'Celebration' – full out by Georges Hut. A sport of 'Donaton' and arguably better!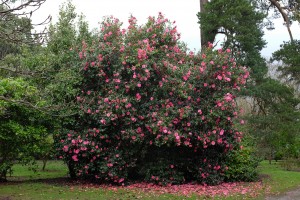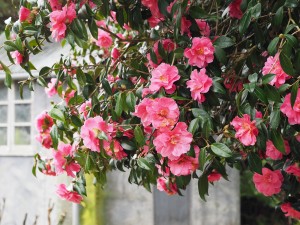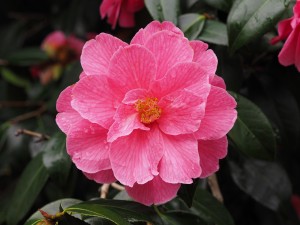 1999 – FJW
4 flowers on Bishop Peter – good cherry above Burns Bank.
1969 – FJW
Second fall of snow in week.
1958 – FJW
N. cyclamineus has been out for some days.
1934 – JCW
Lutescens is very good, Conradinae is just opening, Mucronulatum is very nice, not one daff showing yellow.
1933 – JCW
Things looking well, Forrests Camellias are very good, Rho's much as in 1930.
1930 – JCW
Mrs D H Philson and Barbatum very good, Lutescens nice, P conradinae opening, the western gales of the last 8 weeks seem to have abated.
1927 – JCW
The gilt pink Arboreum is good and so is Lutescens but not much else. No daffs excepting cyclamineus.
1921 – JCW
Far ahead of any of the above in the quantity of shrub bloom particularly heaths (4 kinds) and 22 species of Rhodo's show some blooms, whilst many hybrids are in full bloom, of the species Barbatum – Blood Red – Argenteum – and the pink Arboreums are the best.
1913 – JCW
Saw the blackthorn open in the cutting.
1912 – JCW
Camellias opening again after the frost, coums under the trees good, snowdrops nice, not much else.
1911 – JCW
Snowdrops and Aconites good, no fresh daffs open for some days, dark and cold weather, coums very good.
1904 – JCW
Snowdrops at their very best. Rho praecox has shown colour for a week.
1903 – JCW
Been in London for a week of mild weather, a great move, some Camellias out, many primroses for the season (seedlings), a good few seedling daff open in the Tin and Kitchen Garden, nothing good, a good lot of R praecox open, snowdrops and coums at their best. An odd Caerhays, Tenby and common open or just opening, also minor open.
1898 – JCW
The first Tenby opening, many H Irving, several Caerhays show colour and open. No new scarlet Incomps above ground except Torch, a good few coums out, many double Ido, one White Hoop, Rhodo praecox well open.