2020 – CHW
A Great Gardens of Cornwall meeting at Trewithen and time for a quick look at the garden. Strangely no magnolias showing colour anywhere that we could see.
Rhododendron sutchuanense full out in two different forms although this is not yet the case at Caerhays.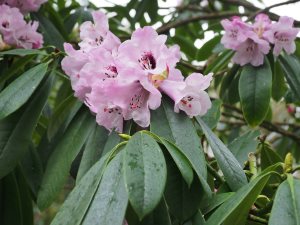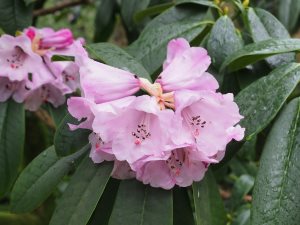 Eurya japonica also full out with its horrid smell. Again six weeks or so before I would expect this to be out here.
Trewithen's famous clump of Viburnum betulifolium was still covered in red fruits which the birds and squirrels had left alone. Many had fallen to the ground and appeared to have been eaten by mice.
The bark on the trunk of Stewartia sinensis is identical to ours at this time of the year with peeling more or less complete for the season.
Acacia melanoxylon full out on a 70ft tree near the house. Ours are still in tight bud.
A newly planted (November) Camellia 'Fiesta Crane' with its first damaged flower.
Similarly Camellia reticulata 'Lovely Lady', also new from France, with its first flower.
First huge flowers on Camellia 'Drama Girl' above the greenhouse.
Another bud opens on the yellowish Magnolia campbellii. Quite a sight and plenty more buds still to come.
The clump of Cordyline australis is impressive when seen from above. All from one plant 30 plus years or so ago.
This large clump of nearly over snowdrops was dug from around The Vean 11 years ago prior to building works starting.
First flower on the very dark ex Tregullow Camellia reticulata 'Captain Rawes'. Nice buds too.
Early flowers on a previously hidden pieris which was under a huge beech tree which fell a year ago. Now exposed to proper light it is performing well.
Camellia 'Silver Anniversary' with a few poorish flowers in the Rookery. Several youngish plants here in a clump which will give wind protection from easterly gales over time.
Another couple of plants of pink form 'Bo-Peep' in the Auklandii Garden are just as good as the one seen earlier this week on the drive.
A couple more good magnolias discovered out:Magnolia mollicomata 'Werrington' in Kennel Close flowering for the first time. An excellent colour and better than I remember the original at Werrington?
1999 – FJW
4 flowers on Bishop Peter – good cherry above Burns Bank.
1969 – FJW
Second fall of snow in week.
1958 – FJW
N. cyclamineus has been out for some days.
1934 – JCW
Lutescens is very good, Conradinae is just opening, Mucronulatum is very nice, not one daff showing yellow.
1933 – JCW
Things looking well, Forrests Camellias are very good, Rho's much as in 1930.
1930 – JCW
Mrs D H Philson and Barbatum very good, Lutescens nice, P conradinae opening, the western gales of the last 8 weeks seem to have abated.
1927 – JCW
The gilt pink Arboreum is good and so is Lutescens but not much else. No daffs excepting cyclamineus.
1921 – JCW
Far ahead of any of the above in the quantity of shrub bloom particularly heaths (4 kinds) and 22 species of Rhodo's show some blooms, whilst many hybrids are in full bloom, of the species Barbatum – Blood Red – Argenteum – and the pink Arboreums are the best.
1913 – JCW
Saw the blackthorn open in the cutting.
1912 – JCW
Camellias opening again after the frost, coums under the trees good, snowdrops nice, not much else.
1911 – JCW
Snowdrops and Aconites good, no fresh daffs open for some days, dark and cold weather, coums very good.
1904 – JCW
Snowdrops at their very best. Rho praecox has shown colour for a week.
1903 – JCW
Been in London for a week of mild weather, a great move, some Camellias out, many primroses for the season (seedlings), a good few seedling daff open in the Tin and Kitchen Garden, nothing good, a good lot of R praecox open, snowdrops and coums at their best. An odd Caerhays, Tenby and common open or just opening, also minor open.
1898 – JCW
The first Tenby opening, many H Irving, several Caerhays show colour and open. No new scarlet Incomps above ground except Torch, a good few coums out, many double Ido, one White Hoop, Rhodo praecox well open.