2017 – CHW
Very heavy rain all day. Cold north wind and snow up country. I think that the plants all knew this was coming and hence why, despite the mild autumn, everything is well behind last year. The garden has not moved at all from Christmas really and the camellias are definitely late overall.
2016 – CHW
Despite the thunder, hail and torrential rain over the weekend the magnolia outside the back yard continues to come out despite some damage. Now about a dozen flowers.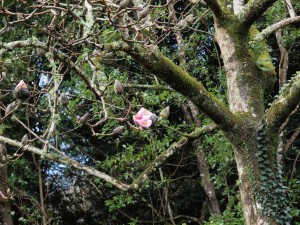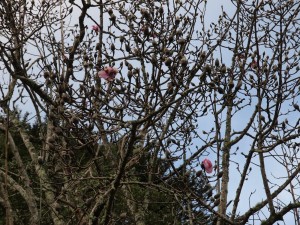 1997 – FJW
Thaw came and produced very mild weather.
1987 – FJW
The coldest day I have seen. 10° frost (10 a.m), 18° frost (10 p.m), moderate snow.
1978 – FJW
Fine unspoilt blooms of Trewidden Grande brought in by Philip.
1935 – JCW
A few Lutescens, the best of the mucronulatum killed on Jan 11th.
1914 – JCW
Coums at about ⅓. Flowers are open on the following species of Rhodoⁿ chrysanthum, keysii, yunnanense, lutescens, blood red Arboreum, mucronulatum (vg), Fargesii, 2 or 3 Camellias.
1902 – JCW
Coums at their very best. The first Soleil D'or open.