2018 – CHW
Acer albopurpurascens (CWJ 12361) is another new one to us. Clearly evergreen here and not much like an acer in leaf at all. New growth has just hardened off – hopefully enough to survive a cold snap.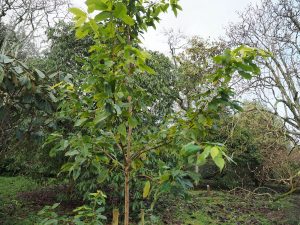 Self sown rhododendron seedlings near the stump of a dead plant. Clearly all sorts of pollination here.
Ucodendron whartonii (BJWJ 11706) is doing well in its deer shelter and there may even be flower buds forming. Older leaves have good white undersides. Younger leaves have a touch of purple indumentum underneath. Those in between nothing. The plant is again evergreen with us and still putting on growth in winter which may well prove to be a mistake in future cold spells.
As we saw earlier the base of the largest Daphniphyllum macropodum is now completely rotten and the plant is turning yellow. This is the second or third mature plant to have died from the base up. I do not think it was rabbits originally. Only one decent plant of this size left now on the drive.
2017 – CHW
First wild daffodil out at the Four in Hand.
A pheasant has half eaten this early daffodil flower.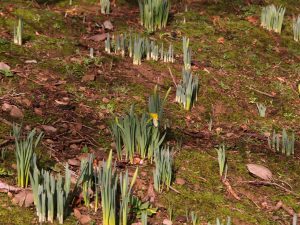 1931 – JCW
This varies hardly at all from the last few years, it is really the worst time in all the year, if the H mollis were taken away there would be nothing but Camellia speciosa.
1929 – JCW
Just as in 1923 and very little to be seen, it is cold for planting, the wind has been East for some time.
1924 – JCW
R lutescens the early form is vg and so is mucronulatum at its very best.
1923 – JCW
This follows a late cold and wet summer and not much is moving, but after the Hamamelis mollis and E darleyensis there is not very much else.
1919 – JCW
I saw a plant of Ordus mascula coming up. 10 species of Rhodoⁿ show flower of which Barbatum and moupinense at the best. Cyclamen coum is coming on. Hamamelis mollis has been out for a fortnight.
1912 – JCW
A seedling trumpet (poor) is in flower and 35 blooms of Narcissus clusii are open at once, a good few Soleil D'or open.
1909 – JCW
One third of the daffs show up. Several Camellias, C coum very good, R nobleanum is nice, Ericas good – very. Snowdrops are nice, one trumpet shows colour.
1898 – JCW
40 or 50 Crocus out. Picked several spikes of Iris germanica. Most of the tulips above ground. No sign of Madam de Graaf, about 100 of Engelhart's seedlings show up.