2023 – CHW
Camellia japonica 'Volunteer' is out early with quite a variation in the colour of its flowers as you can see here. Some redder and some pinker. Pinker ones turn redder before dropping.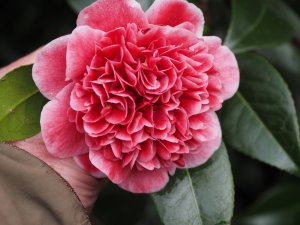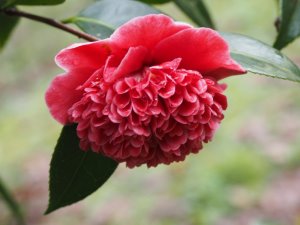 First flowers just showing on the yellow form of Rhododendron 'Bo Peep'.
Camellia japonica 'Hatsusakur'a ('Dewatairin'), a Higo camellia, now well out.
The first flower out on Camellia japonica 'Adelina Patti' is a single red sport but then I find also a white frilled pink flower which is the true form.
The back of the laurel hedge below the Main Ride nearly finished.
A rather battered and poor first flower or two on Camellia x williamsii 'Monica Dance'.
First flowers out high up on Camellia 'Fairy Blush'.
Camellia grijsii at its absolute best today and well scented. One side of the bush is a bit windblown but the other side perfect!
However a solitary Canada goose keeps its distance.
Camellia x williamsii 'Rosemary Williams' and Tropaeolum ciliatum still in full growth.
Acanthus mollis in full leaf with Daphne bholua 'Gurkha' in full flower above it in a border.
Daphne bholua 'Jacqueline Postill' can be smelt at, at least, 50 yards. Gorgeous today in the sun but Lizzie says she hates the smell which makes her sneeze. Hay fever in January – surely not!
Quercus morii (CMBS 249-2003-1091) has grown very slowly and has some scorching. Planted 2009.
Quercus stenophylloides also has interesting bark. 2008 planted and evergreen.
This appears to be Lithocarpus corneus (CMBS 640-2003-1122) and also has interesting bark. It is however a different leaf shape from the L. corneus above the greenhouse. Lithocarpus lepidocarpus (CMBS 2003-1115) beside it is still tiny and has hardly grown at all. Struggling! (No photograph)
A young Quercus acuta bought in with rather larger juvenile leaves than our older plants. Bought in from Holland. Doing well.
Lithocarpus glabrata came from Crûg Farm and was planted more recently but is making good progress.
Quercus gregii (also Alan Coombes) is making good headway as a multi stemmed evergreen oak.
A clump of my father's camellia hybrids which we always forget about from the late 1950s or early 1960s. Need to revisit when properly out.
Illicium anisatum will be out quite soon. A very ancient small tree grown in too much shade today.
Magnolia 'Plum Pudding' has only a few buds this year. Frosted in flower last season.
Magnolia 'Susanna van Veen' is shedding its outer bud coverings.
Magnolia 'Genie' is covered in bud.
The pruning of Nothofagus fusca is complete.
Daphne bholua 'Darjeeling' now full out.
Daphne bholua 'Limpsfield' beside it also.
Daphne bholua 'Jacqueline Postill' still just coming.
A blackbird with white markings seen in the village.
This is a camellia gall at the tip of a twig and not a flower!
Laurus azorica covered in bud.
Clematis cirrhosa var. balerica full out on the lawn. A bit later than last year I suspect. The reference books say C. var. balerica has pale yellow flowers. These are yellowish in bud but fading to white.
Camellia 'Reigyoku' with its variegated foliage and single dark red flowers. Not to everyone's taste but good today if you like your camellias a bit different. A good article in the yearbook of the International Camellia Society on camellias with variegated leaves this year.
Lindera triloba has suddenly 'joined the dodo'. No obvious reason why after a good 15 years of growth here. No damage to the trunk at ground level and does not look like honey fungus. It was just starting to flower well.
Camellia champetre 'Fairy Blush' is nicely out but only just two years from planting.
Xanthocyparis vietnamensis looked yellow and sick in the summer but is now flourishing again. Typical of some of the more unusual conifers before the new growth emerges? Here the new growth is still happening but frost risks severe. Easy to root from cuttings.
2017 – CHW
Very heavy rain all day. Cold north wind and snow up country. I think that the plants all knew this was coming and hence why, despite the mild autumn, everything is well behind last year. The garden has not moved at all from Christmas really and the camellias are definitely late overall.
1997 – FJW
Thaw came and produced very mild weather.
1987 – FJW
The coldest day I have seen. 10° frost (10 a.m), 18° frost (10 p.m), moderate snow.
1978 – FJW
Fine unspoilt blooms of Trewidden Grande brought in by Philip.
1935 – JCW
A few Lutescens, the best of the mucronulatum killed on Jan 11th.
1914 – JCW
Coums at about ⅓. Flowers are open on the following species of Rhodoⁿ chrysanthum, keysii, yunnanense, lutescens, blood red Arboreum, mucronulatum (vg), Fargesii, 2 or 3 Camellias.
1902 – JCW
Coums at their very best. The first Soleil D'or open.