2017 – CHW
An update on the newer climbing hydrangeas on the top wall. Hydrangea serratifolia (ex Holland) is now romping away but no flowers as yet. Most of the leaves have now serrations at all but the odd larger one has two or three spines on its leave edges and some odd spotting within some leaves. This is possibly insect larvae but does not look like it.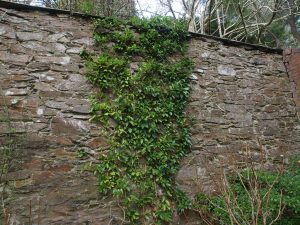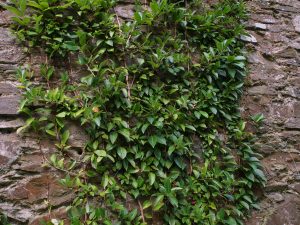 This was a much newer Hydrangea serratifolia from another source which did have serrated leaves. Pheasants or rabbits have left us only two now although there were several pre Christmas. The strange thing is that neither plant looks like the mature flowering specimen growing on a palm tree in the Chilean section of the Tregothnan arboretum. A very variable species I am told.
Hydrangea anomela subsp anomela has a few leaves still intact which is surprising. This climbing hydrangea, from a Crug Farm collection, is not self clinging. Flowers are smallish. An oddity but never likely to be a best seller.
1985 – FJW
Still very cold (5°), snow and pond frozen over – woodcock and duck shooting forbidden.
1973 – FJW
Heaviest gale it is said since 1928 – climax of a very rough fortnight – tree damage considerable – 3 on drive alone. Very mild.

1935 – JCW
Prunus pissardi is showing white. 1898 is ahead of 1935.
1898 – JCW
M de Graaf breaks through, also Princep Mary, Sirius, Golden Bell etc, one seedling of Maximus shows colour and one or two Blandas.