2017 – CHW
The newly planted Camellia 'Cinnamon Cindy' is just out by the Podocarpus salignus clump. No scent yet and clearly rather tender. Bought from a French nursery and well worth its place and propagating. I need to look up its parentage but the leaves suggest a Camellia sasanqua cross. The UK is missing out on all the new camellias hybridisation work around the world deriving from the newly discovered Chinese camellia species due to import restrictions and the dreaded Nagoya Protocol. How do the French manage to cheat? In a decade or three the UK will be miles behind in the world of camellia breeding if it is not already. The International Camellia Society yearbook arrives today and scarcely a mention of the UK when it comes to the registration of new varieties of camellia worldwide. All rather sad but at least the x williamsii camellias stand the test of time because of their early flowering and floriferousness. The yearbook refers to 32 species of camellia from Vietnam one of which is aquatic in habit! The International Camellia Society has 1,800 worldwide members. The RHS Rhododendron, Camellia & Magnolia society about 900. China now dominates membership in the camellia world after the US as I suppose it should!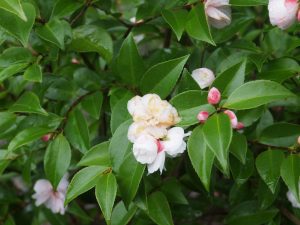 2016 – CHW
Despite a little frost on Saturday morning (the first for the winter) Magnolia 'Todds Forty-Niner' is virtually untouched. It has not moved on much in a fortnight and there is some slug and hail damage. However the plant is at least sensible enough not to open fully in mid January. The plant has a good shape and appears to be slow growing as well as floriferous.
A southerly gale rages overnight.